Bitcoin Amsterdam 2023: Europe's Crypto Innovation Hub – WalletInvestor Magazin – Investing news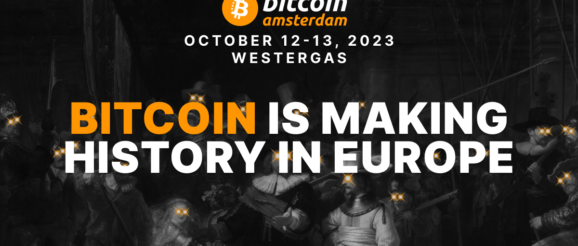 Sep 13, 2023
In about a month in Amsterdam
The city known for its bicycles and freedom, will play host to a gathering of Europe's most brilliant Bitcoin enthusiasts. Walletinvestor is proud to present Bitcoin Amsterdam, a three-day event that promises to be a unique and exhilarating experience for everyone in the Bitcoin community.

Bitcoin Amsterdam: Where Europe Meets the World
Bitcoin Amsterdam is not just another cryptocurrency conference; it's an opportunity to bring the European Bitcoin community onto the global stage. It's a celebration of financial freedom, an exploration of the most significant financial innovation in human history, and a chance to collaborate with like-minded individuals who share your passion for Bitcoin.
From October 12th to 14th, the historic Westergas in Amsterdam will be transformed into the epicenter of Bitcoin knowledge sharing, networking, and celebration. We invite you to be a part of this extraordinary event and have a unique experience that goes beyond the ordinary.

Why Attend Bitcoin Amsterdam 2023?
1. Education: Whether you're a Bitcoin beginner or an experienced enthusiast, Bitcoin Amsterdam offers a comprehensive educational program. From the basics of Bitcoin to deep dives with industry experts, you'll gain valuable insights into the current state of the Bitcoin ecosystem.
2. Network and Connect: Forge meaningful connections with entrepreneurs, developers, and individuals who are at the forefront of pushing Bitcoin's boundaries. Exchange ideas, collaborate on projects, and build a network that can change your Bitcoin journey.
3. Prepare for the Future: Discover how to navigate the ever-evolving Bitcoin landscape with confidence. Bitcoin Amsterdam provides insights into preparing for the upcoming Bitcoin halvening, ensuring you stay ahead in this dynamic space.
Interactive Art: Immerse yourself in the captivating Bitcoin Amsterdam art gallery, featuring a fusion of interactive digital installations and physical art pieces available for purchase. Explore the intersection of technology and art as you celebrate Bitcoin's culture and innovation.
Content Stages: Learn from top industry experts through two full days of engaging keynotes, interactive workshops, and live podcasts. Stay informed about the latest developments and trends in the world of Bitcoin.
Lightning Enabled: Bitcoin Amsterdam is proud to be a 100% Lightning-enabled event. Use your sats to engage in unique Lightning activations and experience the future of fast, secure, and cost-effective Bitcoin transactions.
Networking: Amsterdam's vibrant atmosphere extends to Bitcoin Amsterdam's networking lounges and food courts. Enjoy a drink, share ideas, and relish the delicious cuisine while building connections that can last a lifetime.
Join us at Bitcoin Amsterdam 2023
Where financial freedom meets innovation, and let's celebrate the unstoppable rise of Bitcoin together. Amsterdam awaits your arrival, and the future of Bitcoin is brighter than ever.
We'd love to see you there. Our appreciation for your continued  support, please utilize promo code MEDIA10x to receive an exclusive 10% discount on your event tickets.
Don't miss out on this opportunity to be a part of something extraordinary.
Reserve your spot today, and let's write history together at Bitcoin Amsterdam 2023!
Check out the latest
PR
news bellow: