Blockchain Vibes and Blueafric Media Lead the Charge at East Africa's Innovation Summit 2023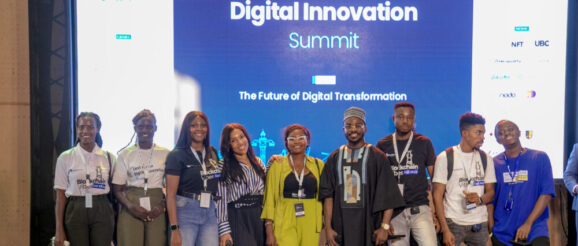 Witnessing a phenomenal turnout and enthusiasm, the East Africa Digital Innovation Summit 2023, powered by Blockchain Vibes and passionately supported by Blueafric Media, surpassed expectations in propelling digital innovation and transformation across the continent.
The Summit recently concluded, bringing together industry experts, thought leaders and innovators to explore the potential of blockchain technology in driving digital transformation across the continent.
Held in Nairobi, Kigali, and Kampala, the series of conferences showcased the immense opportunities that blockchain presents in revolutionizing various sectors within various regions in Africa.
The event provided a dynamic platform for attendees to engage in insightful discussions, exchange ideas, and foster collaborations to leverage blockchain technology in addressing Africa's unique challenges.
The summit featured an esteemed lineup of distinguished speakers who shared their expertise and experiences in harnessing blockchain technology for positive change.
In addition to interactive workshops and panel discussions, the event facilitated networking sessions that allowed participants to make meaningful connections.
The summit proved highly informative, with industry pioneers offering valuable insights into the latest trends, best practices, and successful case studies from around the world. Attendees also explored potential partnerships, investment opportunities, and innovative solutions that could drive Africa's digital transformation journey.
Testimonials from the attendees reflected the event's success, with participants expressing their satisfaction with the engaging sessions and substantial turnout. The Director of Programs for the Summit commented on the remarkable attendance and the fulfilling experience the event provided.
The East Africa Digital Innovation Summit proudly partnered with Blueafric Media, one of Nigeria's renowned media organizations, which played a crucial role in raising awareness about the event.
Blueafric Media ensured extensive coverage of the summit's sessions, discussions, and key takeaways, reaching a broad audience, including blockchain enthusiasts, investors, entrepreneurs, and industry professionals.
The summit also benefited from the support of major sponsors and partners, such as Boundless Pay, SPC Universe, OBIEX, Plural Code, Consummate Traders, and Rawket Media, among others. Looking ahead, the East Africa Digital Innovation Summit aims to forge more partnerships and collaborations to achieve success both regionally and globally.
The success of the East Africa Digital Innovation Summit in the region signifies the growing interest and commitment to embracing blockchain technology as a catalyst for digital innovation and transformation.
As Africa positions itself as a hub for technological advancements, events like this summit play a pivotal role in fostering collaboration and knowledge-sharing among individuals and organizations in the digital ecosystem.
---
Sponsored Content
The post Blockchain Vibes and Blueafric Media Lead the Charge at East Africa's Innovation Summit 2023 appeared first on BellaNaija – Showcasing Africa to the world. Read today!.