Blog – Technology Innovation and the 2018 World Cup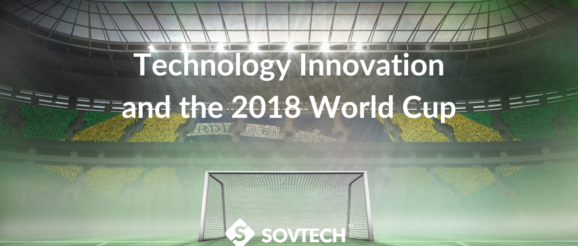 Technology Innovation and the 2018 World Cup
There used to be a time when keeping up with the World Cup meant listen to radio broadcasts or having to find someone with a TV. But with the variety of technology available today, things are very different from when the World Cup first started.
Anyone with a smartphone can now access everything they need to know with a variety of apps. This improved accessibility also comes from the fact that FIFA World Cup technology has improved considerably overall- everything from the match ball itself to new ways of viewing the game from different angles.
The most talked about technology at the World Cup this year is the Virtual Assistant Referee (VAR) application, which brings in advanced imaging and software technologies to make more considered refereeing decisions. But besides, that, there are a number of other other ways that the World Cup experience has been improved for this year's competition.
After doing some research into how people are enjoying the game all over the world, here are some of the ways that technology is maximising the experience of the FIFA World Cup:
1. FIFA World Cup Apps
It's an obvious one, but apps have made keeping up with the tournament so much easier, and the official FIFA World Cup app is where you can find out everything you need to know about upcoming matches.
All of the major sports broadcasting channels also have their own apps, like ESPN, BBC, SuperSport and others. One of the most popular independent apps is One Football, which also serves as a general football app for passionate football fans.
2. General World Cup Tech Innovations
It's not always possible to fully appreciate all of the technology that goes into making the World Cup happen, but over the years there have been a number of considerable improvements:
The ball for one, has changed a lot over the last while, and this year's ball is designed to resemble the first Adidas Telstar ball in 1970, but with some significant enhancements. This includes being as sphere-shaped and aerodynamic as possible, so that it can travel further without any unpredictable movements.
Goal line technology has also improved, and can show exactly where and when the ball went over the goal line, so that there isn't any kind of discrepancy when it comes to whether the team scored or not. A range of other innovations have also come into how the game is played today, from improving the surface of the turf to even being able to better communicate with medical personnel when there are injuries.
As we mentioned above, the introduction of the VAR at this year's games competition brings in another perspective when it comes to making complex refereeing decisions. With improvements in all these kinds of the visual tracking technology, it's not possible to rely on discretion alone anymore!
3. Maximising Your World Cup Experience at Home
We've talked about how to keep track of scores, how to make sure you're not losing too many of your bets and pretty much everything else that goes into creating the actual match experience- what else could make your World Cup experience better?
Improvements in High Definition (HD) technology for one have changed the game, literally, and now allows you to see even more of what is going on than if you were at the game yourself. With a high quality screen and advanced sound technology, you can now design a completely holistic match experience in your own living room, using soundbars and even portable speakers for when you absolutely have to take a quick break outside (and don't want to miss any of the game!).
What's Next for the FIFA World Cup?
As such a popular event on the sporting calendar, there are so many ways to experience the World Cup, and so many tech applications that make it the experience that it is today. Even though there are always controversies that come with some of the innovations introduced, it's clear that making improvements is always prioritised (which is really what makes technology evolve).
With all of the many apps and other technological advancements that we've talked about in this post, this could be one of the most enjoyable World Cups yet. If you think about how much is happening now, it's incredible to think of what will be possible at the next World Cup- perhaps some more Virtual Reality (VR) inspired experiences?