Brandt breaks ground on Evelyn Brandt Thomas Ag Innovation Center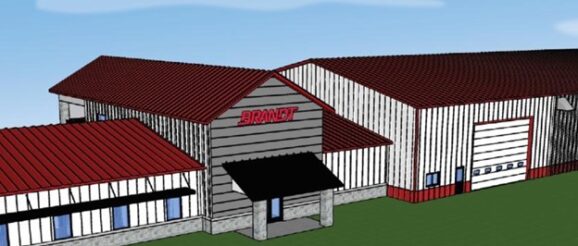 Brandt, a leading retailer of professional agronomic services and manufacturer of specialty input products, has broken ground on the Evelyn Brandt Thomas Ag Innovation Center at the Brandt Research Farm in Pleasant Plains, Illinois. The Center will enable Brandt to continue advancing and sharing the state-of-the-art in agriculture products, processes and practices.
The new, 17,500 square foot facility is dedicated to Brandt co-founder, Evelyn Brandt Thomas ("ET" to her friends), for her unwavering passion for agriculture and her local community. The Center is the company's birthday gift for ET who turns 100 years old on August 25.
"Brandt has always had an entrepreneurial mindset with a focus on innovation. And it brings me great joy that this facility will help share our story and educate our customers locally and globally," said Brandt Thomas. "It's also very important to me that the Center is in our hometown of Pleasant Plains, Illinois where my brother Glen and I started the business 70 years ago. What a great birthday present."
The building will serve as Brandt's hub for research, development and collaboration, while advancing the company's mission to provide solutions for farmers worldwide. It will include meeting spaces, presentation rooms, equipment storage and a history museum.
"This new Center will enable us to better serve our customers in central Illinois and around the world," said Rick Brandt, president and CEO of Brandt. "It's much more than just another building: This facility will be instrumental in our pursuit of discoveries that meet the evolving needs of today's farmers. Besides, what do you get the centurion who has everything? Her own innovation center! Happy birthday, ET."
The Center will house Brandt's world-class research and development team.
"Farmers and industry partners from around the world visit the Brandt Research Farm every year," said Brian Haschemeyer, vice president of Brandt Discovery & Innovation. "Having an educational facility on the property will allow us to demonstrate our research while strengthening relationships with our customers."
The Evelyn Brandt Thomas Ag Innovation Center is expected to be completed and open by Fall 2024.