Bringing Innovation to Central Asian Countries – Huawei's Second Annual Innovation Day in Uzbekistan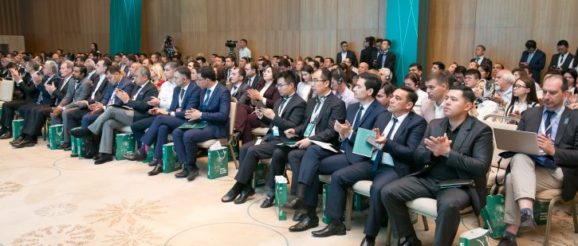 Huawei hosted second Central Asian Innovation day in the capital city of Uzbekistan, Tashkent which has gathered more than 200 experts, scientists and representatives of the state governing authorities of Central Asian countries.
Chinese tech giant, Huwei is actively working to raise the confidence of regional governments, media and audiences such as KOL, customers, partners, experts and scholars in the development of ICT industry. For this last year Huawei has founded Central Asian Innovation Day, which inaugurated in Astana, Kazakhstan.
"The Huawei Innovation Day is very timely and useful for Uzbekistan, as the country has developed a Strategy of Innovative Development 2019-2021 and the 'road map' on its implementation, as recently approved by President Shavkat Mirziyoyev,. The key objective of the Strategy is "to develop human resources as the main factor that determines the level of the country's competitiveness in the world arena, and its innovative progress". Another goal of the Strategy is to ensure Uzbekistan's ranking among 50 advanced countries of the Global Innovation Index rating by 2030. Due to the lack of many indicators and "ineffective coordination of work in this direction," the country has been standing apart the rating in recent years. With this in mind, we hope that today's meeting of distinguished guests, decision-makers and professionals, your recommendations and proposals, ideas on the joint projects, will give a powerful impetus to the breakthrough innovative development of both Uzbekistan and the entire Central Asian region as a whole", – stated Mr. Burkhanov.
Minister of Innovative Development of Uzbekistan Ibrohim Abdurakhmanov stressed that innovation is a broad concept and requires very good partnership and one of the important partners is Huawei.
"One of our main goals at the moment is to create an innovative environment in the country and this event is just giving the opportunity to initiate the necessary environment," Abdurakhmanov said.
Also, the participants were addressed by the President of the region for Central Asia and the Caucasus of Huawei James Chen. In his speech, he put forward proposals and recommendations for digital transformation in Central Asia. He emphasized on the need for Central Asian countries to improve infrastructure of telecommunications, including fixed and mobile broadband, and to continue to provide widespread support for software development that prevents multiple disruptions in various industries. Regulators should develop more tolerant policies to encourage investment and encourage the equivalent development of operators.
James Chen explained that the key factor in this direction is the digitalization of the relevant industries. Countries should give priority to industries with comparative advantages, such as tourism and transport. Finally, he challenged countries to digitalize the internal processes of public authorities as soon as possible, and then gradually move to the introduction of e-government in cities. In these areas, Huawei is ready to work with local operators and partners to help find the best solutions.
Mr. Victor Zhang, Senior Vice President of Huawei, followed with a keynote with suggestions for the digital transformation in Central Asia. He said, that Central Asian countries need to strengthen telecommunications infrastructure, including fixed broadband and mobile broadband, fully encourage the development of application software (OTT), allow room for plenty of failure in various industries, regulators should develop more tolerant policies to stimulate investment,   encourage simultaneous development of operator's MBB and OTT.
He added, that the digitalization of advantageous industries is the key. Countries should give priority to the industries with comparative advantages defined by various countries such as tourism and transportation. Finally, he called on countries to achieve the digitalization of government affairs for the first step, lay the foundation for the smart government, and then gradually move toward urban brain management. In these areas, Huawei is willing to work with local operators and application partners, seeking the best solutions.
Huawei Innovation Day has become a high-end dialogue platform for key stakeholders in Central Asia's digital ecosystem. This year's event gathered top government officials in the region, including representatives of Uzbekistan ICT Ministry, Minister of Innovative Development of Uzbekistan Mr. Ibrokhim Abdurakhmanov, vice-Minister of Information and Communications of Kazakhstan, Dinara Shcheglova, first deputy Chairman of the Communication Service of Tajikistan Ilhomjon Atoev.
Many speakers joined the event to share their ideas on building out the digital ecosystem. Specifically, they talked about policy and regulation, digital transformation of industries, AI unicorns, and how ICT will enable the development of future generations, including RCC, Moscow School of Management SKOLKOVO, Chinese company YITU Technology, Yi-hualu and representatives of Uzbekistan Gas and Oil industry, telecom operators.
Starting in 2013, Huawei Innovation Days have been held in London, Milan, Munich, Paris, Singapore, Sydney, Kuala Lumpur, Dubai, and Sao Paulo. Huawei advocates openness, innovation, collaboration, and shared success, and is committed to bringing digital to every person, home and organization for a fully connected, intelligent world.
The post Bringing Innovation to Central Asian Countries – Huawei's Second Annual Innovation Day in Uzbekistan appeared first on CBW.ge.