Can Matt Nagy Get Back to the Forefront of Offensive Innovation? And Other Bears Bullets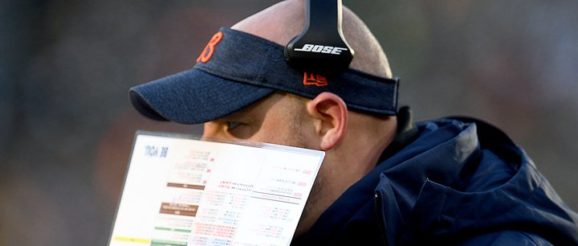 I think I'll have my leftover dinner for lunch, then make breakfast for dinner. Is that a little too outside-of-the-box? (Michael: Right now? Nah. Go for it. There are no rules.)
Reverse + Fleaflicker + Screen lol
— Ted Nguyen (@FB_FilmAnalysis) March 22, 2020
Check out #Cowboys highlight:Quinn wraps up Patterson on the busted blocking assignment #DALvsCHI
Love this play design from Matt Nagy. Siiiiick post catch move by @TreyBurton8 too. pic.twitter.com/MQYgZHnUvK
— Will Brinson (@WillBrinson) August 19, 2018
I absolutely love this play design by Nagy.
TE / Wing with twins.
Play action with a clear out by the wing. Leaking out the TE on a slip screen.
All this set up by the duo play they ran earlier in the game with Montgomery. pic.twitter.com/Q54Czwi5mb
— Coach Codutti (@coachcodutti) December 6, 2019
Check out this brilliant play design by #Bears HC Matt Nagy. The play starts with two routes out to the left, then reveals two routes to the right, but BOTH route sets are decoys! Every route here serves to get Trey Burton open down the middle. Smart, smart stuff happening in CHI pic.twitter.com/M3871HB2Ck
— Robert Schmitz (@robertkschmitz) May 16, 2019
TD #4. Nagy talked about setting this play up bc he'd seen defenses jumping their WR screens on film.
Game planning weeks in advance and stacking plays off previous designs? I like
(watch Cohen when Mitch throws it. Already has his hands in the air) pic.twitter.com/VfY2BgzMsi
— Joe Tidei (@JoeyProspects) October 2, 2018
The Chicago Bears had a 60% success rate when they called the man-pick play on third down. This was my favorite pick design of the season by Nagy. Robinson and Gabriel do a decent job on the pick but watch Cody Whitehair on the pull as backup for the pick. #Bears pic.twitter.com/GAAlGsv2RB
— Dan DeYoung (@DanDeYoungFB) June 24, 2019
Lonnie Johnson ended up with the scoop and score, but it was Barkevious Mingo who blocked the punt for the Texans in the AFC Divisional Round against the Chiefs.
— Bleacher Nation Bears (@BN_Bears) March 23, 2020
Hey!! You!! We know you are still awake!! Listen to the new episode with @JJStankevitz !!! "For Whom The Bell Foles" We talk #Bears #NFLFreeAgency & react to all the moves. What is Ryan Pace doing? #BrawlNetwrok https://t.co/Ihk27q7NsV pic.twitter.com/YmwF12KdXM
— Da TailGate Show ™️ on The Brawl Network (@DaTailGateShow) March 23, 2020
The #Packers have had an underwhelming start to free agency. The good news for Green Bay, though, is the rest of the NFC North hasn't made any major gains. My story at @ForbesSports.
https://t.co/MnJZ8djnpG
— Rob Reischel (@robreischel) March 22, 2020
The #Patriots will bring QB Brian Hoyer back on a 1-year deal to join Jarrett Stidham and Cody Kessler… plus there is always the draft. Given where NE is cap-wise, this is probably it at the position.
— Ian Rapoport (@RapSheet) March 22, 2020
Bryce Callahan agreed to a restructured contract with the #Broncos, freeing up $1.8 million in cap space this year. He's now due $5M in 2020 and can make another $2M in playtime incentives. A big free agent prize a year ago, Callahan missed 2019 because of injuries.
— Tom Pelissero (@TomPelissero) March 22, 2020
Drew Brees vs Tom Brady NFC South battles pic.twitter.com/pROrk9zkN8
— Urek 'Mal' Mazino (@maldalorian662) March 18, 2020