Catalyzing Partner Innovation through Ecosystem Partners and Cisco Capital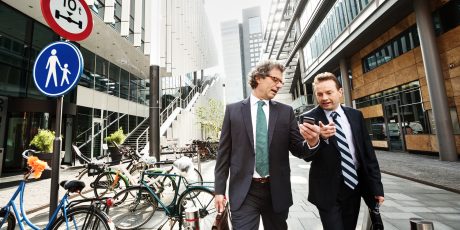 Co-authored by Denny Trevett, Vice President, CX Partner Model, Cisco
Our business success is simple; we win when our customers win.
But winning solutions don't come as easily as they did before the digital transformation era. Customers now require finely tailored, nearly bespoke solutions along with an unprecedented level of financial flexibility and immediacy.
Is it asking too much? Not at all, but we can't do it alone.
Jointly with our ecosystem partners, we unlock success for our customers through a combination of our hardware and software products, flexible financing, and our ecosystem partners' industry expertise and solutions. With this formula, we can ensure a uniquely tailored solution that addresses industry specific challenges with our technology and the flexibility of innovative financing methods.
Here at Cisco, we connect a vast network of independent software vendors (ISVs), independent hardware vendors (IHVs), digital solution integrators (DSIs) and consultants with our world-class resellers to provide customers with digital industry solutions leveraging Cisco technology and financing options. Many of these partners add a crucial layer of specialized knowledge only available to experts who have spent their entire careers dedicated to solving the challenges and issues unique to specific industries and verticals. We work closely with them to address the business and financial objectives of customers, and together we create a faster, well-refined solution.
Dynamic Duos: Cisco's flexible consumption models and ecosystem partners
The relationship between our team, ecosystem partners, and customers is a dialogue.
As we engage with customers, we first seek to understand the business outcomes that they are looking to achieve.  Through these initial discussions, we typically end up identifying multiple objectives that the customer looks to address spanning both business and financial outcomes.  Together, with our ecosystem partners we can bring these conversations together to achieve objectives through financing, align equipment spending to revenue, meet fluctuations in market demand, and free up available cash.
Whether an organization uses consumption models or pay-as-you-go, we can unblock business constraints associated with IT and technology budgets, helping companies ultimately go to market faster and beat the competition. Furthermore, our adaptable solutions offer new ways to consume and deliver digital transformation and avoid technology obsolescence so you can get the technology you need to quickly adapt to market dynamics, make faster decisions, and boost ROI. Our ecosystem partner program paired with flexible financing ultimately helps save customers and resources with the acquisition and implementation of technology, so you can see faster ROI with fewer headaches.
As we mentioned earlier – we win when our customers win – and recently together with our ecosystem partner Purple, we provided a winning solution for a large customer in Europe and the UAE.
Our customer needed help improving their digital customer experience across 250 restaurant locations, but this type of large-scale digital transformation takes time, resources and serious investment.  Timing and complexity can quickly lead to significant budget drain, but this is where together with our ecosystem partners we were able to provide the knowledge and experience to maximize budget efficiency and keep things as simple as possible.
Cisco Capital and Purple worked together to bundle services with Meraki hardware to equip the customer with the technology they needed. Not only did the partnership between the end customer, ecosystem partner, the reseller and Cisco find business success, but it also unlocked an unexpected financial solution for the customer, enabling payments over time to match cash flow. By extending payments over a period, Purple and Cisco Capital could overcome the financial challenges of this project in the context of the broader business outcome.
More specifically, by leveraging specific customer data and insights provided by Cisco technology, and filtering that data through relevant partner experience, we were able to drive a significant increase in revenue for the customer. By pairing Purple's deep expertise in retail and customer experience with Meraki flexible payment options, we created a tailored solution for the customer. It's a simple equation; ecosystem partner knowledge + Cisco Capital financing options = customer success!
Transforming your Digital Future with Ecosystem Partners
The challenges and opportunities of digital transformation can be daunting, but together with ecosystem partners like Purple, we can illuminate the right path and help companies avoid surprises along the way.
Our ecosystem partners have the relationships, solutions, software, and services that will let you make the most of the digital world. These partners have worked in the field for years – and we back them up with our own resources, expertise, and technology. They will take the time to understand your business, and where you want to go with it.
In the end, it all comes back to putting the customer first. By focusing on both business and financial outcomes together, we can create the best possible solution for end customers and accelerate the outcomes in the process. Working closely with ecosystem partners is critical to finding these solutions – their expertise and customer relationships ensure a tailored, thoughtful approach to client challenges, and together with our flexible payment options we can address the questions created by digital transformation with the strongest and most comprehensive technology answers.
We work with a wide range of ecosystem partners across many industries and verticals, so whatever your business objectives, together with our partners, we can help you reach them.
Are you ready to get started?
Cisco Technology:Learn about the wide range of Cisco technology here.
Cisco Capital Payment Solutions:Click here to learn more about flexible payment solutions to accelerate and scale your business.
Ecosystem Partner Program:Find the perfect ecosystem partner to solve your business challenges here.