Cathie Wood's ARK Boosts Palantir Stake By $3.4M As Stock Hits 1-Year High After Upbeat Q1 – ARK Fintech Innovation ETF (ARCA:ARKF), ARK Next Generation Internet ETF (ARCA:ARKW), Palantir Technologies (NYSE:PLTR) – Benzinga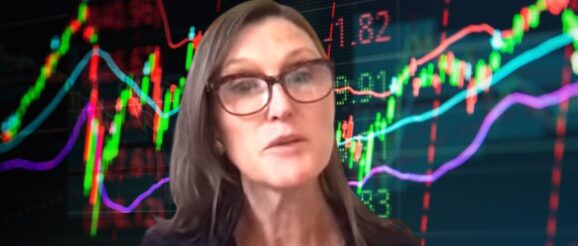 Cathie Wood's Ark Invest was a buyer in Palantir Technologies, Inc. PLTR yet again, as the stock shot up to its highest level in over a year.
What Happened: Ark, through its three exchange-traded funds, bought 286,714 shares, valued at about $3.4 million.
The details of Thursday's buys are as follows:
Thursday marked the second straight session Cathie Wood-run Ark has lapped up Palantir. On Wednesday, the firm, through its three funds, bought a whopping 1.26 million shares valued at about $13 million.
Close on the heels of the Peter Thiel-backed data intelligence software provider's first-quarter earnings report released on May 8, Ark bought 4.37 million shares of the company.
Why It's Important: Palantir's fairly robust first-quarter results and its forecast for profitability in all the remaining quarters of the year have increased confidence in its fundamentals.
As a call option to the stock, Palantir CEO Alex Karp hinted at gravitating more toward AI.
On the company's earnings call, Karp said Palantir is looking to "just take the whole market," while outlining the company's AI strategy.
Wood's Ark's investment theme is disruptive innovation, and with Palantir's increased AI focus, the company may well be positioning itself on the superhighway of innovation.
Ark typically sells its portfolio stocks, at least a fraction of them, when they run up in order to take profits and buys them when they slump. The fact that the firm is continuing its Palantir buying spree despite the recent runup is a testament to the confidence it has in the company.
Since Palantir reported its quarterly results, the stock has soared nearly 52%.
In premarket trading on Friday, Palantir stock rose 0.77% to $11.83, according to Benzinga Pro data.