Chef Sean Sherman honored with Julia Child Award for culinary activism, innovation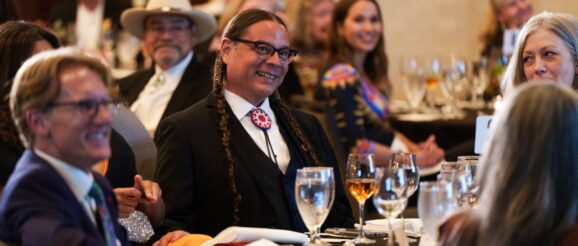 When guests gathered for the 9th Annual Julia Child Award Gala, they were treated to a menu of corn tacos, a first course of mushroom stew, an entrée of cedar-braised elk and cranberry tea custard for dessert — a meal representing a reclamation of Indigenous foodways.
While the menu for Tuesday's Julia Child Award's gala sounds sumptuous, it's the relationship between the world of fine dining and Indigenous foodways that is creating a recipe for social change.
According to the Julia Child Foundation for Gastronomy and the Culinary Arts' website, "the Julia Child Award is given to an individual (or team) who has made a profound and significant difference in the way America cooks, eats and drinks."
Executive director of the foundation Todd Schulkin says the award jurors feel Sherman is following in Julia Child's footsteps.
"As someone who is achieving at the highest level in the food world, a chef who's doing innovative, groundbreaking things, but then also taking his platform and taking it farther as Sean talks about his epiphany about the value … and the risk of losing Indigenous food knowledge."
Previously, the gala was held in Washington. This year, the event was held in Minneapolis — an intentional choice.
Schulkin says bringing the award ceremony to Minneapolis is an opportunity to demonstrate the importance of place to food cultures and to build relationships.
"We have a heightened understanding of foodways, conversation, the issues and the potential amongst Native American community," says Schulkin. "We've learned a lot. And so, our relationships are going to be deeper and wider."
Shaping a path for Indigenous foods 
Owamni, the restaurant Sherman co-founded, has introduced many people to modern Indigenous cuisine. Sherman's nonprofit, Native American Traditional Indigenous Food Systems, or NATIFS, focuses on Indigenous food knowledge, education, training and economic opportunity.
Sherman says the Julia Child Award is an honor and an opportunity. An opportunity for NATIFS to continue their work of making Indigenous foods more accessible for Indigenous communities.
"That's kind of a trick is in designing some of these menus with these Indigenous ingredients and making it affordable at the same time," says Sherman. "You can add these ingredients in a fancy restaurant, but nobody's gonna be able to afford a $50 plate for lunch."
Through his nonprofit work, Sherman has turned toward advocating for specific changes in the U.S. food program which for years has distributed food to tribal nations across the United States.
As Congress looks to pass the 2023 Farm Bill, Sherman has advocated for policy changes that would allow tribal communities across the United States more control over buying and distributing foods like elk, bison, wild rice, nettles and other native plants.
Sherman testified earlier this year at a listening session held by Sen. Tina Smith about proposed changes to the farm bill.
"Opening up what is considered foods that can be served in tribal communities or schools," says Sherman. "A lot of times the rule sets that are within the things like the farm bill and the USDA prohibit us as Indigenous communities, from even utilizing our own foods, even though, even if they're right around us." says Sherman.
Sherman grew up on the Pine Ridge reservation in South Dakota and has repeatedly said his passion for returning to traditional foodways comes from having little choice but to eat the processed foods distributed by the federal government to tribal communities.
He says changes in USDA policy is key to helping tribes buy and distribute their own food.
The Indigenous Food Lab is a project of NATIFS and makes Indigenous foods available for sale through its market. Sherman says he and his nonprofit team will continue to create ways for people to learn how to prepare Indigenous foods.
"Where we probably have over 40 Indigenous food products," says Sherman. "We're going to be pumping out a ton of videos to show people what to do with all these things."
Recipients of the Julia Child Award may designate a $50,000 grant from the Julia Child Foundation to a non-profit of their choosing. Several weeks ago, Sherman had announced he would direct the money to NATIFS, the non-profit he leads. During his speech at the award ceremony, Sherman directed the grant to Chef José Andrés' World Central Kitchen.
"That's where the work is happening, that's where the money should go."