China International Intelligent Communication Forum 2023 Builds up International Consensus and Facilitates Media Innovation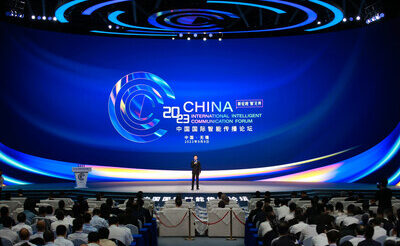 WUXI, China, Sept. 9, 2023 /PRNewswire/ — The China International Intelligent Communication Forum 2023, hosted by China Media Group and the Jiangsu Provincial People's Government, took place in Wuxi, Jiangsu on September 7 to 9.
The forum has been held twice since 2021, building a high-end platform for international exchanges and cooperation in intelligent communication. Themed on "A New Journey towards Boundless Connectivity", this year's forum brought together former political dignitaries, representatives of international organizations, ambassadors to China, as well as Chinese and foreign media representatives, experts, scholars and entrepreneurs. They shared views and achievements on the development trend of intelligent communication, media responsibility in the era of intelligence, and so forth.
Representatives of young people at home and abroad were invited for a round-table dialogue, to seek solutions from a multicultural perspective through discussions, which centered around new opportunities and challenges faced by the young generation in the era of intelligent media.
Three sub-forums on " Intelligent Technology " , " Intelligent Consumption" and "Intelligent Culture" were held, together with activities such as " 'Wuxi onto the World Stage' Global Livestream", "Internet Celebrity's Journey to Wuxi " , and "Ambassadors' Wuxi Tour".
Wuxi, the host city, has long been known as "A Shinning Pearl of Taihu Lake and A Prosperous Land of Jiangnan Region". With over 3,000 years of written records, Wuxi was one of the birthplaces of Wu culture and became the cradle of Chinese national industry and commerce in the 20th century. In recent years, Wuxi has taken the forum as an opportunity to develop intelligent media industry and apply cooperation achievements.
Sign up to get PRN's top stories and curated news delivered to your inbox weekly!
Thank you for
subscribing!