Cinnaire & Partners Celebrate Grand Opening for University of Delaware's New FinTech Innovation Hub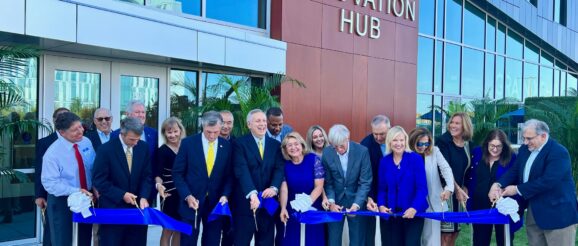 Cutting Edge Project on Growing Star Campus Designed to Promote Financial and Health Equity
Cinnaire recently joined the University of Delaware, Governor John Carney, Neighborhood Partners, and community leaders to celebrate the grand opening of the FinTech Innovation Hub in Newark, DE. The 100,000 square-foot state of the art facility serves as a hub for financial and academic services with a mix of private and university tenants. Cinnaire provided a $9 million New Markets Tax Credit to support the project.
"We believe that technology has the power to transform the financial landscape and uplift communities that have been historically underserved," said Peter Giles, Cinnaire Senior Vice President, Public Funding. "Cinnaire focuses our New Markets Tax Credit awards to bring investment to vulnerable people and places. The FinTech Innovation Hub, with its focus on populations underserved by traditional banking and financial services, aligns with our commitment to supporting inclusive and equitable projects to empower people and lift up communities."
Financial Technology, commonly known as FinTech, is a rapidly growing industry that has revolutionized the finance industry for individuals and businesses. According to a national survey by the FDIC, almost 6 million households in the U.S. had no checking or savings account in 2021. The majority of those unbanked households comprise low-income families, minority households, single-parent families, and families with disabilities. The FinTech Innovation Hub was established to address inequities in access to affordable, safe, and high-quality financial services and the consequential inequities in access to credit, housing, health care and other life essentials.
"The FinTech Innovation Hub adds another gem to UD's Star Campus, where collaborative hubs in health and life sciences already are thriving and strengthening the economy of the whole region," said UD President Dennis Assanis. "The research and innovation at this new hub will expand Delaware's legacy of national leadership in financial services, drawing on UD's top-shelf expertise in finance and technology. It also opens new space for education, giving our students access to a highly collaborative ecosystem and preparing them for great jobs and future success."
The FinTech Innovation Hub features a new Financial Services Incubator, the Delaware Small Business Center, and the University of Delaware Alfred Learner College of Business and Economics and the College of Engineering. The incubator provides space, resources, and technical assistance to early stage financial and business software entrepreneurs and start-up companies, with a focus on low- and moderate-income community members.
Photo Credit: University of Delaware
The post Cinnaire & Partners Celebrate Grand Opening for University of Delaware's New FinTech Innovation Hub appeared first on Cinnaire – Advancing Communities.