Cleveland Clinic's commercialization arm is eager for external innovation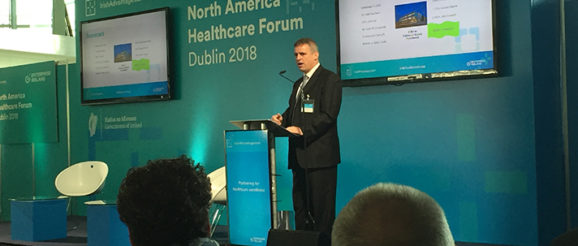 For nearly two decades Cleveland Clinic Innovations (CCI), the hospital group's commercialization arm, has looked to invest in and develop new medical technologies into market-ready products.
While many of these innovations have been the product of in-house inventors, Pete O'Neill, executive director of Cleveland Clinic Innovations, said that his organization has found external innovation partnerships to be especially advantageous and a growing area of focus.
"Internal innovation is our core, but we have extended the team and our network and our reach into, really, a growing focus on external innovation. And we want to work with the best sources of innovation from around the world," O'Neill said yesterday at the North American Health Summit in Dublin, Ireland.
Speaking to the audience, O'Neill explained that his center receives 275 unique invention disclosures from its employees annually, and of these develop only 40 into license agreement deals. This culture of internal innovation is key to CCI as a whole, he said, and isn't likely to stop any time soon.
Still, these internal innovations can take substantial time and effort to develop from an idea into a full product, whereas an external partner will already be well into this process.
"Our interest there is to target solutions to improve patient care. It's sort of starting from the solution instead of starting from the invention, … and then, we go out and search for companies that have and embody those kinds of solutions," he said. "It's faster to do it that way than to do it internally. If I meet with a company — and I met with five companies yesterday — those companies have all done work. They all have management teams, they all have received investment, they've done product development. Some of them have products that already have regulatory [clearance] or are already well on that path, versus if we start [with] those 275 inventions we're going to receive, we're going to start from the most remedial, proof-of-concept work and start from there. So, it is faster for us to think about getting solutions to the marketplace."
This streamlined process not only allows CCI to expand its commercialization pipeline, but it also lets the organization cherrypick the very best technologies from hundreds of budding startups and inventors.
"The team that we have, of the 50-plus people, 15 of them, their job is to do deals. Their job is to bring technologies to the marketplace. I think about someone on that team working on a B-minus internal project versus an A-quality externally-developed project. Based on that product's likelihood to make it to the marketplace, why dull our pick with the internal stuff when we can work on external projects that are still going to be impactful to our patient care, and also we can have some commercial participation?"
During the talk, O'Neill also gave the audience some insight on how his organization decides which external innovations it ultimately adopts.
"We just won't work on it unless we find some internal champion," he explained. "That's often a clinical champion, but it could also be somebody from our operations group, somebody from our IT group, someone from security, somebody from HR. We see innovative solutions coming from all those places, and in fact some of the more translative kinds of solutions where a solution developed in one non-healthcare industry can apply and have value in healthcare."
CCI has also found success streamlining the discovery process through a partnership with San Francisco-based accelerator called Plug and Play, O'Neill said. The partnership's first batch of hopeful innovators had Plug and Play vetting more than 100 hopefuls, which were pared down to a final seven by the end of Q2 2018. The second batch later that year is now working with 10 companies, and next year's third batch is already being put through its paces.
"We can't start too early working with our potential champions to identify target needs," O'Neill said. "Batch one we did almost none of that, batch two we did some but not enough, so batch three we're going to try to do it right. We're going to start now, and we're getting some interesting ideas from startups from around the country."
The innovations CCI choose to commercialize aren't necessarily set to see adoption across Cleveland Clinic itself, O'Neill noted, but that doesn't mean that the wider organization isn't willing to embrace new technologies as the landscape of healthcare continues to change.
"It's incredible to see this 'Star Trek' technology' today being used in a one-off kind of way. Bringing VR, AR to everyday patient care, everyday patient education — it's coming," he said. "Our new medical school is going to open next year. There will be no cadavers in that medical school. All anatomy training will be done with VR, so those technologies are coming."