Color Express, a revolutionary innovation by IGCAR for saving resources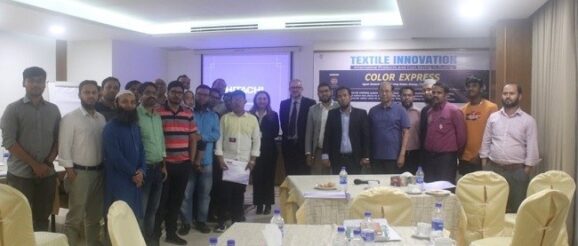 IGCAR Chemicals, S.L. introduced 'Color Express' concept — a solution for cotton scouring and dyeing that saves time, energy, and chemicals
IGCAR Chemicals, S.L. manufactures and distributes chemical products. The Company provides detergents, enzymes, lubricants, softeners, fixing, cleaning, antifoam, and coagulant agents, and fluorescence inhibitors. They serve the textile, paper, leather, water, construction, and personal care sectors worldwide.
Texxet International provides high-quality dyes, auxiliaries, and basic chemicals for the textile industry. They established their company in 2009, and three years ago they began their business with IGCAR Chemicals, S.L. In Bangladesh, Texxet International is the sole distributor of IGCAR Chemicals, S.L.
On 25 February 2023, TEXXET International hosted a seminar to promote IGCAR solutions. Chief Executive Officers (CEOs) and General Managers (GMs) of well-known washing and dyeing factories were present at the event where Joaquin Sanglas Montllor, Technical Manager, Textile Division, IGCAR and Dorrieh Ebrahimi Bejdani, Export Manager, IGCAR were the keynote speakers.
In the seminar they introduced the 'Color Express' concept — a solution for cotton scouring and dyeing that saves time, energy, and chemicals.  It's an innovation that will provide added value to products, while being environmentally responsible.
Using 'Color Express' one can reduce amount of auxiliaries in the process. It also shorten alkali dosing time up to 50%.
Dorrieh Ebrahimi Bejdani pointed out the journey of their company. Dorrieh Ebrahimi Bejdani said, "In 1974, Ignacio Carreras establishes IGCAR, the commercial birth of auxiliary products for the textile industry."
Over the years, they have expanded into more sectors and markets around the world, such as textiles, paper, leather, home and personal care, construction, and so on. The mission of Igcar is to build a team with a global and sustainable vision of chemists and their applications, dedicated to providing efficient and innovative solutions to their customers.
"Our goal is to become the standard in the chemical sectors. We dynamically adapt with upcoming challenges and provide advanced chemical solutions," Dorrieh Ebrahimi Bejdani added.
Dorrieh Ebrahimi Bejdani said, "IGCAR has a research and development and laboratory team with extensive knowledge of the field, which strives for continuous improvement and has strong adaptability in order to provide high-quality solutions."
IGCAR has 48 years of experience in this field to achieve quality and environmentally responsible products. Their technical and customer service teams are always available to assist customers with the proper use of their products, applications, services, and troubleshooting. They have cotton and polyester fiber solutions.
They have three innovative processes for cotton fiber solutions. VIP IGCAMOLL, EP Conc. DISPERCAR, TONAL TR. One of their best-selling products is IGCAMOLL, which acts as a multifunctional agent for natural fibers and blends. This increases productivity eliminates the turquoise shade issue and creates a high-quality look on the fabric. Another solution used in reaction controls for reactive dye fixation on cellulose fiber is TONAL TR. Prevents unraveling and boosts batch-to-batch reproducibility. DISPERCAR EP Conc. is a dispersing and sequestering agent used in the dyeing of cellulose fibers and their blends. It improves the fiber's washing fastness.
Joaquin Sanglas Montllor mentioned that in terms of polyester solutions, they have TONAL HIN, TENSOCAR EXP/M, and TONAL EC. TONAL HIN is a dyeing process levelling and retarding agent. It performs admirably in balancing different build-up rates in the trichromatic dyeing process. TENSOCAR EXP/M is a special multipurpose detergent that can be used on any fiber but works best on polyester. It is ideal for discontinuing machines. TONAL EC is a synthetic fiber and blends multifunctional agent. It has a significant impact on sportswear. It is used to desize and dye polyester fibers at the same time.
The most important aspect is that they have certifications such as REACH, ISO 9001:2015, Bluesign, ECO-TEX, GOTS approved, ZDHC, and others. IGCAR has solutions for Technical textiles, Sportswear, Home textiles, Fashionwear, and other industries. ICGAR prioritizes finding solutions for its clients over selling its product.