Connecting impact and fintech innovation | Insights from Kevin Chong, Outward VC | EU-Startups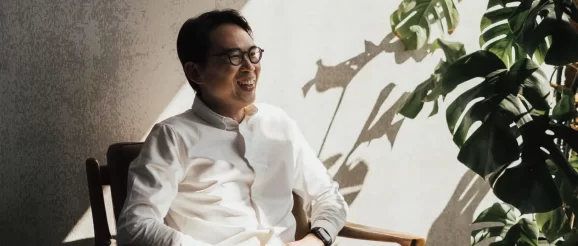 Impact investing is on the rise. Investors are now increasingly looking to the wider impact that a startup aims to have, looking to back those companies that will generate a positive measurable social and environmental impact that goes hand-in-hand with financial return.
It's a positive trend to see and one that we desperately need. The reality is that our society and environment need positive innovation, we need to embark on a green transition, and we need to make life more sustainable. At the same time, backing the fresh minds coming up with these ideas does have financial benefits – and that is being demonstrated right around the world. Impact investing and advocating for ESG strategy is good for pockets and the planet, and, it makes a company stand out when it comes to attracting and retaining talent.
As a result, we are seeing new funds with an ESG/impact commitment at their centre – and they're not just for greentech companies. Tech verticals from health to finance to construction are now all creating an impact edge.
Founded in 2017, Outward VC is a London-based firm backing impactful fintech startups. Whilst the firm is not actively labelling itself as an impact fund, it does prefer to back companies that positively impact society because they know from experience it leads to a better outcome for all stakeholders. This mindset very much reflects a wider shift towards impact-led investments and prioritising mission-driven businesses.
We chatted with Kevin Chong, Co-Head of the firm to learn more.
Can you tell us about Outward VC?
Outward invests at the most crucial stage, in startups seeking to be the most important fintechs in the world. Outward champions a broad definition of fintech, with our portfolio spanning the full range of financial services across both B2B and B2C.
What inspired you to start the company? 
Coming from a family of immigrants and outsiders, and having lived and worked in three continents, I have always had an entrepreneurial chip on my shoulder. After a career in global capital markets and corporate banking, in 2012 I recognised the London technology startup scene was having its big bang moment with the UK government launching SEIS – the most attractive angel investor incentive anywhere in the world. The UK had the talent, now it would have the capital for startups to get off the ground. I hustled my way in as the UK VC ecosystem rapidly matured, and while I had some success as a generalist VC, I was soon convinced this would not be enough. Startups want product-market fit from investors just as investors want it for their portfolio companies.
Together with Devin Kohli, we started Outward VC to be a clearly differentiated investor in the VC ecosystem. Firstly, Outward addresses the lack of options available to fintech startups seeking post-seed investment where there is a scarcity of investors with the necessary fintech expertise and network to add real value post-investment.
Secondly, Outward champions a uniquely broad definition of fintech. We know there will be startups outside financial services today that will have a profound impact on the future of financial services.
What are the key goals of Outward?
Our goal is to back startups seeking to be the most important fintechs in the world. We are fintech thought leaders who have always been focused on the early stage, and we will always be focused on the early stage. We want all our portfolio companies to look back and say Outward made a difference, everything they did later was easier.
We want to empower the most ambitious founders in early-stage fintech to take their ideas to the next level by sharing our fintech knowledge and our network of partners and co-investors.
What does impact-driven mean to you as an investor? 
Making a positive impact on society is good for business. The best-performing companies in our portfolio are those that are driven by missions to make a positive impact on societies. In our portfolio, we have companies seeking to break down systemic barriers in capital markets, seeking to bring cost transparency to asset management, seeking to provide the Islamic community with better access to financial products, and seeking to give employees the same access to private health care regardless of seniority.
From our perspective in fintech, we recognise the universality and importance to everyone's lives that financial services represent. Many of the most successful fintech companies are those that have identified a genuine and tangible problem experienced by their customers or clients, which they then seek to resolve through their unique offering. Fintech doesn't exist in a microcosm though, which is why we're interested in companies that explore the relationship between fintech and adjacent verticals and industries.
How does it fit into your investment decisions?
It is a vital element in our decision making though we do not shout about it when we talk to target companies. We look for founders who are naturally driven to make an impact on societies.
In our experience, we know that backing founders who can demonstrate a genuine passion and desire to change the industries they work in are the ones who will establish businesses that are impactful and resilient in the long term. You never know when the next game-changing fintech idea is around the corner, that's why early-stage investing is so important.
What's the overlap between impact and fintech? 
By focusing on the biggest markets in the world, fintechs have the potential to make an enormous impact on societies. For example, one in nine people globally is supported by funds sent home by migrant workers yet on average money remittances still cost 7%. Fintechs are playing a big role in reducing this cost. In our own portfolio, we have startups looking to improve value for money in pensions, ensuring a shop floor employee has the same private health care as the C-suite, and giving the Islamic community better access to financial products.
We often find that the most talented founders we work with are those who care deeply about social issues that are meaningful to them. I think having that personal commitment to an idea is really important and demonstrates a drive that not everyone has.
In fintech, we're seeing more and more founders dive deep into how technology can be leveraged to impact people in a positive way, whether that's looking at democratising access to credit, increasing access to investment opportunities, or disrupting traditional remittance processes, amongst others. Financial services impact everyone in some way or another, so we see huge impact potential in fintech.
What trends do you see emerging?
With impact and ESG having become buzz words, there is a growing awareness in the fintech community. Successful startups will be those that can effectively combine an impact-driven mission with a sustainable, scalable business model.
Certainly, as public awareness of more ESG trends come to the fore, particularly climate compliance, we'll see more fintech founders innovating in different ways to address these complex issues. Our job as a VC is to navigate through all this and identify the most talented and genuinely groundbreaking fintech founders that are addressing areas of financial services that are ripe for revitalisation and transformation.
Outward believes that many startups outside of financial services today will shape financial services in the future. In our portfolio, we have education tech, health tech and legal tech startups that are reshaping key areas of financial services. More generally, consumer financial services in the future will be embedded in unconventional channels.
We understand that sectors like health and property for example, are intricately related to financial services, with the potential for some amazing collaboration between industries.
Many new fintech founders are addressing the space in between financial services and these adjacent sectors and examining how they can put their ideas into practice in a way that will make an impact on society. As a VC, part of our job is to stay abreast of these trends in financial services, and observe and identify the best startups in each sector at the early stages of their growth, and then catalyse that process through our backing. We want to be part of the journeys of the most important and successful fintechs in the world.