Daily Inspiration: Serendipity & Innovation – ""Great leaders encourage people to waste more time on uncertain projects with unknown goals that have unsure payback and indeterminate timelines"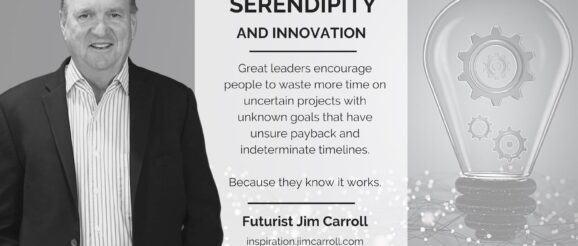 "Great leaders encourage people to waste more time on uncertain projects with unknown goals that have unsure payback and indeterminate timelines. (Because they know it works.)" – Futurist Jim Carroll
You probably know the traditional story about serendipitous innovation – that in the world of science, it's the accidental discovery, the unplanned moment, the sudden eureka instance that has led to great inventions. Things such as penicillin, Post-It Notes, and Velcro. The concept of random exploration without a purpose has long served the world of science well.
But in a world that is now defined by fast-moving technology, it's not just accidental discoveries that matter – it's the unplanned acceleration of new concepts that can matter. In a world dominated by new technologies such as AI, 3D printing, drone technology, advanced materials science, and other trends, serendipity matters. Many organizations know that new leading-edge technologies will increasingly come to define their future, and yet they aren't quite certain how – and so the best idea is to invest in the future with uncertainty defining the strategy.
Smart leaders know that the way around this is through serendipitous-innovation-on-purpose – let's call it the intentional accidental discovery. They seek to set their innovation energies on fire by encouraging their younger, interactive generation to explore opportunities for the digital, disruptive future through what I've come to call an Xbox room! I spoke about this on stage at an event in Muscat, Oman.
I also wrote about this some time ago in a separate post.
---
`Why? Because this generation gets it, knows how to innovate, and is the most powerful force for change in our world today. Consider the reality:
half of the global population is under the age of 25
we know they are globally wired, entrepreneurial, collaborative, and change-oriented
and they are now now driving rapid business model change, and industry transformation as they move into executive positions
With that reality, organizations are realizing they should allow this generation to light their creative energies on fire, even if they aren't sure as to what they might do or where their efforts might go! The idea is to set them up with an innovation facility by which they can explore and accelerate the adoption of leading digital tools throughout the organization that can accelerate innovation efforts, provide for better collaboration and so much more. They can do so without the need to establish specific goals or to achieve certain budget metrics – spend away, figure things out, and we're sure it will pay off somehow.
Case in point: I spent some time in St. Louis with Amsted Rail: they manufacture the 'bogies' which are the wheel-undercarriage assemblies found on railcars. It was a thrill for my wife and me to have a tour of their manufacturing facility before my talk to see what they are doing to realign themselves to opportunities for innovation in manufacturing. And the tour included what they call their iLab — or, what I would call for the fun of it, an Xbox room! In this facility, they are continually examining a variety of ideas as to how to continue to move the organization forward. This includes exploring a variety of ideas and technologies, including:
state-of-the-art brainstorming centers to facilitate ideas colliding from all corners of our company
real-time employee collaboration tools across geographically diverse sites (to promote "a collision of ideas")
how to use connected SMART Boards to simultaneously write/draw/share over any application using "digital ink"
3D scanning/modeling systems to enhance product R&D and quality capabilities
advanced tensile testing techniques for enhanced product strength & durability
I had a chance to chat with the young fellows in the Xbox room — and listen to their ideas. It's obvious its a rocket engine for innovative thinking!
That's but one example: the more I witness what organizations are doing to accelerate innovation, the more I discover some sort of 'Xbox room.' I commented on the same type of thing when speaking at a major conference on the future of trucking in Phoenix. While on stage, I spoke about a company in Winnipeg, Canada — Bison Trucking. They've set up a facility to encourage younger staff to explore how to align the fast pace of technological change in trucking to opportunities for digital technologies — read an extensive blog post about their efforts in the post Trend: In Trucking, Aircraft Control Towers Are the New Offices.
There are plenty of others – Xbox rooms seem to be springing up everywhere!
Here's what you need to think about:
you should set up a digital facility with all kinds of 'toys' relevant to your industry, and set the creative energies of a group of young staff free to explore
don't set any specific goals, objectives or deliverables on the project — simply set it free to explore!
explain the purpose and mission of the group to the rest of the organization, and encourage them to bring unique problems to the group
Go ahead – make an Xbox room!
---
I've got an event with a construction company in a few weeks and was pleased to discover a young fellow who seems to have the same role!
Innovation that comes about by accident can be critical in a fast future. Organizations that have a culture of rigidity and control, where experimentation and risk-taking are discouraged, never quite succeed as quickly as those who do not. They have a lot of siloed departments and a lack of cross-functional collaboration; a focus on short-term results and immediate returns, rather than long-term innovation through accidental discovery; a lack of diverse viewpoints and ideas, and more of a homogeneity of thinking; and they don't devote enough resources for experimentation and exploration. This means that they lack an openness to new ideas and different perspectives, and thereby avoid the opportunities that can come from serendipitous discovery and unexpected opportunities.
Avoid this by encouraging frivolous innovation; investing in leading technologies without knowing of a specific return; being prepared to learn from failure; letting employees pursue their hobbies and passions; encouraging curiosity and offbeat ideas; learning to encourage projects that have uncertain goals and unknown outcomes. Consider this in the context of AI – we know it is going to have a profound impact but aren't quite certainly exactly what that will be. Hence, with AI, adopt a mindset that 'we don't know where we are going but we are making great time!"
If you aren't doing this – if your leadership style;e demands that every invested moment achieve some specific goal, some certain return, some absolute objective – you won't be terribly well prepared for the future.
The post Daily Inspiration: Serendipity & Innovation – ""Great leaders encourage people to waste more time on uncertain projects with unknown goals that have unsure payback and indeterminate timelines" appeared first on Futurist Keynote Speaker Jim Carroll: Disruptive Trend & Innovation Expert.