Data innovation: Staying on course to fill data skills gap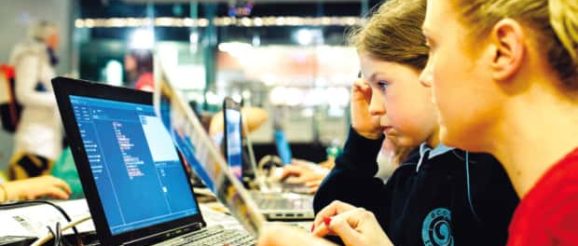 The global economy is changing drastically and that is impacting the nature of jobs available in Scotland and the type of skills that are in demand.
Due to the dawning of what is being termed the fourth industrial revolution, driven by digital technology and developments in areas such as artificial intelligence (AI), there is great demand for people with data skills.
A recent report by professional services firm PwC suggested AI could create more jobs than it displaces in Scotland over the next 20 years. It estimated AI could create 558,000 Scottish jobs, while 544,000 could be lost as a result of automation – a net increase of 14,000.
This research makes it clear that employees will need to retrain to gain the skills needed in a data-driven world and young people will have to come through with relevant qualifications and aptitudes.
A concern that needs to be addressed is the lack of people with relevant skills for the changing economy as new jobs are created.
Robin Huggins, director of academy and client services at MBN Solutions, a recruitment consultancy specialising in digital and technology sectors, says: "The market is exceptionally buoyant. I've been working in this area for the best part of two decades and I've never seen it so good."
This is leading to an imbalance between supply and demand, with lots of competition for the best talent, which is good for job hunters who can earn a lot of money but challenging for employers.
Many companies are relying on skilled people from other countries, which could lead to issues after Brexit.
Huggins says, looking to the future, it is vital to encourage people from a very young age – from early primary school – to be interested in and passionate about science, technology, engineering and mathematics (STEM) subjects.
He says a lot is being achieved in Scotland at grassroots level by voluntary organisations and the private sector but more must be done in terms of formal education.
He refers to the good work of CoderDojo – a global network of free computer programming clubs for seven to 17-year-olds. This is active in Scotland and is a run like a youth club to encourage children to learn skills in a fun way.
The gender gap in technology, due to a lack of women with STEM skills, also needs to be tackled.
A report funded by the Scottish Government through the Digital Scotland Business Excellence Partnership found that gender imbalance starts early and is maintained.
Of those studying National 5 computing science in school in Scotland, only 20 per cent are girls; just 16 per cent of students pursuing computing science degrees are women. Women also make up only 18 per cent of employees in digital technology occupations, compared with 48 per cent of the workforce as a whole.
Despite such challenges, Edinburgh has a strong position to build on when it comes to technology skills.
Jim Ashe, director of commercialisation and industry engagement at Edinburgh University's School of Informatics, says it has 400 staff, 1,600 students studying computer science; 370 MSc students and more than 300 PhD students.
"At that level, Edinburgh is the largest computer science centre in Europe," he says.
But he adds that there is a need to upskill people. Graduate apprenticeship programmes in larger organisations may have a role to play, as well as training in schools which the City Deal will support.
"If you go into schools, you'll see people want to be connected to the internet and using data. This is the next industrial revolution.
"The economy has drastically changed and it's all about data and the way we use it," he explains.
Ashe points to the announcement earlier this year by Prime Minister Theresa May of an AI and blockchain accelerator in Scotland that will welcome 20 start-ups a year and is expected to create almost 400 jobs.
"With the accelerator programme we get students on the entrepreneurial path and these new businesses will need skills.
"In Scotland, we're trying to create an ecosystem where we establish new companies and they need people.
"We need to give youngsters skills at schools and obviously universities as well."
Owen Kelly, director of engagement at the University of Edinburgh Business School, has been involved in the creation of the Edinburgh Futures Institute (EFI).
Kelly explains: "What EFI will bring to this is the important recognition that the skills we need for data economy are not just data skills."
To thrive in the changing economy, he says a range of skills are required – for example, from artists, designers and those who know about history and sociology.
He adds: "The EFI is bringing lots of data skills and putting this together with these other kinds of skills that will allow us to manage and control and innovate around the opportunities that data provides."
The Data Lab is an organisation that is helping Scotland develop the required skills and knowledge.
It enables industry, public sector and university researchers to innovate and develop data science capabilities in a collaborative environment.
The City Deal is an important source of investment to help organisations bridge the skills gap, along with money from sources such as the Scottish Funding Council.
Brian Hills, head of data at Data Lab, says that in the new economy everyone will need a level of data literacy, from the general public developing an understanding of data presented to them through the media and other sources, to data scientists working in areas such as AI and robotics.
Data Lab works to help spread skills across all income groups, as Hills explains: "Increasing access to skills development and diversity of students are key objectives for the Data Lab and other organisations operating in this space.
"This includes widening access to programmes at apprenticeship, college and school levels, using technology to provide access for remote learning and providing funding for students to attend courses and engage with employers."
To add to the data skills set in Scotland, Data Lab is involved in a number of initiatives.
For example, it works to develop data literacy from schools to advanced research, partnering with industry, the public sector and academic networks to deliver skills development and promote career opportunities across Scotland.
Hills says: "We are also closely engaged with the City Deal's Data- Driven Innovation programme, which has an objective to train 100,000 people in the Edinburgh region with data skills over a fifteen-year period."
Data Lab's skills programme has two areas of focus. First, it is enabling new talent through funding master's students in data science and AI courses at Scottish universities, funding industrial doctorates and advising working groups such as the Scottish Qualifications Authority and Skills Development Scotland.
Second, it is involved in professional development, working with industry and public sector partners.
Joseph George, head of consultancy at Edinburgh-based data firm Dufrain says employers should remember that the skills current employees have are transferable.
"We have been very successful in attracting and securing the right talent to meet this demand. The key to this success is knowing that the data sector is still evolving, which means we have to see beyond someone's career path or current job title and assess their potential.
"Someone who used to be called an analyst five years ago is now considered a data and analytics analyst and someone who was called a product manager could now be called a pricing and analytics manager. Finding people with great personal skills and commercial knowledge in a variety of sectors also adds to the capability of our entire team. The skills needed to meet the data challenges of tomorrow will be different than the ones needed today." While there are clearly challenges in ensuring that there are enough skilled people to meet the needs of a rapidly changing economy, Edinburgh is already a centre of excellence and the City Deal will allow even more to be achieved.
This article appeared in Data Innovation in September 2018. A digital version can be found here.