Delivering Outcomes Faster Through Innovation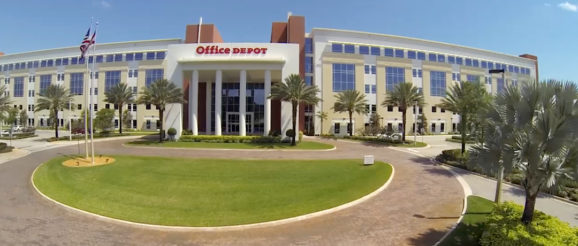 Editor's Note: Here at Smartsheet, our customers inspire us every day. Today's guest post comes from Matthew McClure, Office Depot's Director of the Supply Chain Project Management Office and Business Transformation
When I started this role at Office Depot two years ago, I stepped into one of the largest supply chain mergers in U.S. history. Now we're pivoting from a retailer to a services-led company that also delivers great products.
Our markets are changing, so we're constantly innovating and utilizing existing systems in a new way to deliver better products and experiences for our customers.
My team is responsible for delivering innovation, capabilities, and outcomes that are going to drive financial benefit to our company — and most importantly to our customers — so our vision statement is very clear, concise, and driven: "Deliver outcomes. Yeah, we got this."
What really excites me about my job are the innovations my team members discover that enable us to do things differently and drive change throughout our organization to deliver outcomes more effectively.
Speeding Toward a Singular Customer Experience
Two years ago, we faced a very large business need to wrap up the merger with OfficeMax and position ourselves to provide a singular customer experience coming out of the merger.
With many different groups involved in this process, including a lot of outside contractors to help with this effort, we had a handful of different platforms we were using to manage everything. I needed to get us rallied around one platform for work execution in order to expedite the merger and set us up for success going forward.
After extensive research, I chose Smartsheet based on our need to drive solid outcomes, fast. The platform was very easy for my project teams to adopt and leverage to deliver our outcomes for the business.
And with Smartsheet, the flexibility of the platform allows innovation to come from the users, so my team can create what works for them and design it collaboratively.
From Status to Progress
Moving to the Smartsheet platform also gave my team the visibility into projects that we needed in order to shift towards exception-based management. What used to be status meetings have become progress meetings, where everyone comes equipped with the latest information, and we talk about what we can do to go faster and deliver on our outcomes more quickly.
Instead of participants saying, "I've done Row 37" or "I'm finished with Row 38," we have a conversation around questions like: "What are we going to do next?" "What can we bring forward?" "Who is incurring a roadblock?"
And even that is evolving. In some of our meetings, everyone comes to the meeting already knowing that there's a roadblock, and they bring possible solutions for discussion, which helps us get to our outcome that much faster.
Accelerating Processes Through Innovation
Another possibility we've discovered with Smartsheet is the ability to drive workflows beyond project management. In doing so, we've fundamentally changed how we do business.
One example of this is the capital release process we recently launched, which enables general managers to request funds to make capital investments in their buildings. Say we have a location that needs some flow rack on the end of their line, which would greatly increase flow through our production lines.
In the past, the general manager would submit a network request, which would be considered against other network requests, including major strategic initiatives.
It would then take up to eight weeks to deliver the capital for them to go in and build the rack into the building — if their request was approved. By automating the workflow from launch to completion, the entire process now takes 24 to 72 hours.
And what's even more amazing is that we haven't just reduced the time the process takes. We've also increased the accountability to those requesting funds and of those responsible to approve the funds.
Leverage Others' Innovation at ENGAGE
One of the things I value most about working at Office Depot is the ability to leverage the innovation of others and then build on it. I love being able to hear how other teams at Office Depot have designed and leveraged new workflows through Smartsheet, whether they're in our retail, business services, construction, or real estate departments.  
I'm excited to come to Smartsheet ENGAGE in October to meet other innovators across many different companies and industries and learn how they're discovering new value, enabled through the Smartsheet platform.
I'm also looking forward to sharing our own story of what we're doing here at Office Depot to make things better for our customers, so that others can learn from us.
Hear Matthew McClure tell more of his story in the Office Depot customer deep dive session at ENGAGE'18. You'll learn how Office Depot is using Smartsheet to manage a massive business transformation: refitting acquired locations into Office Depot locations.