Dexterton and Kohler Co. Celebrate Creativity and Innovation in Style – One Proud Momma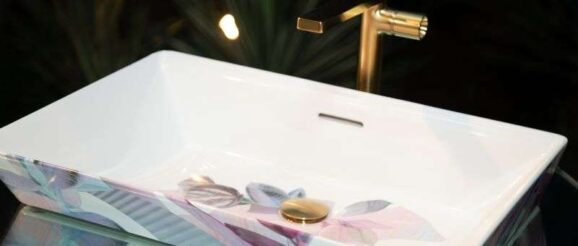 A dynamic and transformative era in design takes center stage with the official opening of the new KOHLER Showroom in Bonifacio Global City, a landmark event that also marks KOHLER's 150th Anniversary. The grand celebration, themed 'Come All Creators,' was brought to life together by Dexterton, a renowned name in the design and home improvement industry for over three decades. Dexterton's unwavering commitment to excellence and quality is epitomized by its enduring 20-year partnership with Kohler Co., the global leader in kitchen and design.
At the heart of this remarkable collaboration is a captivating display featuring limited-edition collections of the KOHLER Artist Edition collection, each piece adorned with original artworks by four female global creators. These creators used KOHLER products as their canvases to craft unique designs that redefine the boundaries of artistic expression. The adjoining interactive suites were adorned with three captivating floral vignettes, seamlessly complementing the evening's overarching theme.
The event brought together the vibrant creative community of Manila, with skilled architects, visionary interior designers, and inspired artists coming together to celebrate the fusion of art and innovation. The result was an evening where dreams took shape, and creativity and innovation commanded the spotlight.
In the spirit of collaboration and creativity, Dexterton also introduced a stunning collaborative mosaic kaleidoscope. This intricate masterpiece invited guests to participate in a collaborative art project, symbolizing the diverse talents and perspectives that converge to create something extraordinary.
A highlight of the evening was the opportunity for attendees to bid on two Limited K150 Artist Edition pieces, specifically acquired for this event. These pieces included the awe-inspiring "Falling Gently Collection" by renowned street and graffiti artist ELLE and the bold interpretations of "A World on Strings" by Chinese artist Ziling Wang. The proceeds from the auction will be donated to the Gynecologic Oncology Department of the Philippine General Hospital, further underlining the event's commitment to a meaningful cause.
This celebration marks just the beginning of a series of creative events to anticipate from Dexterton and KOHLER. As part of their journey of evolution and reinvention, these two industry leaders have hinted at their plans to introduce fresh, bold ideas while remaining steadfast in their commitment to timeless and elegant craftsmanship.
So, what's next for Dexterton that you should eagerly anticipate?
In the ongoing pursuit of timely innovations, Dexterton promises to embark on a journey of reinvention, signaling a new era for the brand. This leap is characterized by a fresh approach to brand and product curation, promising unique customer experiences, and embracing bold creativity.
As part of this evolutionary journey, Dexterton's Showrooms in BGC and Quezon City are poised to undergo remarkable upgrades coinciding with a highly anticipated overall rebranding. This transformation will break away from convention, introducing spaces that inspire and nurture creativity and bold ideas. The showroom experience will feature concepts that offer immersive opportunities for customers.
"We take immense pride in being part of KOHLER's 150th anniversary celebration, and our primary goal is to share with our clients the same artistic fulfillment and creativity that Kohler exemplifies," stated Audrey Go, VP, and Creative Director at Dexterton. In the context of our company's reinvention, Go further elaborated, "The transformation of our showroom mirrors our unwavering dedication to innovation and design excellence, perfectly aligning with the principles upheld by our esteemed partner brands, including KOHLER, over the years."
As Dexterton and KOHLER unite to commemorate 150 years of ingenuity, creativity, and excellence, the resounding message was crystal clear: "Come All Creators" and immerse yourself in a world of art, innovation, and inspiration like never before. This partnership stands as a testament to Dexterton's unswerving commitment to nurturing creativity, driving innovation, and championing design excellence in the Philippines.
Stay tuned for more updates and the unveiling of Dexterton's new showroom. Follow along on Instagram @dextertoncorp as Dexterton takes its first bold steps into the future of design.
About Dexterton: 
Dexterton Corporation is a distinguished and long-standing name in the world of design and home improvement. With a rich history spanning over three decades, Dexterton has consistently exemplified a commitment to excellence, quality, and innovation in the Philippines. As a key distributor of renowned global brands, they have played a pivotal role in shaping the country's design landscape. Their enduring 20-year partnership with KOHLER has further solidified their status as a leader in the industry. Dexterton's journey is marked by a continuous quest for innovation, a dedication to providing unique customer experiences, and an unwavering commitment to timeless and elegant craftsmanship.
About Kohler Co.: 
KOHLER is a globally recognized and revered leader in the fields of kitchen and design, renowned for its commitment to quality, innovation, and aesthetic excellence. With an illustrious history spanning 150 years, KOHLER has consistently pushed the boundaries of creativity, setting new industry standards. Their extensive portfolio of products, including kitchen and bath fixtures, furniture, and accessories, is a testament to their unwavering dedication to craftsmanship. As an industry pioneer, KOHLER has built partnerships with key distributors, such as Dexterton, to ensure their products reach discerning customers worldwide. KOHLER's legacy is one of enduring innovation, a commitment to timeless design, and a passion for inspiring spaces that celebrate both form and function.
Hits: 9