DFW Innovation Economy: Labor Pool Talent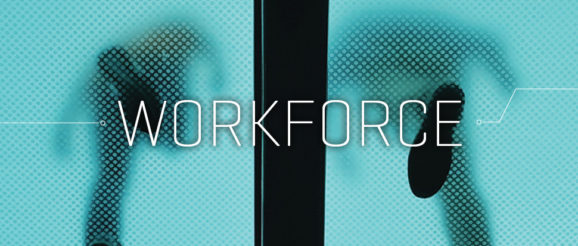 DFW Innovation Economy: Labor Pool Talent
Part 8 of our series on the drivers of an innovation economy looks at the single biggest contributor — local talent.  Four charts show how we stack up to comparison metros.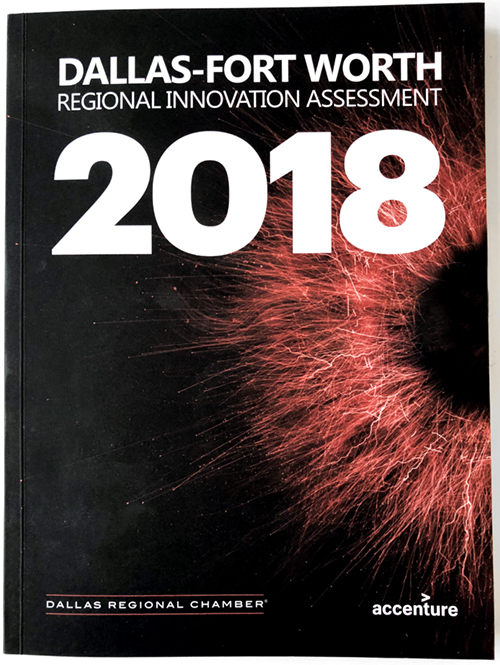 The Dallas-Fort Worth Regional Innovation Assessment 2018
DFW Innovation Economy is a serial look at chapters from the 2018 Innovation Assessment produced by the Dallas Regional Chamber (DRC) and Accenture. Each chapter of the Assessment comprises key metrics that can be tracked over time to evaluate the strength of Dallas-Fort Worth's innovation economy in relation to competitor metropolitan areas. Measures related to patent production, venture capital flows, educational attainment, business climate and various metropolitan rankings help to paint a picture of innovation-driven economic growth potential of DFW.
In this eighth installment about the drivers of an innovation economy, we look at the single biggest contributor—local talent. 
People power regional economic growth. Metros that focus on growing or attracting talent who are willing to ask hard questions, who pursue answers to challenges and who take risks never before attempted are cultivating a robust labor pool. These individuals will have the right combination of skills and motivation essential for supporting an innovation economy. A large metro workforce that includes a healthy mix of workers trained in science, technology, engineering and mathematical disciplines—as well as those with creative and entrepreneurial spirits—suggests an above-average innovation potential.
SCALE AND SHARE
A large regional workforce can be an attractive feature for a business facing a relocation decision. However, the percentage of the working-age population actually engaged in the workforce (known as the labor force participation rate) indicates a region's level of motivation to get things done. Although the national rate has been declining since the early 2000s, it varies widely across metros. On the low end, only 60 percent of Riverside's working-age population make up its 2.0 million labor pool. On the other end of the spectrum, 72 percent of Washington, DC's working-age population comprises the 3.3 million labor pool. At 69 percent, DFW sits near the higher end of the labor force participation rate scale, with the fourth largest labor pool of 3.7 million workers.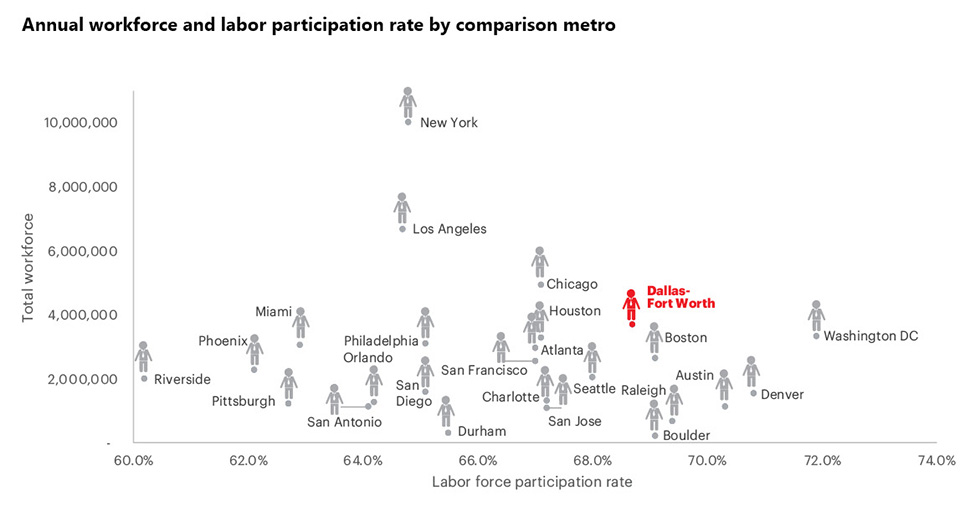 Source: LAUS, Bureau of Labor Statistics, 2016.
THE RIGHT KIND OF WORKER FOR THE JOB
Today's technology-driven economy is increasingly dependent on workers with specialized knowledge to fulfill the demands of the job. As a driver of innovation, technological expertise is attained through a combination of formal education in a high-tech, STEM or creative field and real-world experience. Several factors contribute to how strong a region's specialized workforce might be, including its number of workers with specialized skills, the percentage of specialized workers in relation to the entire population of workers, and the growth of employment in specialized fields. DFW ranks among the top 10 metros in terms of total high-tech, STEM and creative jobs, and has posted double-digit growth in high-tech employment over the past five years.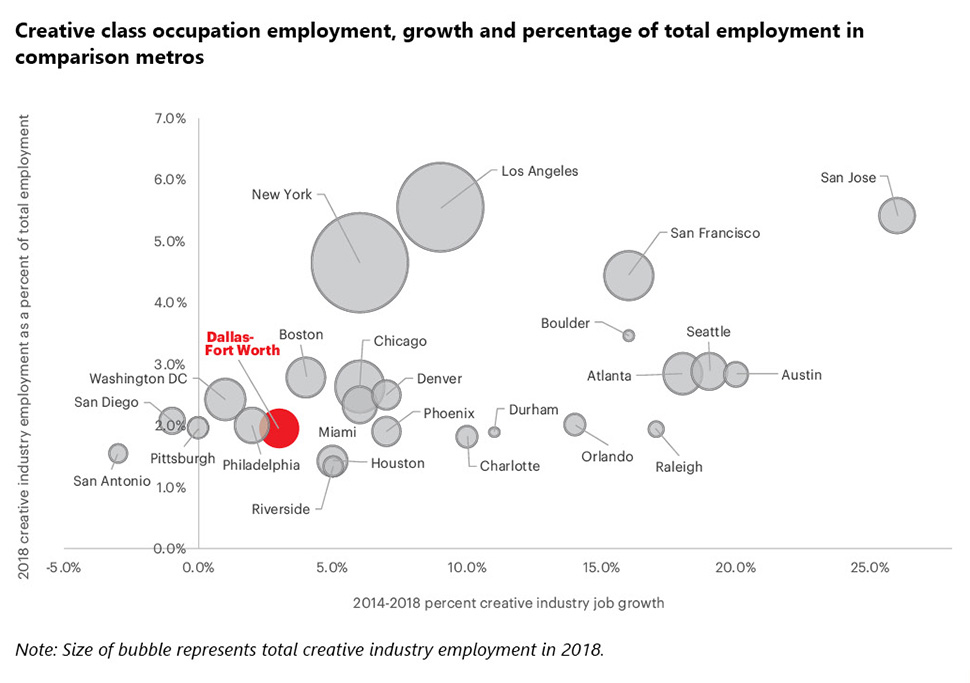 READ NEXT
Part one captures how experts position DFW as a center for innovation. See how DFW stacks up in a Scorecard that benchmarks our rankings against peer cities.
PART 2: DFW INNOVATION ECONOMY
People Power
Part two in our innovation economy series highlights population growth and talent attraction as a first look at regional innovation potential. Here's how DFW stacks up.
Part 3 of our innovation economy series explores the theme of knowledge — the current state of educational attainment and the quality of educational opportunities by metro area. Here's how DFW stacks up, in four charts.
Part 4 of our innovation economy series examines the role of ideas — where they are nurtured and how to protect them. 
Part 5 of our innovation economy series explores entrepreneurial communities and why metros including DFW are increasing efforts to support them.
PART 6: DFW INNOVATION ECONOMY 
Capital Inputs
Part 6 of our innovation economy series addresses access to capital — and where we stand — in 4 charts.
Part 7 of our innovation economy series explores entrepreneurial communities and why metros including DFW are increasing efforts to support them.
Get on the list.
Dallas Innovates, every day. 
Sign up to keep your eye on what's new and next in Dallas-Fort Worth, every day.
"Will this reliably integrate with our app?"
"Would users even want to use this feature?"
"How will we notify users?"
Simple questions, at face value. But any seasoned product or …
SPONSORED
North Texas is a big place, with plenty to do, see, hear, and watch. So, we scour the internet every week to find events and activities for you. As always, …
Dallas Invents is a weekly look at U.S. patents granted with a connection to the Dallas-Fort Worth-Arlington metro area. Listings include patents granted by the USPTO to local assignees and …
Yangu Beauty is created for women, by women. The skin-care line is using technology to generate products specifically for women of color, and it's also employing women in Africa. 
Mohamed Elwazer quickly signs phrases in front of an Xbox Kinect camera, introducing himself and asking for help. He ends each sentence by putting his hands at his sides.