DG NITDA Harps On The Importance Of Digital Innovation In Africa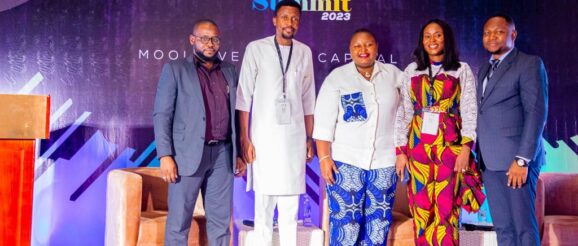 The Director General, National Information Technology Development Agency (NITDA) Kashifu Inuwa, has attested that digital innovation is ushering better lives to Africans and improving the continent's digital economy.
Inuwa, represented by National Coordinator, Office for Nigerian Digital Innovation (ONDI), Yakubu Musa said this at the e-Tech Africa Summit in Abuja.
He stated that digital innovation is about using technology to "improve the way we do things which has led to the increased efficiency in the provision of cutting-edge solutions, goods, and services at a relatively cost-effective price."
The DG asserted that that digital innovation can improve the government's openness, accountability, and efficiency by bringing it closer to the people.
"Today, digital skills are becoming ever more important in Africa as the continent is poised at the threshold of massive growth and acceleration in the world. Currently, Africa's Gross Domestic Product (GDP) is 3.1 Trillion USD, with digital innovations contributing 200 Billion USD," he said.
Referring to Statista report, Inuwa said the population of Africa is expected to double by 2050 which presents endless opportunities for robust and inclusive growth that will harness its rich natural resources and abundant human potential to increase prosperity not only in Africa but also the world at large.
"To take advantage of this abundant and crucial asset, Africa needs to be digitally connected and skilled," the Director General noted. Adding that further that "to realize Africa's digital potential, certain issues must be resolved."
"One of the resources required to transform the African digital innovation ecosystem is digital talent. Lack of relevant skills can limit the opportunities for African countries, therefore, continuous programmes for learning digital literacy and skills should be prioritised to increase human capacity and achieve digital inclusion," Inuwa said.
Inuwa further stated that the need to increase broadband access at a cheaper rate is imperative because the digital transformation depends on the internet.
He added that, "Proper planning and incentives for young people engaging in digital innovation are necessary to encourage them to develop technologies that address our peculiar local problems and socioeconomic needs."
While acknowledging that there are important hurdles to cross, Inuwa said one of the most important hurdles to overcome is creating functional digital infrastructure and modernising it to fully benefit from the digital economy.
He added that this Pitchfest competition at the summit would provide talented youths the opportunities to showcase their innovative ideas and solutions for enhanced productivity in different sectors as well as improve efficiency in the delivery of innovative products and services.
Inuwa also challenged the participants to pitch on defined ideas and develop solutions that would enhance the growth of Africa's digital innovation and entrepreneurship ecosystem.
He disclosed that their programme aligns with several initiatives that are being implemented by NITDA through its Special Purpose Vehicles – Office for Nigerian Digital Innovation, ONDI, and the Centre for Artificial Intelligence and Robotics, (NCAIR.)
He said, "NITDA created the ONDI to ensure the promotion, growth and protection of the Nigerian digital innovation ecosystem for the growth of Nigeria's digital economy."
"The Office is responsible for facilitating the growth of the Nigerian digital economy through the creation of Innovation-Driven Enterprises (IDEs) that will promote job creation and the proliferation of market-creating innovations to create more prosperity for Nigeria.
"This is in furtherance of NITDA's commitment to sustaining the promotion and growth of Indigenous Digital Innovation and Entrepreneurship, derived from our Strategic Roadmap and Action Plan (SRAP 2021-2024) aimed at creating and sustaining an enabling framework for profitable adoption of home-grown innovation to accelerate the progress of the nation's economy," he added.
While commending the effort of the organisers, the NITDA boss called on other relevant organisations across the country to initiate similar hackathons and competitions to provide opportunities and resources to empower more indigenous tech innovators to churn out solutions that can solve nation's problems.
He assured that NITDA remains committed to partnering with e-Tech Africa and other like-minded organisations towards supporting and promoting talented and exceptional indigenous innovators to boost the economic fortune of Nigeria in particular and Africa's digital economy in general.
The founder of Moolu Venture Capital, Prince Ogbonna, also gave his remarks at the summit agreeing with the submission of the NITDA's boss; emphasising the need for more infrastructures and funding.
He noted that their focus is on increasing assets, reducing costs, and improving quality in the digital economy.
The post DG NITDA Harps On The Importance Of Digital Innovation In Africa  appeared first on National Wire.