Direct Relief, Baxter International Foundation Announce 2023 Transformative Innovation Awards in Community Health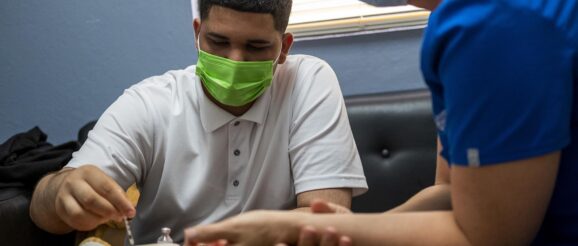 Direct Relief and the Baxter International Foundation, the philanthropic arm of Baxter International Inc. today announced the winners of the 2023 Transformative Innovation Awards in Community Health: Incorporating Nutrition to Improve Diabetes Health Outcomes.
The Transformative Innovation Awards program, managed by Direct Relief and funded by the Baxter International Foundation, launched in 2019 to support community health centers, free and charitable clinics, and diabetes organizations that incorporate nutrition to help improve health outcomes for noncommunicable diseases, including diabetes.
"The Baxter International Foundation is delighted to partner with Direct Relief to support the 2023 award recipients as they work tirelessly to expand nutrition education and support and improve diabetes care for patients and families in their local communities," said Verónica Arroyave, executive director of the Baxter International Foundation and vice president of corporate responsibility and global philanthropy at Baxter.
People with diabetes often experience nutrition-related challenges in managing their condition, including a lack of access to high-quality healthcare and healthy foods and the high cost of diabetes medications. Each 2023 awardee will receive a $115,000 grant supporting an 18-month project to develop novel nutrition-integrated approaches aimed at enhancing health outcomes for patients with diabetes.
The five 2023 awardees plan to use their funding to support a variety of initiatives:
Asociación Puertorriqueña de Diabetes, San Juan, Puerto Rico: Nutrition and healthy lifestyle education, counseling and exercise programs.
St. Vincent De Paul Charitable Pharmacy, Cincinnati: A pharmacist-led nutrition program for low-income and uninsured patients with diabetes, including nutritional and diabetes self-management education, free pre-packaged healthy meals and cooking demonstrations.
Faith Community Pharmacy, Newport, Ky.: Nutrition education, cooking demonstrations and free healthy food to help patients better manage their diabetes.
Fundación Pediátrica de Diabetes, San Juan, Puerto Rico: Education, nutrition and psychological counseling, staff training, diabetes-focused summer camps and diabetes discharge kits to support youth diagnosed with diabetes and help them live a diabetes-friendly lifestyle.
Finger Lakes Community Health, Penn Yam, N.Y.: Development of a diabetes task force to strengthen infrastructure and treatment protocols, host provider education, expand community partnerships and improve patient support resources, focusing attention on cultural dietary differences to customize meal planning to each patient.
"These 2023 awardees exemplify how innovation and empathy can transform the lives of those most in need," said Thomas Tighe, CEO and president of Direct Relief. "It's a privilege for Direct Relief, in collaboration with the Baxter International Foundation, to support their efforts and help them do even more for the patients they serve."
The Transformative Innovation Awards program has awarded grants totaling more than $1 million to 12 community health centers, free and charitable clinics, and diabetes-focused organizations, empowering them to advance nutrition education, improve access to diabetes care, address health disparities related to noncommunicable diseases, boost specialty care access, and tailor patient and community-specific approaches to care.