Disney's Unrivaled Commitment to Creativity and Innovation Brought to Life at 2023 Upfront Presentation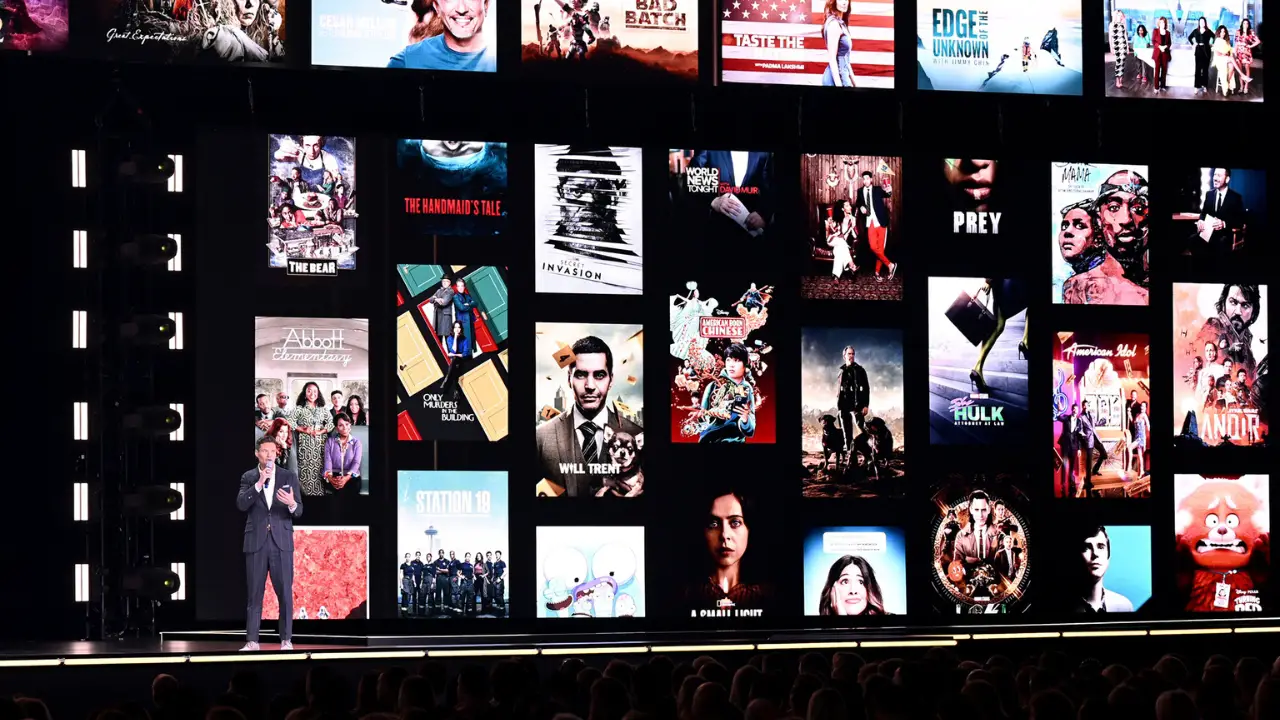 The Walt Disney Company on Tuesday highlighted its unrivaled position in the marketplace with announcements, clips, and trailers as part of its annual Upfront presentation at the North Javits Center in New York City. The presentation celebrated Disney's distinctive, innovative approach to dynamic storytelling backed by technology.
"Storytelling is what distinguishes Disney. We've been cultivating it for a century," Rita Ferro, president of Advertising, Disney, said onstage. "In this area of great change, creativity and innovation continue to be the cornerstone of all we do at Disney."
D23 Expo 2022 – Day Two Recap
Throughout the two-hours-plus presentation, boldfaced names including Troy Aikman, Pete Docter, Elle Duncan, Kevin Feige, Damar Hamlin, Khloé Kardashian, Kim Kardashian, Kathleen Kennedy, Peyton Manning, David Muir, Jesse Palmer, Angel Reece, Ryan Seacrest, George Stephanopoulos, Michael Strahan, and Caleb Williams took the stage, showcasing the breadth of all The Walt Disney Company has to offer.
Serena Williams delivered the first big announcement: Production has started on a new ESPN series. In the Arena: Serena Williams. An expansion of the Emmy® Award-winning In the Arena franchise, hers will be a multi-part series that provides the most complete, intimate, and compelling account of the multi-award-winning tennis pro's legendary career, featuring firsthand perspective from Serena and key figures throughout her life.
Aikman, Joe Buck, Duncan, and Hannah Storm reiterated Disney's incomparable position in sports media, which houses over 94,000 live and original hours of studio and event programming across ESPN, and ESPN offered a first look at several 2023 marquee matchups that will be central to its industry-leading college football coverage.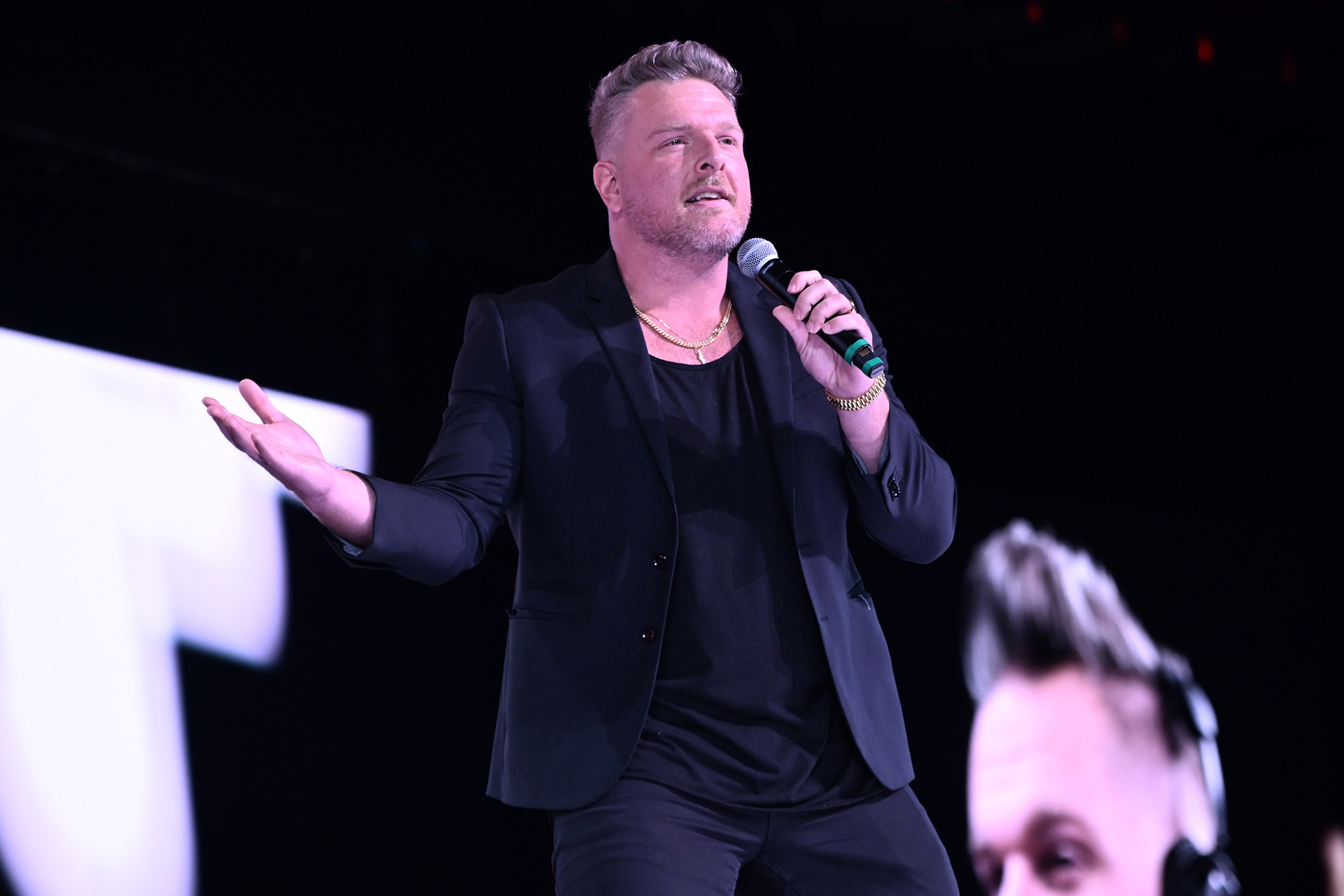 ESPN continued to make headlines when it announced The Pat McAfee Show, featuring McAfee and ensemble talent, will continue to deliver one-of-a-kind opinions, interviews, and more when it moves to ESPN platforms this fall. The program will air live weekdays on ESPN, the ESPN YouTube Channel, the ESPN App, and ESPN+. Details about ESPN's new weekday afternoon schedule, which will continue to include SportsCenter, will be unveiled before The Pat McAfee Show launches. McAfee will continue his college football analyst role on ESPN's College GameDay Built by The Home Depot, and also host alternate presentations of ESPN college football telecasts.
Manning revealed he'll return as a host of the 2023 CMA Awards alongside country music sensation Luke Bryan, who shared a video message from the American Idol set.
Next, Muir touted the tireless work of ABC News journalists to find and report on untold stories from around the world before introducing WABC-TV's Eyewitness News anchors Bill Ritter and Sade Baderinwa, who reiterated the importance of local news broadcasts—to both advertisers and viewers. Next, Stephanopoulos and Strahan spoke about ABC News landing some of the most buzzworthy interviews of any news organization, citing their respective conversations with Sergey Lavrov and Prince Harry.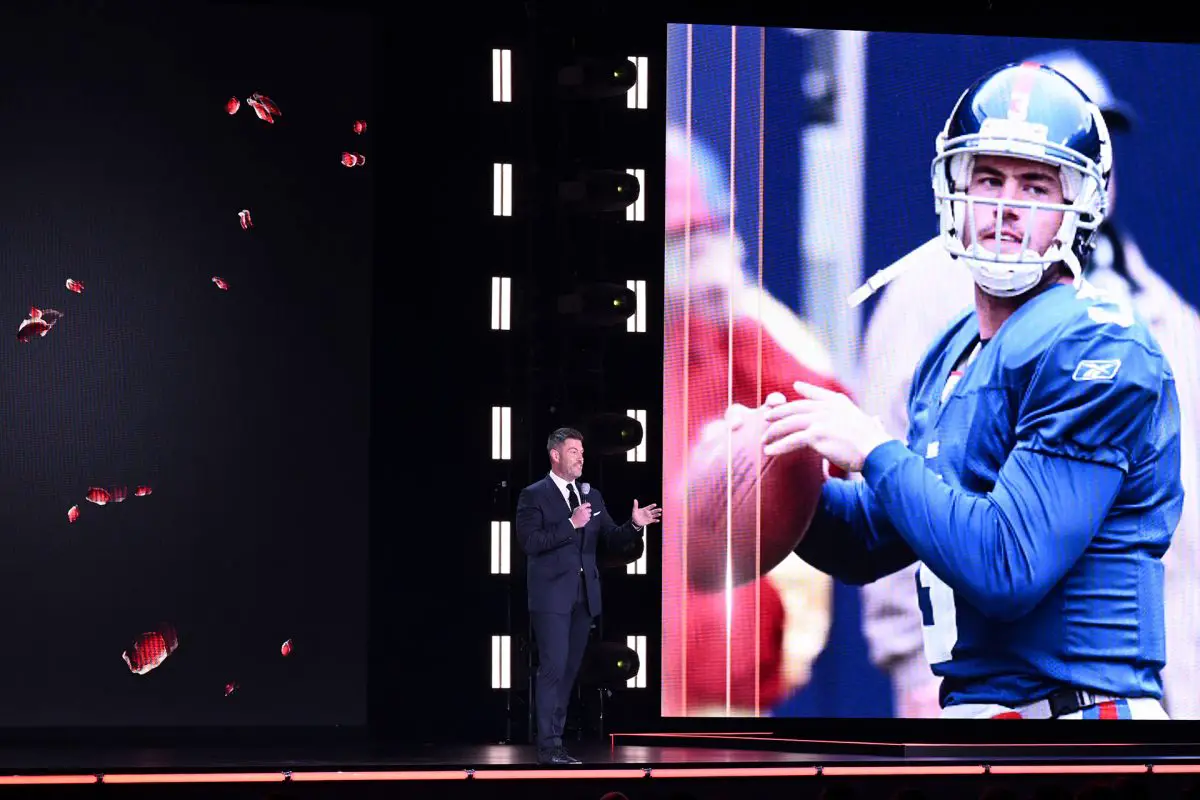 Next, Palmer previewed what's next for ABC—including the long-awaited premiere of The Golden Bachelor, airing Mondays this fall. After more than 20 years of fostering young love on The Bachelor, The Bachelorette, and Bachelor in Paradise, The Golden Bachelor will showcase a whole new kind of love story—one for the golden years. On this all-new unscripted series, one hopeless romantic is given a second chance at love in the search for a partner with whom to share the sunset years of life. The women arriving at the mansion have a lifetime of experience, living through love, loss, and laughter, hoping for a spark that ignites a future full of endless possibilities. In the end, will the Bachelor turn the page to start a new chapter with the woman of his dreams?
The Kardashian sisters then announced Hulu has renewed The Kardashians for 20 additional episodes; Season 3 will begin streaming Thursday, May 25. "If you guys thought last season was wild with marriages, births, and breakups, this new season is going to be crazy epic," Kim said. Her sister added, "You'll see us navigate through motherhood, co-parenting, and building our own empires. Things do get a little crazy."
When Feige took the stage next, he gave updates on a trio of Disney+ Original series from Marvel Studios: Secret Invasion (streaming Wednesday, June 21), Loki Season 2 (streaming Friday, October 6), and Echo (streaming Wednesday, November 29, with all episodes). Next, Kennedy previewed some upcoming Disney+ Original series, including Star Wars: The Acolyte and Star Wars: Ahsoka. She also announced that, starting Wednesday, May 31, fans can stream the films Indiana Jones and the Raiders of the Lost Ark, Indiana Jones and the Temple of Doom, Indiana Jones and the Last Crusade, Indiana Jones and the Kingdom of the Crystal Skull, as well as the series The Adventures of Young Indiana Jones, before the final installment of the beloved franchise, Indiana Jones and the Dial of Destiny, opens in theaters on Friday, June 30.
After Docter previewed Pixar Animation Studios' Win or Lose, streaming in December on Disney+, Seacrest highlighted four series streaming on Hulu: Only Murders in the Building Season 3 (coming Tuesday, August 8), Black Cake (coming soon), FX's The Bear Season 2 (coming Thursday, June 22), and FX's limited series Shōgun—the latter of which was introduced with performers dressed as Samurais. "How amazing was that?" Ferro asked. "If that's just a preview, I cannot wait to see the limited series!"
Wrapping things up, Ferro told the audience, "All the extraordinary content you've seen today is underpinned by world-class tech and innovation. The Walt Disney Company was the only major studio to be named the Most Innovative Company by Fast Company; they singled out our technology stock as one of the reasons why. We're hyper focused on making our business smarter, faster, safer. When you consider what's possible with the convergence of content and tech, we are at the cusp of decades of the best advertising—and we are excited to have you along with us on that journey."
After an impactful presentation, guests joined under the 42-foot-wide Mickey ear arch and were treated to an experiential costume exhibit celebrating Disney's 100 years. Costumes and props were on display from classics including Beauty and the Beast, Cinderella, Cruella, The Handmaid's Tale, Hocus Pocus, Indiana Jones and the Dial of Destiny, Iron Man, Loki, Maleficent, Star Wars: The Mandalorian, Star Wars, and more.