Double the innovation: How musicians niftily weave in king-sized double bass into Indian compositions – The Hindu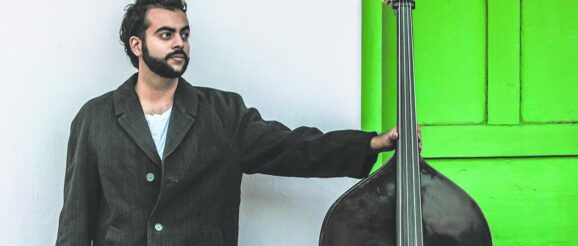 It is hard to imagine the double bass — the lowest-pitched member of the violin family that resembles a string instrument on steroids — setting the tone for the Sufi song 'Dama dam mast kalandar', but in Debjit Mahalanobis's hands, it does.
In a 2017 TV recording made with the Murshidabadi Project, a Sufi musical initiative, Debjit can be seen playing the double bass in arco (with a bow) and pizzicato (string plucking) methods, taking the song to a new resonance. "The beautiful thing about this instrument is that it can be played in two different forms authentically. While arco is preferred in Western classical, pizzicato is more common in jazz. I have been lucky enough to delve in both through my musical collaborations, and am now establishing the Indian rhythmical and melodious aspects on the double bass," Debjit says over the phone from Kolkata.
The young prodigy hails from the family of scientist and statistician P.C. Mahalanobis and musician Pt. Ramshankar Bhattacharya, founder of the Bishnupur Dhrupad Dhamar gharana, from his maternal side. For a few years now, on his mission to make the double bass a quintessentially Indian instrument, Debjit has been a student and disciple of Rudraveena maestro Ustad Bahauddin Dagar, learning the ancient form of Dhrupad music, known as Dagarvani.
An Indian twist

It is not an easy task, because the double bass originated in Europe at least two centuries after the violin. "Until then, the cello was the lowest in the string instruments. The double bass got its name because it delivered double the bass (the tonal range) of a cello. It was not until the 20th century that composers started realising the huge sonic range of this instrument because of its massive fingerboard," says Debjit.
Besides Sufi music, he has also worked with Baul and other folk singers, and is constantly exploring its potential for the Indian canon. He has been performing on the double bass with national and international orchestras, such as Indian National Youth Orchestra, the Bombay Chamber, the Bangalore City Chamber, the Indo-European Chamber, the Kolkata Symphony and the South Asian Symphony Orchestra.
In 2020, Sangeet Kala Mandir premiered an online concert centred around his compositions on the double bass called 'Double Bass India'. Debjit Mahalanobis has also been awarded the Chidakash Yuva Samman Award 2021, by Chidakash Kalalay and the Ministry of Culture for his efforts to propagate a new instrument in the Indian context. He has also been showcasing rare Indian instruments such as the Mattakokila Veena and Raas Veena with the double bass. He hopes that the double bass will become as much a part of the Indian soundscape as the Carnatic violin.
"It took us 300-350 years to realise that the Carnatic violin was an instrument in its own right. The double bass could become one too," says Debjit. Coming up this year are two albums: 'Double bass meets the sitar', an Indian classical album with Snehesh Nag on the sitar and 'DnA Machines', an electronic project infusing Raagdari on an electric upright bass with electronic beats and Indian rhythms, with Agnitray Chakrabarti.
He also uses the double bass for film background scores, such as the 2022 project 'Megha'. "In background scores, the double bass can be heard in horror, detective and supernatural films. Filmmakers love my sound. When anything dark or forbidding is going to happen, you can hear my instrument in the background," he laughs.
Complex instrument

"Music students tend to stay away from the double bass for many reasons," says Augustine Paul, conductor of Madras Musical Association (MMA), the renowned choir of St. Andrews Church founded in 1893.
"No orchestra is complete without a double bass. Unfortunately, because of its huge size (up to six feet from scroll to endpin), and the difficulty in transporting it, many people are reluctant to learn it professionally in India," he says. Yet to music connoisseurs, the string section can sound weak without the pulsing presence of the double bass. "Once you start listening to the orchestra with double bass, you will miss the sound when it is not there," says Augustine. The MMA holds around four to five concerts a month, and when its in-house double bassists are not available, invites guest artistes over from other cities.
Among the special invitees recently was Bengaluru resident Jasiel Peter, who trained to play the piano and violin before shifting to double bass. Originally aspiring to take up advanced violin studies in the U.K., Peter was unable to afford the fees despite getting admission to many institutes there. "This is when I met Nick Pendlebury, the head of the Strings Department in the Trinity Laban Conservatoire of Music and Dance in London, who said that I could perhaps try to learn the double bass and come back in a year." Instead, Jasiel taught himself through YouTube videos, practising on a double bass at Bangalore Club, and was up to scratch within three months. His talent helped him to study the instrument on full scholarship for the next five years, and Jasiel today has a Masters in double bass. The U.K. stint showed him a new side to the instrument. "I saw my teacher Leon Bosch (a South African national), singing with the double bass. Until then, I had always thought of double bass as a supporting instrument, but realised that it could be used with song and solo repertoire too," he says.
Tonal innovations

For Chennai musician Francis Rosario, who has spent nearly 40 years in the field as cellist and double bassist, his latest acquisition, a five-stringed double bass from Germany, has helped him play cello notes more easily. "The four-string double bass cannot get the regular low B and C notes of the cello. So players have to shift those two notes an octave higher. There are practical difficulties in this method. Since five-string bass has become very common in orchestras abroad, I can play according to what the cellos are playing, and technically, I get more freedom," says Francis.
Musicians import their instruments from established manufacturers in the U.S., Europe and China because there are no double bass luthiers in India.
"Importing double bass has become possible only in the past four to five years. When I started training in 2007, no company was willing to even consider bringing it to India," says Debjit. After going without an instrument for eight years, he decided to craft his own double bass, using the services of a local luthier in Kolkata.
"Since double bass has got different types of wood in different parts of its body, it has to be tested over time for tension. The thick wires can cause immense tension on the instrument's body, and the wood reacts differently to Indian temperature," he says. When the first prototype broke after two years, he spent another two years making a new one, becoming in the process, an expert in what he calls the 'non-musical aspects of maintaining the double bass' such as carpentry. "I seasoned it myself, by playing it again and again over the years, cutting it down and smoothing some of the rough edges. I am very proud to say that my double bass is equal to any of the branded ones in the market," he says.
Recently, Debjit has become the ambassador of BSX Bass, a Philadelphia-based company for which he endorses a double bass that can be completely dismantled for transport. Jasiel, meanwhile, keeps a tool kit handy for concerts where he has to borrow a double bass. "Each double bass is differentin the fingering and position of the strings. Some have a very high pitch, so the strings are really high above the fingerboard, and pressing it is tough. So I just carry some of my tools and set up the instrument before I start playing it," he says.
Young players hold out promise for the double bass. Composer/musicians like Debjit Mahalanobis, whose commissioned work was featured at the 'Favoritten Festival' in Dortmund, Germany last year, and Jasiel Peter, who collaborated with Kathak exponent Jayeeta Dutta at the 'River Flows In You' solo dance production in Bengaluru in November 2022, are bringing out new aspects of this traditional instrument.