Download Weekly: Spark's Innovation Studio makeover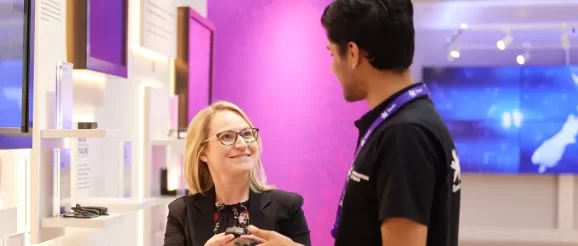 Spark's Innovation Studio makeover

Spark has updated its Innovation Studio where customers and interested organisations can see exhibits of technologies such as AI, computer vision and IoT. In many cases the showcases use real life examples of local projects.
Michele Wong, who leads Spark's IoT team says visitors will witness how the technologies are converging. She says they: "… help organisations improve efficiency, reduce costs and the use of natural resources, and enable businesses to become more productive and sustainable through technology".
The updated Innovation Studio is divided into sectorial zones. These include asset management, critical communications, smart environments, construction, water and emerging technology. Each zone offers a variety of applications.
Spark now has 1.5 million IoT connections
Wong says there are now 1.5 million connections on its IoT networks. "The exciting thing about IoT is the breadth of business problems it can help solve. Our solutions connect everything from tsunami gates, natural water sources, forests, livestock, electricity and water meters, construction equipment, business fleets to pharmacy refrigerators and much more.
"The potential for IoT in New Zealand across multiple sectors is immense – it can cater to such a wide range of business cases, turning simple data into real insights that make a tangible difference to business outcomes."
---
Spark to kill Leaven brand
Spark is dropping the Leaven brand name after four years. The company launched Leaven in 2019 as a consulting division specialising in business transformation. The operation will be wrapped into Spark's CCL cloud division. Spark says any employees affected by the change will be redeployed either within CCL or elsewhere in Spark.
---
One NZ promises real-time customer service dashboard
One NZ says it will publish a real-time dashboard showing customers the state of its service operation. The company will post the dashboard as a banner on its website's contact page.
The aim is to improve customer satisfaction. The company needs to improve. In September the Commerce Commission produced a table ranking customer service performance at New Zealand's mobile and broadband providers. One New Zealand came bottom in all four categories for its mobile business sitting well behind its rivals. It fared marginally better in broadband, coming second to bottom in three out four categories.
On Thursday this week, the One NZ posted the following under the heading: Inbound call queue performance.
Yesterday, we helped 6,614 customers through our inbound call queues. On average, customers waited 46 seconds to speak to us.
5% of callers ended the call before it was answered. In September, 80% of customers told us we fixed their issue on the call.
One says the page will show real-time data in the coming months and will add further information relevant to customers.
Chris Fletcher, One NZ SME & consumer director, says the company has seen a 25 per cent fall in calls over the last 12 months which he says shows a general improvement in service.
---
Pacific Islands telco to move from Huawei kit
Digicel Pacific is set to replace the Huawei network equipment it has used until now with Nokia kit. The carrier operates networks in PNG, Fiji, Samoa, Tonga, Vanuatu and Nauru.
When, in 2021, it looked as if China Telecom was about to buy Digicel Pacific, Australia's Telstra stepped in with a counter offer that included finance and credit guarantees from Export Finance Australia. The United States International Development Finance Corporation and the Japan Bank for International Cooperation.
In other words, the deal was a geopolitical move to stall Chinese influence in the Pacific Islands more than a straightforward business transaction.
Chinese telecommunications technology, and more specifically Huawei kit, is, in effect, banned in Australia, the US and Japan.
---
---
In other news…
There was a time when Blackberry was a name to conjure with. Today the former phone make remains in the software business. Now BlackBerry says it plans to separate its Internet of Things and cybersecurity divisions and will work towards an initial public offering for the IoT business next year.
Meanwhile current mobile phone maker Samsung has added the Galaxy S23 FE to its range. Samsung dominates the premium end of the Android phone market and is the only serious challenger to Apple's iPhone range across the wider market. These days the phone's $1099 price tag counts as mid-range. The Galaxy S23 FE includes a Snapdragon 8 Gen 1 processor, three rear cameras and a 6.4-inch Dynamic AMOLED 2X display.
Meta is thinking out loud about charging Instagram and Facebook users in the EU to use its social media networks. Regulatory pressure from the EU has made it harder for the company's surveillance capitalism business model, but Meta thinks customers could be willing to hand over €13 a month for a mobile account and €17 to use its apps on the desktop. Having both apps on mobile will cost €19 a month. Mark Zuckerberg might do well to check in with Elon Musk for lessons on how NOT to sell social media subscriptions.
Chinese owned TikTok is testing a subscription-based ad-free version of its service. Users pay $5 to avoid ads served by TikTok, the deal doesn't stop them from the torrent of influencer campaigns and sponsored content.
---
The Download Weekly is supported by Chorus New Zealand.