Dr Hussain Shah speaks about J&K's case at Digital Innovation event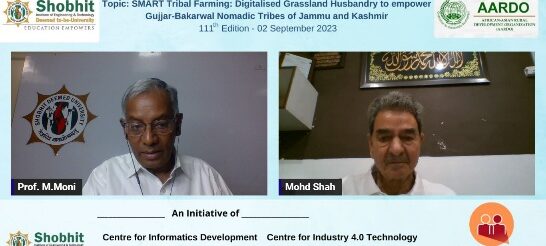 New Delhi, Sept 3 – The 111th edition of the International Webinar Series, titled "Open Source Digital Technology towards self-reliant India (Atmanirbhar Bharat)," took place on September 2, 2023. This collaborative event was jointly organized by Shobhit Institute of Engineering & Technology, the Center for Informatics Development Solutions and Applications (CIDSA), and the Center for Industry 4.0 Technology Studies and Applications (CITSA), in partnership with the African Asian Rural Development Organization (AARDO).
The focal point of this webinar was the empowerment of Gujjar & Bakarwal Nomadic Tribes in the Jammu & Kashmir region through "Smart Tribal Farming" and the digitalization of grassland husbandry. Dr. M. Hussain Shah, the former Director Research & Dean Faculty of Agriculture at Skuast-Kashmir, was the distinguished guest speaker. Dr. Shah brought a wealth of experience from his service across various government departments, academic institutions within and outside India, including Asmara University in North East Africa and Massey University in New Zealand under the United Nations Development Program (UNDP).
Dr. Shah's comprehensive presentation delved into the economic and social upliftment of the transhumant communities, specifically the Gujjar & Bakarwals in the North-Western Himalayas. His discourse encompassed demographic insights, socio-economic dynamics, and their intrinsic interconnections. He addressed crucial facets such as the nomadic population's status, grazing resources, current biomass conditions, grazing patterns, government initiatives, research and development challenges, the roles of different organizations, and the imperative need for a Fodder & Rangeland Development Board. Additionally, he highlighted the importance of holistic development, spanning economic, social, environmental, educational, and healthcare aspects, including mobile schools and clinics. Dr. Shah emphasized the involvement of these communities in developmental activities, bolstered by appropriate incentives.
The audience resonated with Dr. Shah's presentation, leading to a unanimous resolution to establish a center of excellence and seek sponsorship from state and central governments to advance this project. The overarching goal is to drive economic prosperity for nomadic communities, maintain environmental stability, and safeguard the fragile Himalayan ecosystem.
Dr. Shah currently heads "GREEN SCAN CONSULTANTS," an organization engaged in a strategic partnership with "ZIRAAT TIMES" to address critical issues faced by farmers and farming communities. The webinar was expertly moderated by Prof. Moni, an Emeritus Professor and former Director-General of the National Informatics Center, Government of India, New Delhi.