Dr. Lauren F. Lyles-Stolz joins NACDS to focus on reimbursement, innovation and advocacy | Drug Store News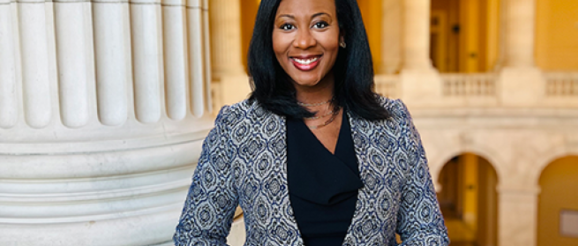 At NACDS, Dr. Lauren F. Lyles-Stolz will serve as a subject matter expert on federal and state pharmacy reimbursement issues specific to Medicaid, Medicare, commercial and other payers. Her new role is a coming home of sorts, as she was selected as NACDS' Advanced Pharmacy Practice Experience student and served in the role in Fall 2015.
"We see Lauren as an immediate-impact member of the NACDS staff team," said NACDS President and CEO Steven C. Anderson. "She brings diverse experience and knowledge that will contribute to policy development and advocacy on behalf of NACDS members. These are critical issues for patient care at the federal and state levels alike, and Lauren will make a big difference for this industry and for this profession that she so clearly loves."
Drug Store News recently sat down with Lyles-Stolz for a wide-ranging interview on topics she will be covering for the association.
DSN: Why are reimbursement issues so important to the work that NACDS does?
Dr. Lauren F. Lyles-Stolz: As a pharmacist in reimbursement and innovative healthcare policy, I have learned over time that reimbursement is one of the driving factors that shape how we practice healthcare and transform healthcare for populations. Addressing reimbursement issues is important because it's how NACDS supports our members in their work to keep their doors open to the Americans who rely on them for an array of pharmacy-based services. NACDS remains committed to helping ensure that pharmacies receive fair and adequate reimbursement, protections against retroactive fees, and adequate pharmacy networks – to name a few reimbursement issues – to help patients maintain seamless access to their chosen pharmacy provider.
DSN: In 2015 you were NACDS' Advanced Pharmacy Practice Experience student. How did that role shape you and how will it influence your experience with the organization now?
LFLS: My Advanced Pharmacy Practice Experience – or APPE rotation – with NACDS was evocative, and tremendously influenced my interest in strategy and healthcare policy. I had the opportunity to explore innovative and collaborative ways in pharmacy to improve health outcomes, cost savings, and overall patient satisfaction. For instance, while at NACDS in 2015, I was working on telehealth policies – a topic which has been critically important during the COVID-19 pandemic to ensure continuity of care. I had no idea how that work would be leveraged to serve the broader population in the nation's public health response. A culmination of my pharmacy experiences, including my time at NACDS, inspired me to apply for the German Chancellor Fellowship to do population health management research in Berlin, to work on and advocate for innovative regulatory policies for pharmacy and pharmacists, and to understand the competing priorities in the healthcare arena that can hinder pharmacy progress, pharmacy reimbursement, and patient innovation.
DSN: How has previous work with health legislation at the state level and with the COVID-19 pandemic response prepared you for your role with NACDS?
LFLS: As the former Executive Director of the Washington State Pharmacy Quality Assurance Commission, I gained a global perspective of all of the various healthcare and non-healthcare stakeholders, their interests, and where opportunities exist to lead and find common ground on issues that can immensely help patients. As you may know, Washington State was the epicenter of the COVID-19 pandemic, so it required teamwork, leadership, and patience at the state and federal levels – and among private and public partners – to navigate those unprecedented times. I had the opportunity to serve as the voice of pharmacy on the state's COVID-19 reimbursement taskforce, helping ensure that pharmacies and pharmacists received adequate reimbursement for their hard work to test and vaccinate as many people as possible. The relationships I built and sustained in that "pressure-cooker" environment early on in the pandemic, my federal experience in Congress, in the private sector, in association management, and abroad have prepared me to advance NACDS' and members' priorities. I understand that you have to be in the room and at the table.
DSN: Why did you choose to pursue a pharmacy profession and what compelled you to take the policy route?
LFLS: In short, I kept saying "yes" and pharmacy chose me. Funny longer story: I was recruited from my first job at McAlister's Deli to work at Kroger as a cashier in Byram, Mississippi, when I was in high school. I had some of the highest customer satisfaction ratings in the store, so my manager asked what I wanted to do with my life. I told him I was interested in going into healthcare because the majority of my family members are nurses, doctors, or some type of therapist – and then I became the first pharmacist in my family. At that point, I was promoted to work in the community pharmacy and loved my time there up to college. I learned so much from the amazing pharmacists and pharmacy technicians I worked with, as well as the patients or customers who came through the drive-thru or into the store with their families and their questions. During pharmacy school, I attended my first pharmacy convention with the National Community Pharmacists Association where I was introduced to the policy route and learned about the macro-level impact of policymaking on patient care, access, and outcomes. This led to my running for the president of NCPA's Student Leadership Council, co-founding the University of Mississippi's Advocacy Council, and finding every opportunity to come back to Washington, D.C., to work on healthcare policy – in opportunities ranging from those at the FDA to those at NACDS. Although it's the road less traveled, and unknown to many, all the signs pointed to pharmacy and policy.
DSN: As we kick off 2023, what's one big accomplishment you're striving for in your role as NACDS' senior director of reimbursement, innovation and advocacy?
LFLS: In 2023, I am hoping and working towards a sustainable policy solution to a decades-long reimbursement problem between the payer community and local pharmacy. My goal is to help create space to align new incentives, and to engage in innovative alternative reimbursement models for pharmacy that focus on value-based care and health and wellness, and which prioritize the patient. From my time in Congress, I know that patients are tired and they want us to work together to figure this out. As NACDS' senior director of reimbursement, innovation and advocacy, I am hopeful that we can accomplish this win for patients and for the future of pharmacy.