Dr Penny Kechagioglou on embedding innovation in modern healthcare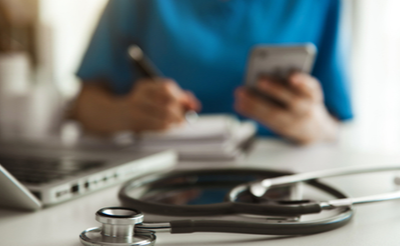 Dr Penny Kechagioglou, Chief Clinical Information Officer and Deputy Chief Medical Officer at University Hospitals Coventry and Warwickshire, wrote about embedding innovation in health and care in this blog for HTN.
The UK National Health Service is facing significant challenges due to the ageing population, and the higher cost of chronic illness. Population health challenges such as cardiovascular disease, stroke, diabetes and cancer are the major causes of mortality in the UK. What they all have in common is that they can be prevented or reversed by looking upstream and addressing risk factors such as obesity, smoking, poor nutrition and lack of exercise. This is currently worked up through a more joined-up approach to acute and social care.
At the same time, the NHS is on route to become one of the most digitally advanced healthcare systems in the world, through the roll-out of electronic health records, virtual care and telemonitoring. There is suddenly a huge opportunity to learn from organising and mobilising data about our populations; what works well in care and what does not work well, driving healthcare solutions forward which will maximise societal value. Prevention of illness and promotion of health and wellbeing in the community are key priorities for a sustainable future NHS and we need to leverage technological innovations to bring care closer to patient homes.
At individual patient level, understanding what matters most in their care and linking their experience outcomes from their care with their long-term clinical outcomes will improve quality of care provision. Digitising healthcare records and telecare are interlinked with efforts to educate our communities on better patterns of health seeking behaviour and on navigating healthcare resources more efficiently. Bringing complete medical records in one place and sharing records with patients will enable clinicians to work towards a more personalised care, whether this is around cancer screening protocols, social prescribing or emergency care.
At a population level, the systematic collection of real-world data which can be interpreted, analysed and actioned in clinical practice, can better inform clinical leaders about population health as well as healthcare system performance; are we achieving better health for our communities? Such data availability can lead to more appropriate allocation of healthcare resources to level up access to care and opportunities across all integrated care systems.
The key to the NHS sustainability and growth is the development of clinical leaders who have innovation at the heart of everything they do and who are encouraged to use their innovation and leadership skills to have an impact at provider and at system level.  Front-line doctors, nurses and allied healthcare professional are leaders and subject matter experts and their presence in positions of influence should increase, so that they can then drive the local and national innovation and research portfolios.
Today's clinical leaders need to collaborate more with each other, talk more with academics who engage in organisational research and partner more with commercial organisations who produce innovative products and services that make real impact in healthcare. Innovation and the research that backs it up can influence healthcare decision-making and health policy and can solve real healthcare organisational issues such as hospital flow, elective operation list efficiency, emergency care demand and care personalisation.
The connection between segments of the healthcare sector, such as community, voluntary, private and public needs to be strengthened. Providers need to collaborate with non-healthcare industries such as banking and aviation industries. Learning from other industries about digital tools and automated systems for service prioritisation and provision can increase clinicians' knowledge and skills for the purpose of spreading and embedding innovation within healthcare systems.
The post Dr Penny Kechagioglou on embedding innovation in modern healthcare appeared first on .