DreameBot L20 Ultra: Elevating home cleaning with cutting-edge mopping innovation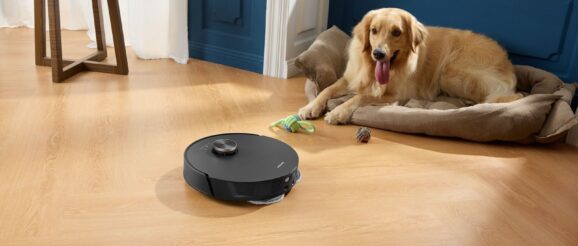 In an era where technological advancements continue to reshape the way we live, Dreame Technology has emerged as a forward-thinker in the realm of smart home appliances.
Dreame's team constantly implements cutting-edge technologies—including the fastest digital motors, intelligent algorithms, fluid mechanics, and robotics—to help free people from the burden of housework.
At the forefront of this evolution is the DreameBot L20 Ultra, an all-in-one cleaning solution that merges the power of a robot vacuum and mop, bringing with it intelligent features that make household upkeep and cleaning a breeze.
This all-in-one cleaning robot can vacuum and mop your floors, returning to its station to empty and clean itself. Now you can take a back seat and let the DreameBot L20 Ultra do the jobs you hate.
Revolutionising cleaning with L20 Ultra
The DreameBot L20 Ultra isn't just a robot vacuum and mop; it's an embodiment of cutting-edge technology meticulously designed to enhance the cleaning experience in ways never seen before. As Dreame Technology's flagship offering of 2023, the L20 Ultra combines a myriad of advanced features to create an extraordinary cleaning experience that transcends conventional boundaries.
Innovative cleaning solutions
One of the standout features of the L20 Ultra is its MopExtend™ technology, which allows the mop to extend beyond the robot's body for more comprehensive and efficient cleaning. This technology addresses the age-old challenge of reaching tight corners and edges, ensuring that no nook or cranny is left untouched. This is just one of the reasons why the Dreame L20 Ultra earns itself an IFA Spotlight Honoree accolade.
Moreover, the robot's ability to automatically extend and retract the mop even in complex environments showcases Dreame's commitment to providing a complete cleaning solution.
The Vormax™ Suction System is a testament to Dreame's dedication to high-performance cleaning. With an impressive 7,000Pa of suction power, the L20 Ultra delivers exceptional vacuuming efficiency, effectively removing dust and debris from various surfaces.
Additionally, the robot's exclusive carpet cleaning strategy offers a versatile approach to carpeted environments, allowing users to choose between different carpet cleaning options in the app.
The L20 Ultra recognises carpets and rugs, allowing the user to set the carpet cleaning options via the app. And, to save carpets from getting wet, the device removes the mop entirely so as not to cause issues. When it comes into contact with low-pile carpet, the mop rises up to 10.5mm.
No matter what type of carpet you have in your home, the L20 Ultra deals with it efficiently. Supporting a range of different carpets with various sweeping settings, cleaning will be tackled with care. Simply choose to "remove the mop before the carpet" or "lift the mop before the carpet".
Automated care and maintenance
The L20 Ultra goes beyond just cleaning by introducing advanced care and maintenance features. The auto base station is a game-changer, offering auto mop cleaning and drying, hands-free auto emptying for up to 75 days, auto water and solution refilling, and automatic water refilling and draining.
This comprehensive system ensures that the robot is always in top condition, ready to tackle cleaning tasks with minimal user intervention. It also means you can run the robot when you're not around, ensuring your home is left sparkling clean for your arrival.
Intelligent navigation and sensing
The L20 Ultra's intelligence shines through its Pathfinder™ Smart Navigation system, which employs AI Action and 3D structured light obstacle avoidance technology. This enables the robot to identify up to 55 different objects, ensuring seamless navigation and efficient cleaning.
So, no matter how busy your home or how large your family is, you won't have to worry about the L20 Ultra vacuuming up important items.
The robot's ability to create 3D maps of multiple floors and its auto LED illumination for dark rooms further enhance its adaptability.
A future of intelligent cleaning
The DreameBot L20 Ultra encapsulates Dreame Technology's commitment to innovation and intelligent living. With its groundbreaking technologies, comprehensive cleaning capabilities, and intelligent navigation, the L20 Ultra redefines the way we approach home cleaning.
This sophisticated cleaning companion brings together convenience, efficiency, and performance to deliver an unparalleled cleaning experience.
Special launch offer
Dreame Technology understands the importance of providing its customers with exceptional products at great value. The L20 Ultra is listed at $1499.99, and starting from September 1, 2023, customers can purchase a discount code for $19.99 on the official website. This discount code grants a substantial $450 off, reducing the launch price to $1049.99 when applied.
Without the code, the L20 Ultra can still be purchased for $1199.99. This exclusive offer reflects Dreame's dedication to delivering innovative products that make modern living more efficient and enjoyable.
State-of-the-art cleaning
With its auto base station capabilities, extendable mopping mechanism, powerful cleaning system, and intelligent sensing technology, this robotic vacuum and mop hybrid redefines the standards of automated home cleaning.
As it prepares to make its debut, the DreameBot L20 Ultra promises to revolutionise the way we think about maintaining our living spaces, setting a new benchmark for convenience, efficiency, and cleanliness.
Now you can enjoy effortless home cleaning for less.
This is a sponsored post. The product choices and opinions expressed in this article are from the sponsor and do not reflect the editorial direction of Pocket-lint or its staff.