Driving Software Innovation: Apiumhub's Successful Cases with Leading Companies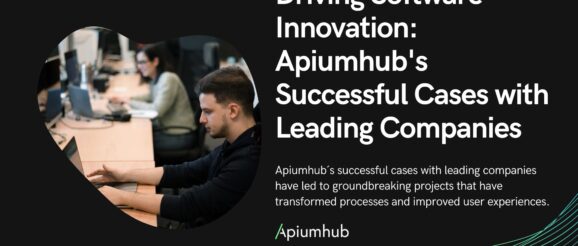 In the rapidly evolving landscape of software development, the partnership between Apiumhub and industry leaders like Nestlé, Bitpanda, Mango, Inditex, Mercadona, and Etnia serves as a good example of the potential of technological partnerships. Apiumhub´s successful cases with leading companies have led to groundbreaking projects that have transformed processes, improved user experiences, and elevated business performance. Let's explore a few of these exceptional use cases.
Apiumhub's Successful Cases with Leading Companies
Nestlé: Employee-driven Improvements
Apiumhub's longstanding partnership with Nestlé has been defined by both innovation and success. In 2023, Nestlé once again placed their trust in Apiumhub for a new project, OSCAR. This platform empowers Nestlé employees to propose and track process improvement ideas, fostering a culture of continuous enhancement.
OSCAR allows Nestlé to consider ideas that save costs, reduce waste, and enhance business performance across the company. Notably, OSCAR replaces existing software, ensuring seamless integration with Nestlé's workflows. In addition to OSCAR, Apiumhub has played a pivotal role in projects such as the Nestlé Supplier Portal and Source to Pay. These tools play a crucial role in Nestlé's supply chain, connecting the company with its providers and optimizing operations.
Read the full Nestlé project
Bitpanda: Revolutionizing Accounting and User Management
Apiumhub's collaboration with Bitpanda spanned from July 2021 to March 2023, during which the team embarked on a transformative journey. Recognized as a premium partner, Apiumhub took on the challenge of overhauling Bitpanda's accounting and user management systems. As Bitpanda's user base grew, the existing platform struggled to handle the increased traffic.
Working in tandem with Bitpanda's internal teams, Apiumhub implemented a new architecture and microservices to bolster the platform's performance under heavy load. Security protocols were optimized to ensure a secure user experience. The project also extended to the front end, with the Login/Registration microservice being revamped for web, Android, and iOS platforms. Implementation of features like AB Testing, feature flags, and user behavior analysis tools further enriched the user experience.
Read the full Bitpanda project
Mango: Redefining the Shopping Experience
The partnership between Apiumhub and Mango has experienced remarkable outcomes, with the most recent endeavor focusing on enhancing Mango's online store experience. Apiumhub collaborated closely with Mango across architecture, backend, frontend, iOS, Android, and QA. The primary goal was to revamp the shopping cart and checkout system, streamlining the user journey and optimizing the conversion process. By leveraging their expertise, Apiumhub contributed to elevating the overall user experience of Mango's online shoppers.
Read the full Mango project
Inditex: Automating E-commerce Processes
Apiumhub's collaboration with Inditex began in 2022 and has left an indelible mark on the e-commerce and delivery segments. Working on multiple projects, Apiumhub played a pivotal role in optimizing communications with Inditex's customers in the last mile. Automation QA engineers drove efficiency by automating the QA process, while frontend architects guided teams in developing cutting-edge front-end microsites. Given the magnitude of Inditex's operations, these projects have had a far-reaching impact on the company's operations.
Read the full Inditex project
Mercadona: Automating Takeaway Meal Systems
In partnership with Mercadona, Apiumhub embarked on a transformative journey to automate the takeaway meal system. Over the course of three months, Apiumhub developed microservices and a batch process that centralized hardware control and automated the onboarding of new ovens. This effort led to improved efficiency, seamless synchronization of recipes across thousands of ovens, and a robust error and alarm system for unexpected scenarios.
Read the full Mercadona project
Etnia: Modernizing B2B Platforms with Kubernetes
Etnia's collaboration with Apiumhub focused on modernizing its B2B platform. The project involved migrating infrastructure to a Kubernetes cluster in Azure and revamping the CI/CD system. These enhancements streamlined deployment, bolstered security through Azure vaults, improved monitoring capabilities, and enabled efficient scaling of systems. In just two months, Etnia's B2B platform underwent a transformation that has had a lasting business impact.
The remarkable collaborations between Apiumhub and Etnia Barcelona underscore the power of technology to drive innovation, improve efficiency, and transform user experiences.
Read the full Etnia project
Conclusion
Through strategic partnerships, Apiumhub continues to shape the software development landscape. As demonstrated by our successful collaborations with industry leaders, Apiumhub is leading in creating new opportunities for businesses and empowering them to adeptly navigate technological challenges, embrace innovation, and reach business goals within the dynamic digital landscape.