Drone innovation by U of S researcher inspired by family farm roots | The Star Phoenix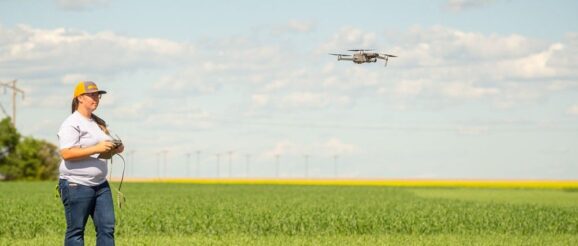 Subscribe now to read the latest news in your city and across Canada.
Subscribe now to read the latest news in your city and across Canada.
"Through my post-secondary journey, I have grown a passion for sustainable agriculture," said Krys, who is pursuing a master's degree in Plant Science. "In my last summer of my undergraduate degree, I took an Agriculture Drone School by Landview Drones and absolutely loved it. I began looking into how I could apply UAVs on our own family farm and reading more about UAV use in the agriculture industry."
Article content
"Many crop fields are 160 acres or larger, and current practices consist of walking across the field to manually count the plant populations," said Krys. "Not only do UAVs provide a remote and fast alternative, but the images and data can be stored for later use or reference if needed."
The computer model Krys is assisting in developing can currently count seedlings with 90 per cent accuracy. She notes that she and her research team have been working to increase the accuracy of the count by further training the computer model with additional images.
"To create the computer model that counts the canola plant seedlings, I am collaborating with Erik Andvaag, a graduate student from the USask Computer Science Department," said Krys. "I have learned a lot about computer sciences, machine learning, and computer coding from this amazing connection created through my project."
Collaborating with local producers has also been an integral part of Krys's work.
Article content
Krys's work has applications for many crops besides canola, and she has conducted the research with the goal of making sure local farmers are able to access and implement the technological solutions she is developing.
"What drives me forward is a passion for my family farm, and those like it, that have prompted me to learn more about agro-ecosystems, dig deeper into scalable precision agriculture practices, and strive to find the balance of providing for our land while it provides for us in a more sustainable way, so that we can continue to farm for generations to come," said Krys.
Funding support for the project has been provided by the Canola Council of Canada, the USask-based Global Institute for Food Security and Plant Phenotyping and Imaging Research Centre, Canada First Research Excellent Fund, and Case New Holland International.