DroneUp, McMillon Innovation Studio partner on drone use study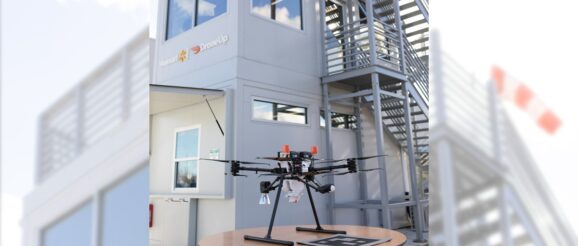 Virginia Beach, Va.-based DroneUp announced Thursday (March 2) a partnership with McMillon Innovation Studio at the University of Arkansas to explore whether to expand operations to college campuses.
DroneUp is an autonomous drone delivery platform and drone services provider with a Walmart partnership to provide drone goods delivery from stores, including in Northwest Arkansas. The McMillon Innovation Studio is part of UA's Office of Entrepreneurship and Innovation and hosts student teams working with industry mentors to design and develop solutions and products as it shapes the future of commerce.
In the new partnership, DroneUp is working with one of the studio's design teams on a project focused on campus safety and security. The team of five students will coordinate with campus stakeholders to discuss possibilities that could become solutions to problems and evaluate legal and policy aspects regarding privacy and safety.
"One of the areas we focus on at DroneUp is creating career pathways for a variety of individuals," said Ilya Tlumach, vice president of learning and development at DroneUp. "It's a clear fit for us to partner with McMillon Innovation Studio as we look to expand our operations and execute our workforce development strategy. We are very impressed with their work, and we're eager to see the design team's ideas to improve campus safety using the latest UAS (unmanned aircraft systems) technology."
The design team's work is expected to be unveiled at the Spring 2023 Demo Day from May 2 to 3.
Asked how the partnership with the studio came about, Tlumach said he was invited to Demo Day last year and was impressed with the studio's work. He expects the partnership outcome to help the company to decide whether to expand operations to college campuses as the design team works to determine the solution.
"This is very early on in the process of understanding the use case," said Tlumach, noting the various drone technology uses. "Safety and security on college campuses is something that is a pretty strong use case."
Justin Urso, director of McMillon Innovation Studio, said the students started with determining the use cases of drones on campus. Currently, the students are speaking with stakeholders to understand how people would react to having drones on campus.
"The McMillon Innovation Studio design approach allows students with diverse skill sets to understand DroneUp's problem statement and develop a solution proposal considering both qualitative and quantitative data," said Andres Balderrama, project manager at McMillon Innovation Studio. "This gives students a unique opportunity to work on an objective approach to develop a professional solution for the company. We are excited to partner this semester with DroneUp and produce an extensive research report evaluating the strengths, weaknesses, opportunities and threats of DroneUp's business opportunity to expand operations to college campuses in the safety and security area."
The team is one of nine design teams and seven product teams working at the studio this semester, Urso said. The 16 teams comprise about 75 to 80 students. Other teams are working on projects with mentors of organizations and companies, including Community Clinic, Highlands Oncology, Nabholz, and Northwest Arkansas Council.
"I'm proud of the diversity of projects we have this semester," said Urso, noting that DroneUp has been exceptional in how it's been exposing the students to different aspects of the company. He added that in the fall DroneUp invited students to its Farmington hub, where it launches drones for goods delivery from a Walmart store.
Urso said the design team projects that show promise for commercialization could be invited to the product team program. The products that the teams develop might be incorporated into an organization or company or become an entrepreneurial opportunity.
DroneUp's design team project could lead to a project team project. Tlumach noted the company's technology and product teams would help to determine the next steps after the design team completes its project this semester.
"We're always looking for great partners like DroneUp – the ones that will be highly engaged in the studio," Urso said. "We're constantly vetting organizations and hope to keep them in the fold for the fall as well."
DroneUp's recently expanded partnership with Walmart allows it to deliver goods to 4 million households in six U.S. states. This allows Walmart to deliver more than 1 million packages annually via drone. In November 2021, Walmart expanded its DroneUp partnership to provide drone delivery of goods from Farmington, Rogers and Bentonville stores. This followed the Bentonville-based retailer's significant investment into DroneUp earlier in 2021.
The post DroneUp, McMillon Innovation Studio partner on drone use study appeared first on Talk Business & Politics.