du exemplifies commitment to sustainability, innovation, and digitalisation at GITEX Global 2023 | UAE News 24/7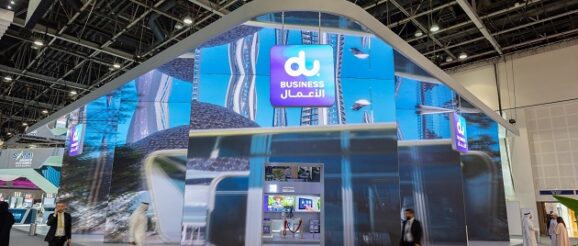 Dubai, UAE, 20 October, 2023 – du, from Emirates Integrated Telecommunications Company (EITC), made a powerful impact at GITEX Global 2023, which took place in Dubai between October 16 and 20, 2023. Under the theme "Shaping a Sustainable Tomorrow Through Advanced Technology," du showcased their dedication to sustainability, innovation, and digitalisation, aligning their efforts with the UAE's vision for a sustainable future.
du's participation revolved around three key pillars: Technology, Innovation and Connectivity, and Sustainability. Each pillar represented their commitment to utilising technology for societal betterment, revolutionising industries, and fostering sustainable practices. The Technology pillar harnessed cutting-edge solutions to create a better society. Innovation and Connectivity were driving forces behind du's efforts to empower businesses and government entities. Sustainability remained a core focus throughout the event, with du constructing the stand with recyclable materials and enhancing sustainability with a 40% increase in greenery, adding aesthetic value to the overall design. du's showcases attracted multiple VIP visitors who visited du's stand to witness the cutting-edge technologies and innovations.
Fahad Al Hassawi, CEO of du, stated: "In line with our commitment to driving positive change and harnessing the power of technology, our participation at GITEX Global 2023 highlighted our commitment to sustainability, innovation, and digitalisation. We showcased our latest advancements in sustainable technology solutions, demonstrating their potential to create a greener future. The visit of distinguished VIPs further reinforced the significance of our showcases in Future Factory and Smart Agriculture, captivating their interest and showcasing our transformative impact. Through strategic partnerships with industry leaders, we explored collaborative opportunities to accelerate the digital transformation journey for businesses and contribute to the UAE's strategic vision for a sustainable tomorrow." 
With a diverse range of showcases, du captivated visitors and demonstrated their commitment to sustainability, innovation, and digitalisation:
In alignment with the sustainability and digitalisation objectives set by the UAE government, du seized the opportunity to announce strategic collaborations at the event. Among the key organisations, du partnered with Dubai Municipality for their Destination & More project for  public parks, Microsoft to drive digital transformation, and Emirates NBD to host full IT systems in Tier III data centers. These partnerships sought to create an environment conducive to innovation, collaboration, and the development of digital solutions that would propel the parks and recreation sector to new heights.
Moreover, du solidified its commitment to advancing technology, corporate social responsibility (CSR), and enterprise by signing several Memorandums of Understanding (MoUs). In a significant move, du also launched an ICT marketplace in partnership with CloudBlue. This cutting-edge marketplace, hosted on Azure within the UAE, promises a range of remarkable features. It allows for the swift enablement of new products and offerings, ensuring a faster time-to-market for customers.
GITEX Global 2023 was a resounding success for du, providing opportunities for future partnerships and new customers interested in support for their digital transformation. The showcases reinforced du's position at the forefront of technology and connectivity, extending beyond the realm of telecommunications. As a result of their participation, du is one step closer to fulfilling their core objective of being the leading digital telco. Looking forward to next year, they are excited to continue driving positive change through technological advancements at GITEX Global.
For more information, please visit www.du.ae
-ends-
About du
Operating under the steadfast umbrella of Emirates Integrated Telecommunications Company (EITC), du is an integral driver of the UAE's economic, social and digital transformation. Thriving on digitally innovating all facets of the contemporary telecom experience, we touch the lives of millions of customers everyday as a dedicated enabler of connectivity, continuity and growth across consumer and enterprise segments. Whether delivering state-of-the-art Smart City infrastructure, bespoke enterprise ICT solutions, government communications, secure data solutions, or the very best in home entertainment and value, we are a reliable telco and ICT player shaping the future of communication for a more connected tomorrow.