DUT'S DAY ONE OF THE INNOVATION INDABA 2023 LOOKS INTO GROUNDBREAKING TECHNOLOGIES AND TRENDS SHAPING THE FUTURE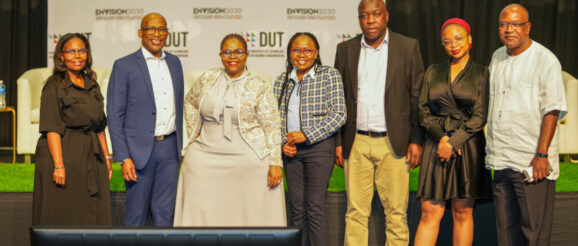 The opening session of the second annual Durban University of Technology (DUT) Innovation Indaba 2023 took place on 11 October 2023 at the Inkosi Albert Luthuli Convention International Convention Centre.
The theme for this much anticipated event is: "Unlocking University Innovations for Societal Benefit", and is being hosted by the Technology Transfer and Innovation and the Research and Postgraduate Support Directorates at DUT. Partners for this event include: Technology Innovation Agency (TIA); Department of Science and Innovation (DSI) and Centre for Excellence in Mining Innovation (CEMI).
The welcome and opening address was given by DUT's Vice-Chancellor and Principal, Professor Thandwa Mthembu.
He welcomed everyone to the second annual DUT Innovation Indaba 2023. "Last years and this year's Innovation Indaba provides the platform for us as DUT people to showcase our student inventions and innovations," he said.
He spoke of the need for partners and for taking such innovations by DUT entrepreneurs to the market place. "For the young people here who are students, who are learners, we would like to see them  acknowledge their skills they have  amassed at this university and we would like to see them be the ones with those contributions to society at large," he stressed.
He spoke of the Senate approved DUT Philosophy of Education Statement which says that DUT's creativity and innovation shapes adaptive graduates that transform society. He explained that the set of three pairs of words in the statement  namely 'creativity and innovation', 'adaptive graduates' and 'transform society'; when understood properly, these three pairs of words will propel DUT to greater heights on this exciting and revolutionary academic journey.
He further explained that DUT demanded creativity and innovation as an integral part of its curriculum so that when students finish and become graduates, they will be the adaptive graduates
Professor Keolebogile Motaung, Technology Transfer and Innovation Director at DUT, who also served as the programme director of the event echoed his sentiments saying that DUT students will show that they do have creativity and innovation at this prestigious Innovation Indaba 2023.  She then introduced the keynote speaker at the event,  the dynamic Ms Pontsho Maruping, Managing Director at the South African Radio Astronomy Observatory. She gave insight into the roles that universities needed to play in terms of teaching and knowledge production, the changing infrastructure, and funding.
Following the keynote address by Ms Maruping, session one kicked off with a panel discussion under the theme of the Information Communications Technology (ICT) sector.
Ms Zime Nxumalo, second-year-undergraduate Information and Communications Technology student entrepreneur from DUT, provided the audience with a dynamic presentation. Ms Nxumalo is a mentee of Prof Motaung. She is the founder and CEO of Zime Wezwe Creatives which is a software development company that specialises in quality website and application development. Ms Nxumalo informed the audience that her company is currently developing a prototype for the real estate industry using blockchain technology.
"I aim to provide more opportunities to the youth at large in the form of programmes that would expose them to what's possible and then harness their limitless creativity to solve some of the world's most pressing problems," she said.
Session two included a presentation by Ms Nompumelelo Madonda from the Office of the Premier. Her presentation focused on improving research and technological innovation with some pointers from the Human Resource Development Strategy towards 2030.
Session three included a vibrant discussion with DUT entrepreneurs. Prof Motaung was the proud facilitator of this session, aptly titled: Game Changers. Panellists included DUT students that were mentored by Prof Motaung to start-up their own businesses. Attendees were treated to a stimulating panel discussion on the changemakers mindset. The panel discussion was followed by a thought-provoking talk by the charismatic Dr Lu Mhlongo from NUMA Medical Aesthetics. Her talk delved on: Bridging the Gap: Translating medical expertise into aesthetic innovations for societal well-being.
Day one of the 2023 Innovation Indaba concluded with a cocktail evening where the DUT registrar, Dr Maditsane Nkonoane took the opportunity to welcome  everybody in attendance, also acknowledging the anchors  and key sponsors who have made the 2023 Innovation Indaba possible.
"I also acknowledge the role played and still to be played for the next two days by our keynote speakers, our moderators of the panel discussions, our various audiences, entrepreneurs, including our exhibitors. May I wish you an enjoyable 2023 Innovation Indaba which will continue to resonate with what DUT stands for," he said.
Prof Motaung reiterated her thanks to the DUT team for making this event happen, also to the speakers for their contributions, guests and the registrar for his sterling support towards this event.
The 2023 innovation indaba continues on Thursday, 12 October 2023 until Friday, 13 October 2023.
Pictured: From left to right: Ms Tebogo Rakgatla, Head: Data Management, PURQ, DUT's Prof Thandwa Mthembu, Dr Stella Bvuma, School of Consumer Intelligence and Information Systems, University of Johannesburg, Prof Keolebogile Motaung, Mr Cyril Baloyi, HOD: eGovernment at the Gauteng Provincial Government, Ms Zime Nxumalo, CEO and Founder: Zime Wezwe Creatives, and Dr P Nevhutalu.
Photographer: Khulasande Tshayile
Patience Makhaye/Waheeda Peters