eggersmann Celebrates Its Enduring Innovation With Orange County Showroom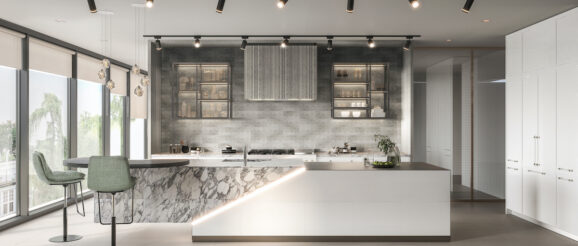 After 115 years of business—and over a dozen showrooms in North America alone—eggersmann is continuing its westward expansion with a new showroom in Laguna Niguel, California. For the German brand, which specializes in modern kitchen and thoughtful cabinetry, an outpost in Orange County was the natural next step. "We do a lot of work in Orange County and the surrounding area," explains Evan Soltoff, vice president of operations at eggersmann USA. "While our Los Angeles showroom will remain a staple, some designers and clients just don't live in that area and would rather have a relaxed experience."
Since no two showrooms are alike—"It's all based on what the design team thinks the local market will like," Soltoff says—the newest addition was designed with Southern California's slower, more relaxed spirit in mind. "We brought in the materials and colors that we thought spoke to that market," Soltoff shares, citing pastel palettes and subtle satin finishes. "We tried to think about Orange County."
And, true to its legacy, eggersmann's Laguna Niguel showroom shines a spotlight on the brand's customizable capabilities. The 4,000-square-foot space boasts a handful of the brand's upscale amenities such as its skywalk levitating cantilevered kitchen island, motion-sliding countertops, and a butler's pantry. "That's something a lot of our clients are doing," Soltoff says of the pantry. "We've added that into our showroom in an integrated, concealed way with a pivoted door."
Eggersmann might be the purveyor of modern kitchens, but its Laguna Niguel showroom shows the brand's innovation cannot be confined to one room. Highlights include a velvet-lined safe, wardrobe with integrated power AC/USB stations, as well as a living room with a media room decked out with a fireplace, bar, and concealed storage. Meanwhile, a "gentleman's lounge" is dressed up with a humidor, whiskey bar, and HiFi system—showing customers everything eggersmann has to offer.
Over six months in the making—eggersmann started the design process in January—the Laguna Niguel showroom enjoyed a soft open in August and will host a launch party with the local design community on October 26. Though eggersmann might be an in-demand brand in Orange County, Soltoff expects its prime spot in the Laguna Design Center will also help attract new clientele. "Our showrooms are the proving ground for our products," he adds. "We have concepts in there that we're testing out. Our customers see products in our spaces that inspire their next big project."
Like what you see? Get it first with a subscription to aspire design and home magazine.