Ekiti Knowledge Zone (EKZ): Paving the way for prosperity through innovation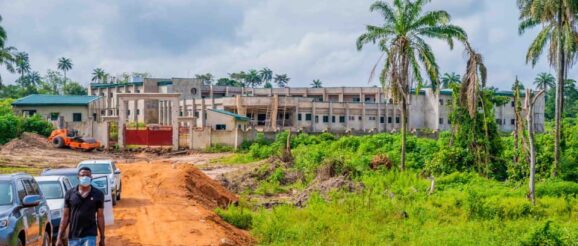 In the ever-evolving landscape of modern economies, knowledge is the ultimate currency of progress. It is the catalyst for innovation, the engine of prosperity, and the driving force behind sustainable development. The story of Ekiti State in Nigeria is one that resonates with this powerful truth. Four years ago, under the leadership of Governor Dr. Kayode Fayemi, I embarked on a journey that now stands as a testament to the potential for transformation when knowledge and innovation are harnessed effectively. Serving as the Project Implementation Unit (PIU) Lead for the Ekiti Knowledge Zone (EKZ) project with the African Development Bank (AfDB), it became crystal clear that the EKZ had the power to redefine not only the future of Ekiti but the entire nation.
The belief that every Nigerian State possesses inherent potential is the cornerstone of the EKZ's mission. Each State in this diverse nation boasts unique strengths and resources that, if unlocked and leveraged effectively, can steer them toward self-reliance, breaking free from the constraints of centralized revenue distribution. While the path to prosperity requires unwavering resilience, steadfast commitment, and sustained investment, the possibilities are boundless, fueled by the rich human and resource capital these states possess.
News of the Federal Executive Council's (FEC) approval of an $80 million AfDB loan for the EKZ has ushered in a momentous occasion for Governor Biodun Oyebanji. This significant milestone echoes the vision set by his predecessor, Dr. Kayode Fayemi, and lays the crucial foundations for nurturing knowledge talents, fostering shared prosperity, and igniting economic growth within Ekiti. But what exactly is the EKZ and why does it matter to the future and prosperity of Ekiti State?
In a global landscape where knowledge reigns supreme, Ekiti State is emerging as a beacon of innovation, progress, and prosperity. The EKZ, supported by the initial $80 million investment, is a visionary ecosystem destined to redefine the future of work. When implemented correctly, it will embody the theory of innovation as a catalyst for change, generating layers of skills and innovation foundries. These, in turn, will lead to a proliferation of ideas, commercialization of products, and the formation of enterprises, culminating in shared prosperity.
The EKZ is one of the key drivers in Ekiti's ongoing efforts to diversify and bolster its economy. By leveraging its historical knowledge capital legacy, Ekiti seeks to become a hub for service, science, and innovation. With a focus on FinTech, AgTech, EdTech, and other fields, the EKZ aims to cluster service-innovation-related talents and entities on a 200Ha area of land. These encompass research, innovation growth, startups, business processing outsourcing (BPOs), and biomedical companies that coalesce in a strategic geographical space, churning out innovative ideas and products. The resulting innovation will provide both the corporate and public sector with innovative solutions, and build products that can commercialize at scale, positioning Ekiti State as a region aspiring to become (ambitiously and futuristically) Nigeria's Bangalore, Silicon Valley or Kendall Square. The holistic approach guarantees talent development, job creation, enterprise formation, innovation spillovers, and economic growth through revenue generation.
This grand vision relies on an academic foundation that nurtures highly-skilled talents and an enabling environment characterized by visionary leadership, effective policies, strategic frameworks, and robust infrastructure. Ekiti State's competitive advantages, such as low labor costs, high skilled talents, and visionary leadership, are vital catalysts for attracting businesses and talents. The success of this endeavor is underpinned by complementary development strategies, which I am excited to depict in greater detail.
1. Knowledge Capital for Nigeria: A Magnet for Talent
While EKZ stands as a game-changer for Ekiti, Ekiti State has its sights set on a broader canvas – to be Nigeria's knowledge capital. By doing so, it not only elevates Ekiti but also bolsters the intellectual prowess of the entire nation.
Ekiti aims to capitalize on its legacy to advance science, technology, engineering, arts and mathematics (STEAM) education, setting benchmarks for improving its science, technology and mathematical aspirations to be a trailblazer. Ekiti is investing in innovation infrastructure empowering its workforce by mainstreaming future-of-work skills in its lifelong learning program. These include robotics, artificial intelligence, core coding and non-coding skills, creative arts, extended reality, and animations, amongst others. In addition to this, the curriculum will teach business and entrepreneurial skills as additional course offerings in its innovation curriculum, all ensuring that its highly skilled workforce also have the requisite knowledge to become risk takers. These highly skilled risk takers are the raw materials which will sustain the innovation zone.
Ekiti's unique knowledge quadrangle, home to approximately four universities; Federal University, Oye (FUOYE), Ekiti State University (EKSU), Bamidele Olumilua University of Education, Science and Technology, Ikere (BOUESTI), Afe Babalola University, Ado Ekiti (ABUAD), and the Federal Polytechnic, Ado Ekiti within a 10-kilometer radius, provides a fertile ground for knowledge exchange. The EKZ's location along Nigeria's largest biomedical corridor, encompassing Afe Babalola University and Afe Babalola Teaching Hospital, further exemplifies the potential of cross-pollination of talent and industry.
The EKZ's positional location within this quadrangle is also strategic. Offering complementary and advanced world-class educational institutions and research facilities, the EKZ will nurture an environment where continuous learning, discovery, skill development, innovation testing, and commercialization thrive. As a nation's true wealth lies in its human capital, EKZ aims to be the wellspring from which Nigeria draws its brightest minds.
2. Research and Development Hub:
At the heart of EKZ's vision lies a commitment to sustaining its fountain of knowledge by nurturing intellectual capital and translating it into prosperity. The EKZ, therefore, aspires to be an R&D hub of exceptional significance, where the brightest minds converge to push the boundaries of human knowledge. Investment in R&D isn't just an economic endeavor; it is a commitment to solving society's most pressing challenges and improving the quality of life for Ekiti's citizens. The vision is that continuous policy dialogues between government, lawmakers, academia and practitioners will foster the cross-fertilization of ideas and implementation action, ultimately leading to idea testing, prototypes, industry products and enhancing their commercialization.
3. Technology Stations: Where Dreams Become Reality:
During a recent trip to the Republic of South Africa, I discovered the transformative power of technology stations within academic institutions. These hubs serve as the catalysts of innovation, fostering vibrant startup cultures and acting as launchpads for entrepreneurial success. EKZ aspires to serve as a sandbox for testing ideas from tech stations located in universities, and as centers for companies' tech or research stations themselves. Investing in these technology stations is an investment in the next generation of Nigerian innovators, manufacturers, disruptors, and leaders. A potential State collaboration with the Federal Ministry of Science, Technology, and Innovation to establish tech stations in Ekiti and the EKZ will be a game changer.
4. Bio-Processing Laboratories: Nature's Secrets Unleashed:
Central to EKZ's journey toward innovation are state-of-the-art bio-processing laboratories. These facilities are more than sterile environments; they are the cradles of biotechnological breakthroughs and innovative diagnostics. EKZ's investment in these laboratories is a commitment not only to scientific research but also to harnessing nature's power to address real-world challenges, from healthcare to sustainable agriculture. The discoveries made in these laboratories have the potential to revolutionize various sectors, creating opportunities for industries and businesses to thrive.
5. Aerotropolis: Where Dreams Take Flight:
As the crowning jewel of EKZ's transformative vision, the concept of an agro cargo airport, possibly evolving into an airport city or aerotropolis, takes center stage. The Ekiti Agro Cargo Airport, located opposite the EKZ, has the potential to become a central hub for knowledge and agrarian activities. The airport's strategic proximity to the EKZ signifies its potential to evolve into an airport city, seamlessly integrated with an airport. This transformation will solidify Ekiti as a pivotal aviation center, facilitating efficient travel for people and goods. Beyond physical infrastructure, an aerotropolis is symbolic of growth and global connectivity. The EKZ and airport city's intertwined success is estimated to generate at least $2 billion annually, thanks to the interconnectedness of vital economic sectors like tourism, agriculture, and innovation outposts.
6. Innovation Outpost: Bridging the Globe:
In a globally interconnected world, the development of the EKZ is anything but an isolated endeavor. When established as an innovation outpost, it will serve as a center for international collaborations and partnerships. These connections will enable the exchange and development of ideas, expertise, and technology on a global scale. EKZ will be the crucible where ideas undergo rigorous debate, research, prototyping, and commercialization at an accelerated pace.
In conclusion, Ekiti Knowledge Zone isn't just an investment in infrastructure; it's an investment in the future. With the support of the AfDB's $80 million investment and potential partners, EKZ is poised to transform Ekiti into a hub of innovation, knowledge, and progress. It represents a refusal to settle for the status quo and heralds limitless possibilities, a diversified and stronger economy, and a brighter future for all.
Every digital native – both creative and software tech and otherwise – can be very excited about the impending launch of the EKZ, because whatever your skill set will find usefulness in the knowledge district. The future is very bright for your career or aspirations should you choose Ekiti was a place to live, work, and have fun.
The Ekiti Knowledge Zone encapsulates a narrative of resilience, vision, and an unwavering belief that through innovation and knowledge, we can overcome challenges and build a prosperous future. This ambitious endeavor requires long-term commitment, investment in research and development, and unwavering political will. However, the EKZ could very well be the beacon of hope that low-revenue states in Nigeria need to chart a new course. It's not just an investment; it's an investment in hope, progress, and the indomitable human spirit. With the EKZ at the forefront, Ekiti stands on the precipice of remarkable economic greatness.
Fakuade is commissioner for innovation, science, and digital economy to the Governor of Ekiti State, H.E. Biodun Abayomi Oyebanji
The post Ekiti Knowledge Zone (EKZ): Paving the way for prosperity through innovation appeared first on Abiodun Borisade TV.