EU innovation boss nominee keen to open up Horizon Europe | Sifted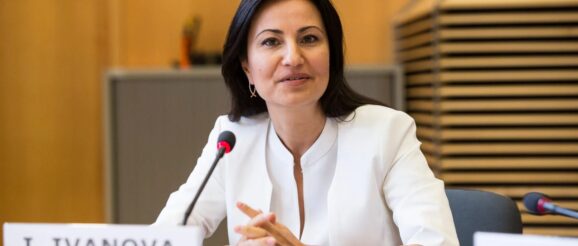 Europe should "strengthen the international aspect" of Horizon Europe, its flagship €95.5bn research and development programme, Iliana Ivanova, the nominee to become the EU commissioner for research and innovation, has said, as the UK looks to rejoin the scheme. 
Her remarks come at a time when countries such as the UK and Switzerland are negotiating with Brussels the terms of their participation in Horizon Europe. The programme was an important source of funding for innovative, fast-growing companies in these two geographies until they were kicked out recently. Since then, startups in fields like quantum or 5G have had to scramble for other funding sources and have been blocked from opportunities for international cooperation. 
"It's high time that Horizon Europe be used [in a way that] we're a trailblazer on the global level," Ivanova said, speaking to EU lawmakers who have the power to greenlight or vote down her appointment as a commissioner. "We must use and strengthen the international aspect of Horizon Europe and we must increasingly associate third countries, while at the same time ensuring quality."
There are now 17 countries, such as Ukraine, Israel and Turkey, that are associated with Horizon Europe — which means that they can participate in the scheme's research projects but are also on the hook to contribute financially to the scheme's budget.  
Ivanova added that bringing in new participatory countries will help with "not only attracting additional funding but also finding common solutions for the challenges that we face."
Drama on the Horizon
Ivanova's remarks will likely be welcomed in London. The UK formally left Horizon when it exited the EU in January 2020 and talks to rejoin took longer than expected due to a dispute over post-Brexit trade rules in Northern Ireland. Expectations for a deal early this autumn are high after both sides were reported to have reached a draft association deal in July. However, British officials publicly insist negotiations are still ongoing.
Ivanova said that she wants to support small and medium enterprises — which in EU jargon also relate to startups — "especially high-risk and non-bankable SMEs". She stressed that one of her main focuses will be to ensure SMEs benefit from Horizon Europe and that the funding is more accessible for a diverse group of beneficiaries, for example through limiting red tape and organising targeted information campaigns.   
Ivanova also promised to defend the Horizon Europe budget — as many lawmakers expressed concerns that this pot of money is often spent by Brussels officials for other, ad-hoc programmes (the money from Horizon is meant to finance, for example, the European Chips Act initiatives). 
If appointed, Ivanova will also oversee the implementation of the New European Innovation Agenda, the EU's first-ever strategy for startups, and the working of the troubled European Innovation Council, the EU's equity investment arm, as a part of her portfolio.
Ivanova said she's taken note of the criticism of the EIC — especially regarding the delays in processing funding — and that she would "keep an eye on efficiency" of the institution. 
Ivanova has been nominated by the Bulgarian government to replace the former commissioner, Mariya Gabriel, who left the post to go back to national politics. 
The EU lawmakers will vote on her appointment next week, but she'll likely get their support. If she gets the job, her mandate will end in October next year, when a new group of commissioners will be appointed.