European Photonics: The center of global innovation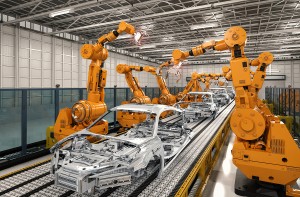 Europe has long been at the forefront of the global photonics industry. The photonics sector employs around 300,000 people in Europe, with growth in photonics running at 3.5 times the overall GDP growth, according to "Securing the Future for European Photonics", written by Photonics21 executive board members Roberta Amponi and Giorgio Anania. In addition, the global market for photonic applications is estimated to be 450 billion Euros, which is nearly doubled in the past 10 years.
Funding in South Asia will double to approximately 4.2 billion from 2014 to 2020. Investment in the United States that began with the Obama administration is fostering "unprecedented innovation". Yet Europe continues to be a leader in photonics manufacturing, second only to China. 
European photonics manufacturing leading sectors:
Production technology
Measurement
Automated vision
Optical components and systems
Medical technology and life sciences
Defense and security
Lighting
Great potential
The vision paper "Europe's Age of Light" from Photonics21 outlines the potential for Europe to increase its market share. The global photonics market is poised to grow to €615 billion by 2020. With a share of 15.5%, Europe is the world's second-biggest supplier of photonics after China. However, with Chinese research and development currently focusing on photovoltaics, displays, lighting and other commodity products, Europe is the center of global photonics innovation today.
 "If Europe can stay at the forefront of photonics innovation and capitalize on fast-expanding global markets, a tripling of European production to more than EUR 200 billion by 2030 is realistic," said Aldo Kamper, President of Photonics21.
With over 10% of the sector's revenues spent on R&D and with European photonics clusters linking companies with universities, research facilities and public-sector agencies across disciplines, industrial sectors and countries, the report shows that the European photonics industry is committed to achieving its goals.
Sensing and metrology
"The biggest growth in the European photonics industry we are seeing in the companies developing sensing and metrology technologies in applications such as machine vision, laser-based manufacturing and process control monitoring," according to Jose Pozo, Director of Technology and Innovation at the European Photonics Industry Consortium (EPIC).."New manufacturing processes need accurate colorimetry solutions as well as constant monitoring of gas and liquids. Companies providing advanced measurement systems, especially in the visible wavelength range, are enabling monitoring in semicon manufacturing, food and beverage processing, agriculture," Pozo said. He added that, "The main characteristic of companies growing in this sector, such as Avantes, Admesy, Ocean Optics or Specim is their ability to customize their products to the needs of the system integrators, as in this particular sector there is not a "one-fits-all" solution." For more on Admesy, see "Insights from European CEOS: EPIC interviews Admesy CEO".
Photonic Integrated Chips
In the past, photonic integrated chips were used mainly in high-end telecommunications applications, but as chip costs drop, they are used in much broader areas. Fiber sensors, medical applications, and pico or femtosecond pulse lasers are just a few of the applications that that are driving PIC development. Bright Photonics, based in Eindhoven (Netherlands) is a specialist in photonic integrated chips. Started by Ronald Broeke, who founded the first fabless design house and embarked on a decade long quest toward the open access photonic IC industry model, together with a small group of foundries, university and institutes. Broeke plans to focus on innovation to add value for its customers. Read the full interview with Ronald Broeke Insights from European CEOs: EPIC interviews Bright Photonics' CEO.
CMOS Image Sensors
Yole Development recently reported that in 2017 the CMOS Image Sensor (CIS) market reached US$13.9 billion. The market research & strategy consulting company forecasts a 9.4% CAGR between 2017 and 2023, driven mainly by smartphones integrating additional cameras to support functionalities like optical zoom, biometry, and 3D interactions. The CIS ecosystem is currently dominated by the three Asian heavyweights: Sony, Samsung, and Panasonic (all from Japan); however, the report noted that while the US maintains a presence in the high-end sector, such as On Semiconductor and OmniVision. Europe has made a noticeable comeback with manufacturers like AMS of Austria (which acquired CMOSIS) and UK-based Teledyne e2v.
Challenges
The biggest challenge for the photonic industry in Europe, according to EPIC's Jose Pozo, is the difficulty to reach the high-volume markets (sensors & cameras for consumer, automotive).. "Europe has excelled in developing photonic components, modules and systems for niche and small-medium volume markets, such as medical, process control, aerospace and defense. Volume production is difficult to reach by vertically integrated companies due to their typically limited manufacturing capacity." A previous study by EPIC showed that 85% of photonics companies in Europe had less than 100 employees, leaving only the possibility to transfer their manufacturing process to contract manufacturing companies, most of them outside Europe. "Transferring a manufacturing process to a volume production process is not trivial, and in many cases requires a cost- and time-consuming R&D," Pozo noted.
Labels: European Photonics Industry,Photonics21,EPIC,machine vision,laser,process control,semiconductor,camera,CMOS,photonic integrated circuits,manufacturing
Illuminating Products
Latest from the trade show floor