Every Beauty Editor Is Trying The New Duolab Skincare Innovation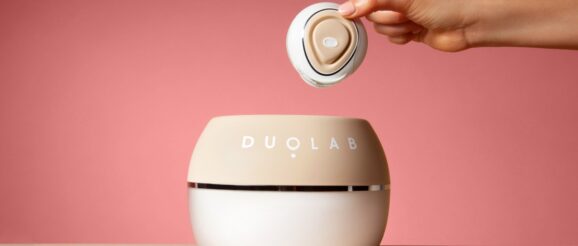 A skincare brand that asks not to be labeled skincare? DUOLAB is ripping up the rulebook when it comes to beauty. Six years in the making from a world-renowned team, the brand uses cutting-edge technology that creates products based on your skin's needs, promising to give you your best skin yet. Intrigued? Read on to find out everything about the brand beauty editors can't stop talking about… and to claim an exclusive 20% OFF DISCOUNT.
If you're serious about beauty and are keen to try all the tech out there, from firming gadgets to infrared facials and skin assessment apps, DUOLAB should be next on your bookmarks list. The brand takes bespoke, tech-driven skincare to the next level, and it makes sense, given that our skin is the body's largest organ with a four-week turnover rate. Refusing to subscribe to a one-size-fits-all, DUOLAB works with your skin on any particular day whether it feels dull in the morning or thirsty at night, is suffering from the effects of hormones, or is stressed from environmental factors.
DUOLAB essentially gives you your own skincare laboratory at home by allowing you to mix and match a range of moisturising base layers and concentrated ingredients in one. Simply choose a capsule of your preferred base – a Melting Cream to nourish and plump; a Light Cream for day or a Night Cream that will plump and de-stress skin when it needs an extra boost. Add to that a concentrated, targeted top layer such as hydrating hyaluronic acid or brightening vitamin C to pack in exactly what your skin is craving on any given day.
Think of it as your very own skin laboratory in the comfort of your home.
This is the fun bit. You load your chosen capsules into the DUOLAB device – think of it like a coffee machine but for your face creams – and in just 90 seconds it emulsifies and blends your product, warming it up to the same temperature as the skin (37-42°C) for the best possible absorption. Mixing the capsules and active ingredients moments before they are applied to the skin maximise their potency and effectiveness.
With 20 possible combinations to work with, the DUOLAB offers something for all. Starting with the bases, the Universal Serum is the brand's crowd-pleaser and is ideal for all skin types. It's packed full of high and low-molecular-weight hyaluronic acids to add a veil of moisture on top of the skin and keep it locked in below, whilst the Night Cream uses powerful shea butter that's drenched in natural omega oils, vitamins A and E, polyphenols and fatty acids to reinforce the skin's barrier, repair dryness and soothe irritation – ideal if your skin isn't feeling or looking its best.
But it's the Booster capsules that really mean business. Choose from some of nature's most potent, skin-loving ingredients – hyaluronic acids and peptides for firming; vitamin C to energise and give the skin a glow; or AHAs to refine texture and nurture blemish-prone skin.
These are all chosen on the day depending on the state of your skin, allowing you to really tailor the product to your skin's needs. It's been six years in the making from the lab that brought us the multi-award-winning L'Occitane brand, which is famed for its use of ultra-natural ingredients.
Choosing to go natural doesn't mean these products are less potent. Each capsule contains between 10 and 20% active ingredients, carefully chosen for their scientifically proven benefits on the skin. The clean formulas are also 100% preservative free in order to protect your skin's microbiome, which, in short, is the micro-organisms (or bacteria) that live on the skin and dictate how healthy it is. Things like preservatives that are found in less natural skincare products are actually designed to destroy all micro-organisms and risk disrupting the natural balance between good and bad bacteria.
100% Saw a significant improvement in their skin appearance after just one use.
100% Felt that the DUOLAB system outperformed their usual skincare product after just one use.
100% Agreed that the warming thermocosmetic technology helped improve the absorption of the product.
They even use 100% green energy in all of their production sites and their devices are guaranteed to last, so it's not just an investment for your skin but a considered choice when it comes to beauty.
Want in? Receive a 20% discount off DUOLAB's Discovery Pack which includes the Lab Device and 14 mixed capsules (that's 7 applications) for just £143 (usually worth £179). This is a great first step to get you going as you'll be able to try the different capsules and textures before deciding which ones are best for you
Order online HERE and use promo code Handbook20 to redeem.
Offer valid between 1st Dec 2022 – 22nd Dec 2022.