Explore: Holiday Lights at Innovation Hills Inspire Words of Wisdom – Oakland County Times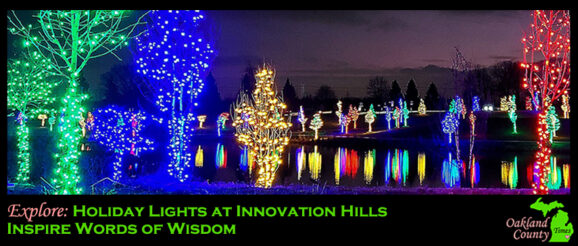 Explore: Holiday Lights at Innovation Hills Inspire Words of Wisdom
(David Chisholm, Dec. 19, 2022)
Rochester Hills, MI –  Innovation Hills has special after-dark hours for the holidays, to show off the 70,000+ lights strung on trees along the pathway.  The park is open Monday-Thursday to 6pm and Friday-Sunday to 7pm.  As an added bonus there is free hot cocoa in the pavilion from 4pm to 7pm on Fridays, Saturdays, and Sundays in December (while supplies last) (excluding Christmas Day).
David Chisholm visited the park recently, with he and friends taking some beautiful pictures and sharing some inspiring words on social media.
"On my way to shop for more kids this evening, I visited Innovation Hills Park to see their Christmas light display. It's worth the visit. When the snow comes it will be even better.
Several thoughts and feelings were caroming around my noggin and ribcage as I took the picture of the big tree.
"So many people are battling a bleak landscape. It could be their first holiday season missing a loved one. Balancing stress at work and home. Financial concerns. Thinking you love someone who doesn't love you back. Feelings of inadequacy.
"I can check the box for all of 'em.
"However, I have trained myself to look for the light in the dark. When you feel overwhelmed for whatever reason it's difficult to find that light. Sometimes you just need to believe it exists until you see it.
"Believe there are good people. I run into them often because I look for them.
"Believe you are loved by someone. Because you are. It may not be who and how you want right now. You're still loved.
"Believe you're strong enough to handle this time of the year. Maybe showing a little weakness will help. Maybe don't take everything so seriously and personally.
I'm saying these things to myself as much as I'm saying them to you.
That's a bunch to consider for one picture. I think the rest just look cool."
Chisholm is known around town as Macho Clause, a holiday hero that works with other volunteers to deliver presents to children in need.
Innovation Hills is located at 2800 W. Hamlin Road in Rochester Hills. Learn more about the park at: City of Rochester Hills website
For more things to do, visit the Oakland County Times Event Page! 
To submit event info email [email protected] .