Exploring sustainability, innovation & more at Surf Park Summit 2023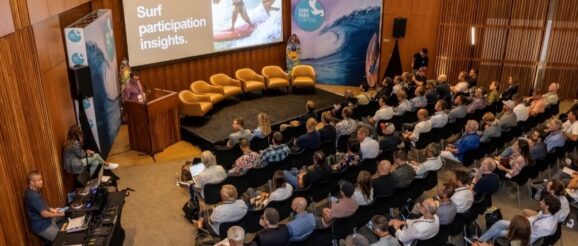 by Julie Kline, Aquatic Development Group
Surf Park Central, an organisation which works to accelerate the successful growth of surf parks, hosted its 10th annual Surf Park Summit in San Diego, California, from 18 – 20 September, at the Scripps Seaside forum.
With over 25 exhibitors, 300+ attendees and representation from more than 100 companies, the show greeted many exciting developers and technologies to display their offerings to the surf park industry. The show kicked off with a VIP session hosted by Dr Jess Ponting. Then there was a networking event at the Aaron Chang Ocean Art Gallery, one of the most well-known artists in the surf world.
A growing demand – why surf parks?
Surfing made its debut in the 2020 Olympic Games in Tokyo, Japan. With more widespread exposure to the intensity of the sport, the lifestyle of the surf culture and introduction to surf parks and manmade surf wave technologies, surfing has become the fastest growing sport on the planet. Television and media platforms like ESPN, Netflix and other programs have also brought about more awareness of the sport.
According to the International Surfing Association (ISA), the world governing body for surfing, more than 35 million people surf. With 48 landlocked nations across the world, the growing popularity of the surf park market is evident. It is designed to meet the needs of existing surfers as well as provide a platform for aspiring surfers.
Developing surf parks – making the business work
Day two of the Surf Park Summit 2023 began with a surf lesson from the Surf Diva Surf School and a keynote regarding consumer trends. Attendees then dived into topics like financing a surf project and figuring out how to manage the risk of the development. They took part in the main stage sessions or in a series of 'Developer Track' topics. Attendees had to apply for the inaugural Developer Track program and be pre-selected.
Investment, risk and insurance were some of the main themes this year. Instead of focusing on the grand ideas and design of surf parks, presenters looked at finding creative ways to make surf parks last long-term. For instance, using surf to drive residential and hospitality sales, modeling the business after the water park business model, and finding ancillary amenities to increase the length of stay and per cap spending.
These can all increase the probability of long-term success and protect the operator's investment.
Insurance and risk were also hot topics. With a new market comes new levels of risk, much of which is unknown to the operators and the insurance providers. This makes premiums crippling to businesses, and the operating expenses of the project too high to make the business model make good business sense.
Classifying the key differences between a swimmable wave pool versus a surf pool, lifeguarding, staff training, legal considerations and more were all discussed at this year's Surf Park Summit as groups navigate their way through developing their business and operational strategies.
Another keynote speaker at the event was Jeff Pensiero, the founder of Baldface Ski Lodge. He was able to showcase his experiences and challenges and talk about breaking down barriers in the ski industry. All of which were applicable hurdles to the new and evolving surf park industry.
Discussing sustainability at Surf Park Summit 2023
Sustainability, a hot topic in the world and in the surf park space, was on the agenda at this year's Surf Park Summit. Dr Jess Ponting's research has stated that some surfers are willing to pay up to 14% more for their ticket at a surf park if the venue is sustainable. Not only are these sustainability initiatives helping protect and save our planet, but they also can prove to make good business sense.
The industry has made incredible strides in finding creative ways to lower the carbon footprint of these surf parks. For instance, in reducing energy consumption and water usage.
STOKE, the Sustainability Tourism Outdoor Kit is a non-profit organization working to empower businesses to create a sustainable riding culture. It uses criteria from the Global Sustainable Tourism Council, a globally set set of standards. STOKE has been working with developers on a system that quantifies the highest standards of sustainable surf tourism practice.
These efforts resulted in STOKE winning this year's 2023 Surf Park Summit award for Sustainability & Positive Impact.
Another featured company that has made fundamental strides and has positively impacted the surf park space is Sustainable Surf, with its Seatrees program. Working with Surf Park Management, and The Line Up at Wai Kai Surf Park, Seatrees was able to utilize a portion of the ticket sales to rebuild the coral reef and remove invasive plant species from the surrounding area.
With these efforts, Sustainable Surf was able to cancel out the carbon footprint utilized by the surf park in Hawaii and in addition, stop the spread of the fires in Maui.
Industry innovation & project spotlights at Surf Park Summit 2023
Over the last decade of the Surf Park Summit, we've seen established leaders in the surf pool technology space. Industry giants in dynamic moving waves such as Wavegarden, Surf Loch, Surf Lakes, Endless Surf and Swell Manufacturing have made their market in the industry. In the deep-water standing wave space, EpicSurf, CityWave, UNIT Surf Pool, Ka'ana, Your Wave and FlowSurf have made their mark by contributing to bringing the sport of surfing to more areas of the world. All with a smaller footprint than that of a surf lagoon.
At Surf Park Summit 2023, many surf technology firms took the stage to showcase product innovations and surf project developments. However, this year the event also highlighted technologies that are designed to prove value to the surf park space. Some of these include filtration equipment, flooring, lockers, architects, construction teams and more.
One stand out in the Product Innovation category was FlowState. This won this year's Surf Park Summit Award for Innovation for its use of AI to video capture surfers. Operators can sell the footage but it can also be used as a training tool for surfers. This can help them to better learn techniques and perfect their manoeuvres. The technology has been implemented at UrbnSurf Melbourne.
Project Spotlights included updates on URBNSURF Sydney, Surftown Munich, Qiddyia, Surf Lakes California, and Revel Surf Parks Cannon Beach.
The future is bright
With more announcements than ever in the man-made surf park space, the future of the surf industry is evolving at a rapid pace.
Now, as facilities begin to open the doors, and we have access to more research on consumers, surfers, operations, risk and sustainable considerations, our industry will be able to learn, grow and meet the demand of the world's aspiring and existing surfers.  
The post Exploring sustainability, innovation & more at Surf Park Summit 2023 appeared first on Blooloop.