Fanatics sets up technology innovation centre in Hyderabad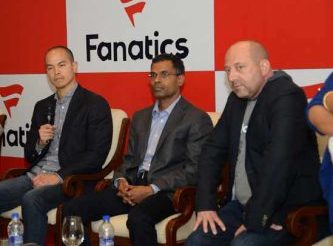 Hyderabad: The US-based licensed sports merchandise company, Fanatics Inc., has established its new technology innovation centre in Hyderabad. The company which is involved in e-commerce, retail, international business and wholesale trade sees Hyderabad significantly contributing to the company's growth plan set for next five years. It believes that the centre will help the company scale up its operations globally. The company has innovation centres in Colorado and Florida in the US.
Fanatics chief technology and product officer Matt Madrigal, said, Hyderabad has become one of the fastest-growing global tech hubs attracting the world's biggest companies due to its rich talent pool. The opening of this innovation centre is part of the company's commitment to grow its technology, data and analytics platform to support its vertical manufacturing model.
Stating that the company finds exclusive rights that it holds with sporting clubs and its scale to give an edge over its competitors, Madrigal told Telangana Today, "Hyderabad has best engineering talent. The team here will be involved in both co-development and end-to-end solutions and application development. The centre will closely work with the US technology innovation centres."
The company, which partners with some of the largest sporting operations and clubs in the world, including Real Madrid, Manchester United, Big Bash Cricket, NBA, NFL and the Wimbledon Championship, plans to hire around 100 engineers in Hyderabad over the coming years. The company will have 35 engineers operating at the Hyderabad centre by the end of 2018.
Vertical-commerce
The company's model vertical-commerce or "v-commerce" combines Fanatics' capabilities with an agile supply chain and on-demand manufacturing to create the broadest and most responsive assortment of merchandise for fans. The company will use data coming from consumers across the world to get meaningful insights to design and manufacture merchandise that is personalised.
In addition to Hyderabad, Fanatics now has operations in USA, Canada, Germany, Spain, Japan, Hong Kong and the UK. The company is investing across the world, backed by its recent $1bn funding it received last year from SoftBank's Vision Fund. The company expects to clock revenue of $2 billion this fiscal (January-December). It invests $140 million every year on technology.
Madrigal added, "In order to scale our v-commerce model, that includes a global eCommerce presence and wholesale capabilities to design and manufacture our own apparel, we need to invest in engineering talent and we will scale and invest in our India development centre."
Hyderabad focus
Fanatics senior vice-president-Engineering, Ramana Thumu, said, "The Fanatics business is growing so fast and becoming more complex. To keep pace with this growth and continue to evolve our technology ecosystem, we are aggressively hiring technology talent across our US locations and in Hyderabad".
He added, Hyderabad has quality engineering colleges and such a talent pool will help the company develop its technologies in the space of machine learning, data engineering, data science, big data and data analytics.
Satish Umale, who heads the India operations for Fanatics in Hyderabad, said, "The company is looking to fill various technology roles including full stack software engineers, data and business intelligence engineers, data scientists, user experience developers and supply chain specialists."
He added, "We are looking for smart professionals who can adapt to new technologies. The team here will address issues related to inventory management and better ways of ensuring faster delivery of merchandise to customers. A lot of emphasis will be on using machine learning and data analytics to understand consumer behaviour and preferences."