Farmer Producers' Organisations: Engines of agri-innovation in UP | The Indian Express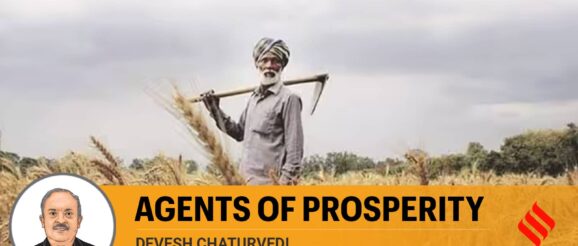 By Devesh Chaturvedi
The government has sought to fulfil its vision of enhancing farmers' income by adopting a multi-pronged strategy — enhancing productivity, reducing costs, improving marketability, crop diversification, risk mitigation and adopting climate resilient technologies. Fragmented holdings are one of the major challenges faced by this sector. They prevent economies of scale and discourage investment in agriculture. In recent years, Farmer Producers' Organisations (or Companies) have countered this challenge. An FPO is a collective of farmers who have holdings or work in a geographical cluster. It can be registered under the Companies Act or as a cooperative under the Societies Registration Act. FPOs have demonstrated their potential to trigger cluster-based farming, bringing in economies of scale in input management facilitating agri-extension, enabling technology adoption, providing quality assurance and helping farmers market their produce.
The Centre's scheme to form and promote 10,000 FPOs envisages collaboration amongst farmers in activities like input management. Such cooperation can enhance the capacities of agriculturists, help in value addition and facilitate the creation of links with markets.
The Uttar Pradesh government has constituted a dedicated FPO cell to handhold these outfits. The objective is to ensure convergence of schemes, address compliance issues and provide continuous support to FPOs so that they become agents of prosperity in the rural economy. The state government also has a scheme of its own to form FPOs. With the synergistic implementation of Central and state-sponsored schemes, one FPO will be formed in each of the 826 blocks in UP every year for five years, starting from 2022-23.
The FPO Shakti portal has been launched to provide a platform to all active FPOs in UP. It is a one-stop solution for grievance redressal, forging business partnerships and fostering convergence. As of July 15, close to 1,600 FPOs, with a total turnover of Rs 229 crore have registered on the portal. More than six lakh farmers are associated with these organisations.
The Centre has constituted the Agriculture Infrastructure Fund to provide interest subvention of 3 per cent for credit extended to develop post-harvest infrastructure. This incentive is available to FPOs. The UP government provides an additional 3 per cent subvention to FPOs and agriculture entrepreneurs, thus reducing the overall interest on such loans to around 3 per cent. This is in addition to the capital subsidies under various Central and state-sponsored schemes. Such incentives could encourage these farmer collectives to develop post-harvest facilities like warehouses, cold storage, cold chains and ripening chambers. The government is fostering the convergence of various schemes including those related to farm mechanisation, seed production and processing, agri-marketing, MSP-based procurement, nutrition mission, services for the supply of inputs like seed, fertiliser, pesticides, technological interventions like agri-drones and organic farming.
The efforts have already started yielding significant outcomes. FPOs are playing a pivotal role in crop diversification and value addition. UP's FPO portal shows 1,316 of these outfits are involved in cereals, 378 are in the business of horticulture products, 338 are involved with pulses, 231 with oilseeds, 48 work on millet products, 101 focus on medicinal and aromatic crops and 170 in sugarcane-based products. Hundred FPOs have established seed processing units in UP. Several of these units sell their seeds in the open market; others have signed MOUs with state and National Seed Corporations for buy-back arrangements. More than 480 of these collectives have established Farm Machinery Banks which provide farm mechanisation services at reasonable rents. They contribute to managing paddy stubble. Climate resilient strategies like direct seeding of rice are being channelised through FPOs.
FPOs are becoming engines for innovations When the UP government introduced its flagship scheme, One District One Product, Siddharthnagar district was tasked with farming Kalanamak rice. An FPO has spearheaded this initiative. Several of these outfits are working to improve nutrition by developing the value chain of high-nutrient agri-products like millets, mushrooms, moringa and fortified cereals. In Rampur, the FPO collaborated with the district administration for the "Aahaar Se Upchar Tak" campaign to supply nutrition-rich products to anganwadi kendras. Their efforts led to an improvement in nutritive outcomes in the area.
Close to 200 MoUs have been signed between 68 FPOs and 37 companies in areas of commodity marketing, input supply, technical dealership and financial linkage. The government is facilitating this collaboration. More than FPOs have entered into dealership agreements for seeds, fertilisers and agri tech. These outfits have succeeded in registering local products under GI — these include Adam Chini rice, Banarasi langda, jaggery, Ramnagar (Varanasi) Bhanta (Brinjal) and Banarasi pan.
In the past two years, Eastern UP has emerged as a hub of vegetable and fruit exports. Progressive farmers have associated with FPOs of the region and become agents of change.
The writer is additional chief secretary, agriculture, UP