Female Artists Are Forging Innovation In Irish Music | Features | Clash Magazine Music News, Reviews & Interviews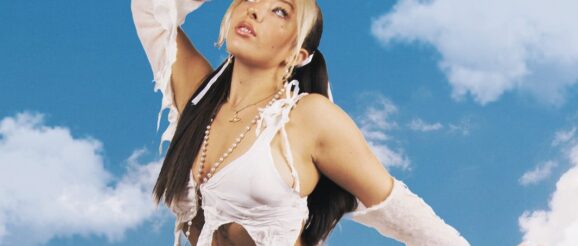 It's no secret that Irish music – on both sides of the border – is booming right now. All manner of sounds and styles are being explored, from post-punk to R&B, from noise to straight-up techno, via UKG, drill, and beyond.
If it sounds exciting, then it is. A full generation of Irish artists looking anew at Irishness, and what it means to come from that Ireland, and inherit its innumerable cultural conduits.
Kayleigh Noble is part of this, but she's doing it her own way. Debut EP 'Hot Mess' felt gripping and rebellious, but her debut album 'Just A Girl' takes this a step further, a work of staunch individuality.
Working from the outset with a clear vision, Kayleigh recruited a cast to make her ideas possible – utilising women in every position, from production and engineering through to the final artwork. "I had a really strong vision for what this project needed to be and I couldn't have done it without my girls around me".
Out now, 'Just A Girl' is a sign of the huge amount of female talent engaging with the innovative currents within Irish arts. Writing for Clash, Kayleigh Noble paused to spotlight a few of her peers.
whenthebeatisbad is a London based producer from Dublin and she produced my whole album. She works mostly in the Pop and R&B space and has worked with some incredible artists lately such as Hannahbella, Danzi, and V-Sensei.
She's not afraid to step outside of the box and blur the lines between genres, like we did on my track 'hymn' and that's why I love working with her. 
ProdbyMolly is an incredibly talented and versatile producer from Dublin who works mostly in R&B . She worked with whenthebeatisbad and I on the album and she was a big part of tracks like 'say your grace' and 'meanie'.
Molly has a really unique sound and is really carving out a niche for herself in Dublin with tracks like 'MODEL!' by V-Sensei that she co-produced with whenthebeatisbad and 'Brickwall' by Tara Devi.
Saoirse Miller
Saoirse Miller is an ambient singer from Dublin who captures a beautiful sense of impending doom in her music. She draws from Irish traditional styles like Sean-nós and beautifully fuses it with ambient electronic music.
Aby Coulibaly
Aby Coulibaly is an incredible R&B singer from Dublin who's doing amazing things at the moment. She just released her EP 'At The End Of The Day… It's Night'. She's definitely adding so much to the Irish scene right now and it's so sick to see – super excited for everything she has in store.
Séna
Séna is multi-instrumentalist, singer, and songwriter – her talent knows no bounds. She's got a super sick R&B, jazz and neo-soul inspired sound which is really refreshing to hear. Sena always had gorgeous visuals to accompany her music too which is something I absolutely adore.
Qbanaa is a Cuban Irish jazz singer doing bits at the minute. She sings in English and Spanish which is super cool to see – I absolutely love to see artists staying true to their roots. Qbanaa recently opened up for Mahalia in Vicar Street, Dublin, and has been hosting jazz nights around the city called 'Soul Juice' – it's great to see a space being created for the genre. 
Tomike has been doing bits for a minute now – she's a legend. She fuses R&B and dance music so effortlessly. She has such a beautiful voice and has done some amazing collaborations lately including 'Guilt2001' with bricknasty and 'Cherry Delight' with 1000Beasts. 
Tara Devi
Tara Devi is a super unique R&B artist from Dublin. She recently put on a headliner in Dublin's The Grand Social and it was incredible. She's definitely on to big things and I'm very excited to see where the next few months take her.
Gemma Dunleavy
Gemma Dunleavy is a super refreshing artist from Dublin who takes a unique approach to incorporating inner-city Dublin culture into her music. She performed her track 'Up De Flats' at Other Voices in 2022 and it was absolutely beautiful. I adore how immersive her merch and branding is and how dedicated she is to her aesthetic without making it feel inauthentic.
'Just A Girl' is out now.