Finland's accession to NATO Innovation Fund unlocks opportunities for Finnish startups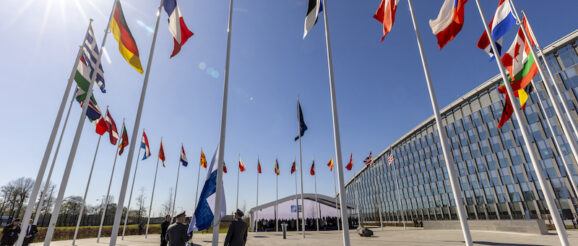 The NATO Innovation Fund aims to invest in early-stage deep tech startups and venture capital funds developing cutting-edge technologies that are of priority to NATO. With a total size of one billion euros, the fund was established following commitments from 22 NATO Member Countries at the 2022 NATO Summit in Madrid. The operational launch of the NATO Innovation Fund is scheduled for this year, coinciding with the NATO Summit in Vilnius.
Minister of Economic Affairs, Mika Lintilä, highlights the importance of Finland's active participation in NATO's operations and networks right from the beginning. Finland possesses immense potential in technologies that are central to NATO's interests, including artificial intelligence (AI) and quantum technology. By joining the fund, Finnish early-stage startups working on disruptive technologies will gain a new source of growth financing, ensuring that the knowledge and possession of these technologies remain within NATO countries.
Tesi's CEO, Pia Santavirta, emphasizes the significance of developing international networks and attracting international capital and expertise to Finland. Tesi's investment in NATO's Innovation Fund will enable Finnish venture capital funds and startups to tap into the fund's resources and cooperation networks. This opens up avenues for collaboration, knowledge sharing, and access to global markets.
The NATO Innovation Fund will primarily focus on financing companies in the deep tech sector, which includes areas such as artificial intelligence, quantum-enabled technologies, novel materials, energy, biotechnology, next-generation communications, and space. These technologies often have civilian and commercial applications but can also be utilized for defense and security purposes, making them dual-use technologies.
According to a survey conducted by Tesi, there are approximately 240 deep tech companies in Finland. These companies typically require significant investments from the outset, and their long development horizons demand patient capital. The NATO Innovation Fund, along with its collaboration with NATO's Science and Technology Organization (STO) and the NATO Defence Innovation Accelerator for the North Atlantic (DIANA), will work closely to support and finance these deep tech companies.
Finland's accession to NATO's Innovation Fund, coupled with Tesi's investment, signifies a significant milestone for Finnish startups working on emerging technologies. By gaining access to cooperation networks and growth financing opportunities, Finnish entrepreneurs can further develop their disruptive technologies while contributing to NATO's priorities. This collaboration also strengthens Finland's position within NATO's central operations and networks, allowing for increased participation and knowledge exchange. As the NATO Innovation Fund begins making investments, Finnish startups will be well-positioned to leverage these resources and drive innovation in key technology sectors.