Finnish startup secures €5.5 M Series A to accelerate expansion and innovation in IoT solutions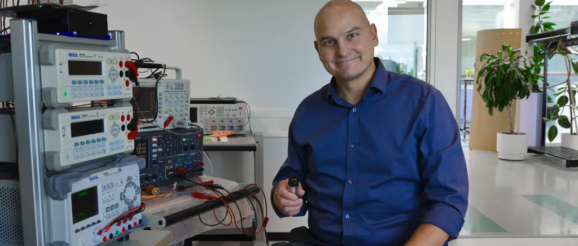 Tampere-based IoT startup Treon has successfully closed a €5.5 million Series A funding round led by Ventech, building on their initial seed investment in 2019. The startup specializes in providing intelligent edge products and scalable solutions for industrial, digital buildings, and logistics clients, facilitating data collection and analysis to enhance efficiency and decision-making. With plans to expand into the US, Denmark, and France, the funding will be used to strengthen sales and marketing efforts, enhance their product portfolio, and support their mission to become a global leader in massive IoT solutions.
Treon has gained recognition for providing scalable IoT solutions tailored to industrial, digital buildings, and logistics clients. Supported by an ecosystem of industry leaders, Treon offers a robust growing portfolio that includes sensors, gateways, edge platform, software, and services, all enabling advanced IoT solutions. Having established successful partnerships in the DACH region, Treon is now expanding its network to include the US, Denmark and France.
Treon's profitable growth in recent years is evident with over 80% YoY revenue growth in 2022, which is projected to continue at a similar pace throughout 2023 and 2024. The team has also seen substantial expansion, doubling to over 60 people within the last year, and now includes 14 nationalities, fostering a diverse and international environment. Treon's notable market growth, fueled by establishing its US office and awarding a US patent for Treon Industrial Node 6, paves the way for extensive expansion.
"With the rapid growth achieved so far, we are motivated to reach new heights and expand our market presence and product portfolio. Together with our partners and with the strong support from Ventech, we are at the forefront of the massive IoT movement, enabling unprecedented efficiency through scalable solutions and cutting-edge wireless edge technology in industrial, logistics, and digital buildings is our driving force." says Joni Korppi, CEO at Treon.
With this funding, Treon will allocate resources to bolster its sales and marketing efforts, establishing its market presence, and driving customer engagement. Additionally, the funding will be used to enhance Treon's product portfolio and further scale its organization to sustain the growth in the years to come.
"We are truly blessed to be chosen by Treon to lead their Series A funding, a significant step for its internationalization. Our initial investment in Treon through our Seed program back in 2019 was a testament to the potential we saw in Joni and the entire team. Witnessing their remarkable growth since then has left us immensely impressed, further solidifying our strong belief in Treon's journey to becoming a global leader in massive IoT." states Tero Mennander, General Partner at Ventech.
As Treon advances in the industry, the company remains committed to innovation, excellence, and delivering value to its ecosystem of globally leading customers. This investment and a stronger presence in the US market position Treon for greater success, pioneering new possibilities in the IoT landscape.