First Round Selected For Local Initiative To Launch Innovation Hubs In Cities Across Israel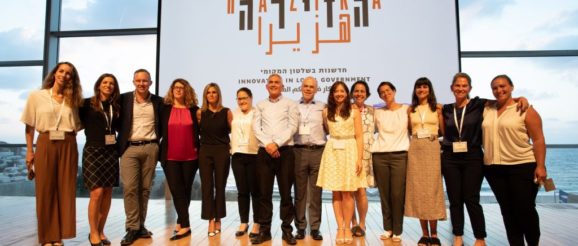 The Israeli Ministry of the Interior and the Peres Center for Peace and Innovation today announced the Israeli cities and regional cluster selected to participate in the first round of the Hazira Initiative.
Hazira (the area or the scene, in Hebrew) is the partnership of Bloomberg Philanthropies with Israel's Ministry of Interior and the Peres Center for Peace and Innovation to launch a national network of hubs for municipal innovation across Israel.
The network will tap into a unique Bloomberg Philanthropies program to set up innovation hubs in 12 new Israeli cities over the course of five years.
The winners in the first round include the cities of Ashdod, Acre, Bat Yam, and the Western Negev Regional Cluster.
Ashdod, located in southern Israel, has over 250,000 residents and is Israel's sixth-largest city. The historical city of Acre has about 60,000 residents and is located in northern Israel. Bat Yam, with about 160,000 residents is located in central Israel, south of Tel Aviv.
Bloomberg Philanthropies, the charitable organization of American billionaire and former New York City mayor Michael Bloomberg, will leverage its Innovation Teams program, or i-teams, for the initiative. Each team will receive professional training by the Hazira team made up of Bloomberg Philanthropies professionals.
These innovation teams are funded in-house by mayors and investigate complex local challenges and design solutions with goals to improve the lives of citizens.
"Cities have to find creative ways to address complex challenges with limited resources," said former mayor Bloomberg in a statement in September. "Innovation teams help them do that, and our program has had a lot of success working with cities in Israel."
Over the next five years, nine cities and three regional clusters across Israel will build i-teams at the local level to gain the tools needed to tackle difficult challenges and improve the lives of hundreds and thousands of residents.
A call of applications was released in September 2019, with 24 cities and five clusters across Israel submitting requests to join the initiative. Each applicant also went through a rigorous interview process.
The Peres Center for Peace was founded in 1996 by Shimon Peres, the Nobel Prize-winning elder Israeli statesman who advocated for peace with the Palestinians and Israel's neighbors, and one of the architects of Israel's peace agreements with Egypt and Jordan. The center rebranded as the Peres Center for Peace And Innovation after the establishment of an innovation wing for Israel, one of Peres' flagship projects before his passing in 2016 at 93. Peres was a champion of Israeli technologies and Israeli startups.
The innovation center officially opened its doors in October 2018 in an inauguration ceremony attended by hundreds of people including representatives of tech giants such as Facebook, Google, and eBay.