Flavor innovation fueling R.-T.-E. popcorn popularity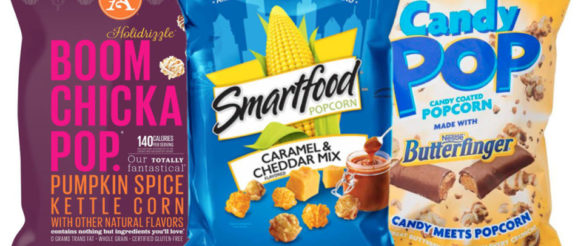 CHICAGO — Fun flavors and creative combinations are spurring growth in the ready-to-eat (R.-T.-E.) popcorn category. Total U.S. retail sales of popcorn increased 32% in the last five years to reach an estimated $2.5 billion in 2017, according to Mintel, with R.-T.-E. popcorn leading the flavor innovation charge, skyrocketing 118% between 2012-2017 to reach $1.1 billion.
Familiar flavors remain popular with consumers, as 49% tend buy cheese-flavored popcorn and 32% purchase indulgent flavors such as chocolate or caramel covered, Mintel said. However, popcorn purchasers are showing an increasing interest in options that are a bit more adventurous.
"Popcorn sales have been on the rise in recent years, and now the category is shifting from traditional flavors toward more dynamic flavors and combinations, driven by the R.-T.-E segment, which has seen sales more than double since 2012," said John Owen, senior food and drink analyst at Mintel.
Thirty-nine per cent of consumers said they would like to try mixed flavored popcorn, such as salty, indulgent and cheesy popcorn in one bag. For example, the G.H. Cretors, Smartfood and Angie's Boomchickapop brands all offer caramel and cheddar mix popcorn varieties, while Kroger adds a twist with a mix of caramel and white cheddar. Conagra Brands' Angie's Boomchickapop also sells a dark chocolate drizzled sea salt kettle corn.
Popcorn mixed with additions such as dried cranberries or candy appealed to 20% of consumers, Mintel said. Perfect Snax Prime offers a line of popcorn mixed with cookie or candy pieces called Cookie Pop or Candy Pop. Varieties include cookies and cream and chocolate chip made with Mrs. Field's cookies, and Butterfinger made with Butterfinger candy bars. The Hershey Co. also recently debuted popped snack mixes in Hershey's, Reese's and Hershey's Cookies 'N' Crème varieties, featuring chocolate-dipped popcorn mixed with mini Hershey's bars, mini Reese's cups, cookies, pretzels, almonds and more. Additionally, Angie's Boomchickapop has been testing a kettle corn and fruit mix in strawberry banana and mixed berry varieties.
Seasonal flavored popcorn varieties also have their pull, as Mintel said 12% seek flavors such as pumpkin spice and gingerbread. In the autumn months, Angie's Boomchickapop sells pumpkin spice kettle corn, buttery caramel popcorn and candy corn flavored kettle corn. In the winter, the brand offers white chocolate and peppermint flavored kettle corn, hot cocoa marshmallow flavored kettle corn and frosted sugar cookie flavored kettle corn.
While the new flavor craze has its appeal, 45% of consumers still seek natural popcorn options. And the market has risen to meet that demand. The Hershey Co.'s Skinnypop touts "no artificial anything" on its packaging, and Popcorn, Indiana offers an "all-natural" sea salt popcorn.
"R.-T.-E. popcorn brands are finding success not only through an expanding array of creative new flavors, but also by tapping into growing interest in healthy, natural and portable snacks and eating occasions," Mr. Owen said. "The popcorn segment, and R.-T.-E popcorn in particular, is likely to continue benefiting from a generally healthy image as well as its suitability as a medium for a wide range of flavors and toppings. As such, there is an opportunity for brands in other salty snack segments to innovate with unexpected flavors to engage consumers, especially among younger generations who, our research shows, are looking for variety in the salty snack aisle."