Ford revs up cloud-native innovation, tackles Kubernetes challenges with Portworx partnership – SiliconANGLE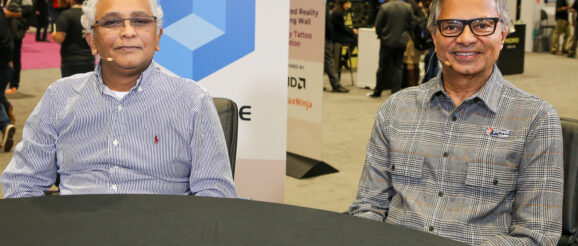 KubeCon + CloudNativeCon is intrinsically about bringing together experts and industry leaders to discuss the latest developments in cloud-native technologies.
Ford Motor Co., known for its automotive industry prowess, and Portworx by Pure Storage Inc., a leader in data services for Kubernetes, have joined forces to create a paradigm shift in cloud-native development.
"We started our cloud-native journey or transformation way back in 2017," said Satish Puranam (pictured, left), technical leader and manager of cloud at Ford. "Our Kubernetes journey was always tethered around stateful stuff. State has been an important part. State has been a curse in Kubernetes as well. Storage is the key integral part, and I think there's hardly anything we can do in communities without having storage, and that is what has brought us together."
Puranam and Murli Thirumale (right), vice president and general manager of the Cloud-Native Business Unit at Pure Storage Inc., spoke with theCUBE industry analysts Rob Strechay and Savannah Peterson at KubeCon + CloudNativeCon NA, during an exclusive broadcast on theCUBE, SiliconANGLE Media's livestreaming studio. They discussed the groundbreaking collaboration between Ford and Portworx and their shared mission to transform cloud-native development. (* Disclosure below.)
Platform engineering and developer velocity
While Kubernetes has dominated the cloud-native landscape as an orchestrator, managing data within these environments has remained a challenge. Ford and Portworx have recognized this challenge and are dedicated to solving it.
"There are many people who partner with Ford, but we're happy to be one of the folks who provide the underpinnings for their data part of the app and data equation, which includes storage, disaster recovery, backup and data services in the future as we go forward," Thirumale explained.
One of the primary goals of this collaboration is to simplify the development process and reduce the cognitive load on developers. By providing a robust and reliable platform for data management within Kubernetes, Ford and Portworx aim to streamline the development journey, allowing developers to focus on innovation and deliver high-quality applications.
"Developer experience is an important theme for us, and it's all based on the fact that we are able to actually sustain this kind of innovation over a long period of time," Puranam said. "But, every year, every time I come to KubeCon, one of the consistent themes is how can I do better?"
Here's the complete video interview, part of SiliconANGLE's and theCUBE's coverage of KubeCon + CloudNativeCon NA:
(* Disclosure: Portworx by Pure Storage Inc. sponsored this segment of theCUBE. Neither Portworx nor other sponsors have editorial control over content on theCUBE or SiliconANGLE.)
Photo: SiliconANGLE
A message from John Furrier, co-founder of SiliconANGLE:
Your vote of support is important to us and it helps us keep the content FREE.
One click below supports our mission to provide free, deep, and relevant content.  
Join the community that includes more than 15,000 #CubeAlumni experts, including Amazon.com CEO Andy Jassy, Dell Technologies founder and CEO Michael Dell, Intel CEO Pat Gelsinger, and many more luminaries and experts.