Former Brigham and Women's iHub employees talk innovation trends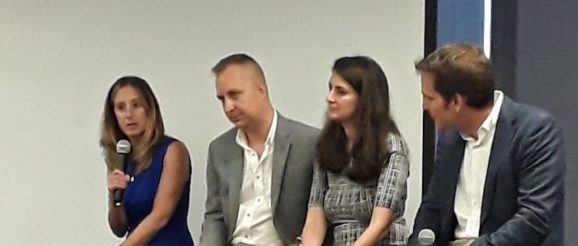 Founded in 2013, Brigham and Women's iHub, an innovation organization inside of the hospital, has seen half a decade of technology advancements and cultural changes. This afternoon, panelists who once worked at the hub sat down for the center's fifth anniversary to talk digital health, past and present.
Here are three major trends speakers predicted for the future:  
Cluster and consolidation
With more and more digital health companies popping up around the world, some will take off and expand while others will sink, according to panelists at the iHub panel. But, the speakers said, eventually these products will start to consolidate and cluster around products that have a real impact. 
"There is now so much being done in the digital health space. Everyone you run into is in a digital health company or an [advisor]. …There is too much of it. Not everything is great or going in the right direction," Lesley Solomon, senior vice president of Innovation, chief innovation officer at Dana-Farber Cancer Institute, and former iHub member, said at the event.  "There might be 20 companies doing the same thing. Over the next five to 10 years there is going to be consolidation."
Solomon said that the overflow of companies could be impacted by how the FDA continues to regulate, although essentially it will come down to meeting healthcare's needs.  
"Where digital health has an impact, that [area] will start to rise to the top and all the other stuff, the noise, will fall to the back a little bit and we'll see some consolidation," Solomon said. 
Patients' voices will be included 
Listening to a patient's experience can curb assumptions and lead to better products, according to the panelists. 
Andrea Ippolito, executive director of the engineering management program at Cornell University, referenced her experience working with the VA. The VA center she was working with decided to implement a remote cardiologist service for patients between the ages of 50 to 70. When doing so, the center decided to provide the patients with phones, assuming many of the patients don't have technology on their own. However, patients overwhelmingly had their own smartphones that they preferred. 
"You need to co-design with your patient population, and need to make it meaningful for them," Ippolito said at the conference. 
It is also important to get patients' voices when building digital products. Karen M. Fasciano, senior psychologist at the department of psychosocial oncology and palliative care at the Dana-Farber Cancer Institute, worked with her patients on a digital health platform for young people with cancer. Although Fasciano never worked at the hub, she developed her app the Brigham and Womens'. 
"We all really worked together but it was their voice that was able to [make] the product something that could have been a C product, based on clinical experience, to an A product, based on their experience of having cancer as a young adult," Fasciano said at the event. "The product we developed would be impossible without patient engagement. I think it is important for me as a clinician. It also was something that helped me with my own burnout to see patients engaged with a self-advocating way to make a difference."
As patients continue to have more access to their data and medical information, this could lead to changes in the industry. 
"I think the more transparency the better," Josh Di Frances, executive director of presidential Innovation Fellowship Program, said. I think that is a move in the right direction. We want to empower them [consumers.]" 
Apple Health Records, which allow iPhone users to have their health records on their phone, has also led to increased public awareness about data ownership. 
"I think this could be really game changing and powerful," Dr. Jeff Greenberg, cofounder and chief operating officer at Firefly Health, said. "We operate around here like the data in our systems is ours." 
Greenberg said that at his company, patients have the ability to opt in to sharing their data. But it is also important for patients to be able to share their data for research, according to panelist.