Former Rail Minister Paul Maynard gets a rail innovation demo by KeTech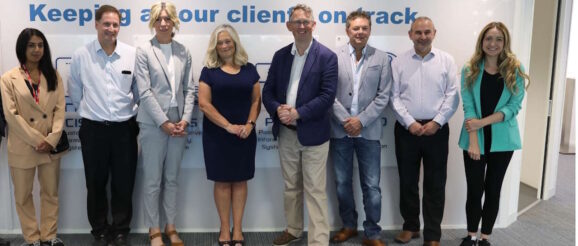 KeTech is a pioneer in rail technology and was able to demonstrate its innovative intelligent real-time information systems and rail signalling tech to Former Rail Minister Paul Maynard.
Paul visited the company as part of the Railway Industry Association's Rail Fellowship Programme, which sees its members paired with politicians in a bid to advance organisations working to improve the rail network in the UK.
The visit also saw KeTech exhibit its software, electronics and data management systems which support the company's state-of-the-art intelligent real-time information delivery. The company personalised Paul's experience by showing how its technology works on his own rail travels from Blackpool North to London. The impressive technology allows rail customers travelling across the country to receive instant journey updates alongside vital information such as accessibility information. New information screens which are installed in carriages also use this innovative technology.
Paul was given a real view of how KeTech's team of engineers and data analytics specialists perform essential work which supports the safeguarding, reliability and safety of rail services.
Toby Williams, Public Affairs & PR Manager at RIA said:
"The RIA Fellowship program aims to bridge the gap between policymakers and the rail industry, and it is heartening to see such engagement and dedication to innovation from both KeTech and Paul Maynard. KeTech's intelligent real-time information systems and innovative signalling solutions exemplify the kind of forward-thinking technology that can transform the rail sector, enhancing passenger experiences and safety."
Paul Maynard, MP and Former Rail Minister said:
"The railway sector should always prioritise its customers, and I commend KeTech for their outstanding work in delivering intelligent solutions to enhance passenger experiences and safety"
Denise Lawrenson, the CEO of KeTech, said:
"We are honoured to have had the opportunity to showcase our latest advancements to Mr. Maynard and the RIA delegation. KeTech remains steadfast in our pursuit of excellence, continually striving to improve the rail sector with intelligent solutions that benefit both passengers and operators."